The truck stops here: halal food
Rice platters and gyros and salads, oh my!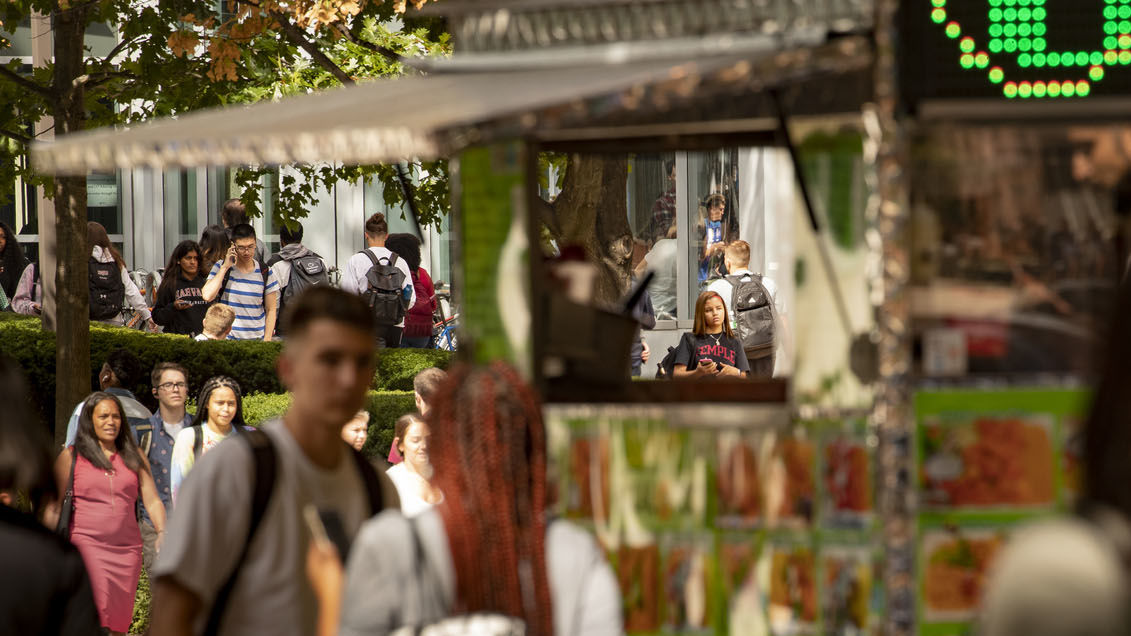 You know when you've been on campus for hours, cramming for that test in Charles Library or working through your huge list of homework assignments at one of the tables outside of Speakman Hall, and all you can hear is your stomach grumbling? Don't worry, Nutshell has you covered with our latest food truck obsession—the halal carts. 
You might be asking yourself, "What designates a food as halal?" Well, think of it like the Muslim version of kosher. "Halal" literally translates to lawful or permitted. In regards to food or drink, it simply describes what types of food or drink are allowed to be eaten according to the Quran.
There are four halal food trucks parked around campus—you can't miss them. Their LED lights and friendly workers will immediately draw you in. Three are parked across the street from the Student Center and one is down the road from Annenberg Hall. 
The menus offer a lot of variety—there are options for meat-eaters and vegetarians alike. You can get different types of meals with your protein of choice—chicken, lamb, fish, falafel, or alternatively, veggies! 
One of the mouth-watering halal options is the rice platter. This may sound simple, but trust us, they really spice it up. With your choice of protein, you can personalize your rice platter (Nutshell also has it on good authority that vegetarians can ask for chickpeas, too, for another protein-rich option). These rice platters come with a choice for salad toppings—lettuce, onion, tomatoes and cucumbers—we recommend throwing it all on there! 
Then, comes the best part—time to sauce it up! You can choose from several different sauces, but our personal favorite is a combo of the white sauce (which is half mayo, half Greek yogurt), the sweet and spicy sauce, and a tiny bit of the fiery hot red sauce
Next on the menu is the famous gyro (pronounced yee-ro). Gyros are traditionally made with lamb, beef, pork, or chicken, cooked on a vertical rotisserie, sliced thinly, and piled into fluffy pita bread. Yum! This is a very portable option—you can eat it while you're walking to class or going to meet with your friends on Beury Beach. 
Gyros and rice platters sound like too much? Don't worry—the halal trucks offer lighter options, too! There's always the alternative of getting a salad. Throw some chicken, lamb, fish or falafel to top off your leafy greens and voila! There's your salad, halal style.
Each of the halal food trucks are similar in menu offerings and food, but every Temple student has a favorite. Some students might remain loyal out of habit, because a specific location is convenient, or because they are convinced that the chicken and rice platter is the best at the one they always go to. We don't judge—try 'em all and decide for yourself! Nutshell is here to tell you that you can't go wrong with any of them. Every truck has delicious food that will satiate your appetite and might even leave you some leftovers you can warm up for dinner.
—Hannah Church