How one Temple student uses TikTok for advocacy
William Hornby describes how he uses social media to raise awareness about men's eating disorders.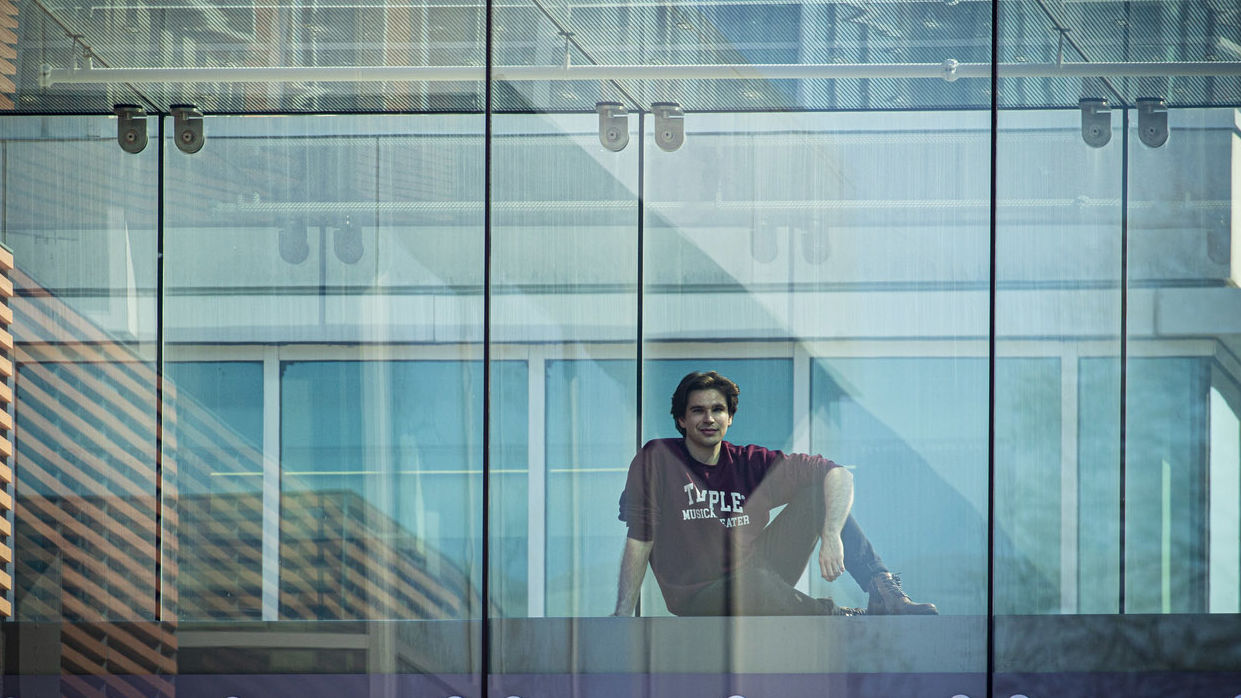 If you've been scrolling through TikTok recently, you may have seen some new dance trends or a bunch of fun recipes to try. And, you might have even seen a fellow Temple Owl, William Hornby, Class of 2022. Hornby knows how to create engaging and authentic content, as demonstrated by the 193,500 followers of his @williamcarvedpumpkins account. He uses that and his Instagram @williamhornby to advocate for men with eating disorders.
He is currently working toward his dual degree, with a BBA in business management and a BFA in musical theater. But in his spare time, Hornby is creating conversation in the digital space that breaks the stigma around men with eating disorders. He hopes to continue his advocacy following graduation.
Hornby is in recovery from what has been formally diagnosed as Other Specified Feeding or Eating Disorder. He explained that, when he was first diagnosed, he could not find many resources directed toward men in recovery from eating disorders. 
"I desperately tried to find a guy talking about eating disorder recovery on TikTok or even Google. But, there's not a nonprofit for this; there's not even a website devoted to men with eating disorders," said Hornby. "It's incredibly invalidating when you can't find anyone openly talking about similar experiences." 
So, he set out to represent men with eating disorders. "What if I use TikTok to be the guy that I needed in recovery that I couldn't find?" he asked himself one day.
Using TikTok and reels, short 15-second videos, on his Instagram, Hornby was inspired to start the types of conversations for which he had been searching. 
    
Hornby's TikTok journey began with his pumpkin carving skills. His freehand designs gained him 13,000 followers. After Halloween, he pivoted his account away from art, and began advocating for and creating conversations around men with eating disorders. 
His model for making TikToks has been entirely informed by his experiences and background with his own eating disorder. In order to decide what to post, he asks himself: "What do I need to hear today?" And if he can't think of anything in particular, he asks himself: "What did I need to hear?" Through this strategy, Horby has garnered high engagement from his followers—they always leave comments on his posts and he often goes live to eat with people.
Hornby's motivation is to spread information to others who are struggling. "A lot of people have not been exposed to access to a registered dietitian or access to a therapist," he explained. "Because I have access to those things, and some people don't, I believe in the trickling down of educational resources." 
According to Hornby, TikTok is a more suitable platform for doing this type of advocacy work than others like Instagram, because on Instagram (and even on LinkedIn), people often only show the best parts of their lives. "But, on TikTok," he said. "it's just a lot more real—it's the exchange of ideas and in a very personal and less edited way." 
One of the most important goals that Hornby has with his advocacy is to stress to men that it is not uncommon to have an eating disorder. In fact, according to the National Eating Disorders Association, "20% to 45% of all people with eating disorders are men. But less than 1% of all research on eating disorders has been done explicitly on men." So, why is there this stigma surrounding men having eating disorders? 
Hornby's theory is that eating disorders are perceived to be an issue predominantly affecting women. "Unfortunately, society teaches men they cannot identify with feminine issues, so there is no demand for recovery resources for men with eating disorders." Hornby believes the solution is to have more people speak out about it, and that is exactly what he is doing. 
That's why he focuses on wiping away the association of eating disorders with gender. "Trans and cis men, and nonbinary individuals need to know that eating disorders do not have a gender," Hornby said.
He encourages anyone who thinks they might have an eating disorder to seek help. He also emphasized that eating disorder treatments don't look the same for every person. For some, it may be an inpatient program, but for others, it might be telehealth appointments with a therapist and a registered dietitian. 
If you're a Temple University student who is struggling with an eating disorder, visit the Tuttleman Counseling Center for more resources or contact the NEDA helpline.
—Hannah Church