International scholarship recipients find themselves at home at Temple
First-year students Flavia Astete and Anna Dudareva, winners of the #YouAreWelcomeHere and #WhyUS special international scholarships, respectively, thrive at Temple.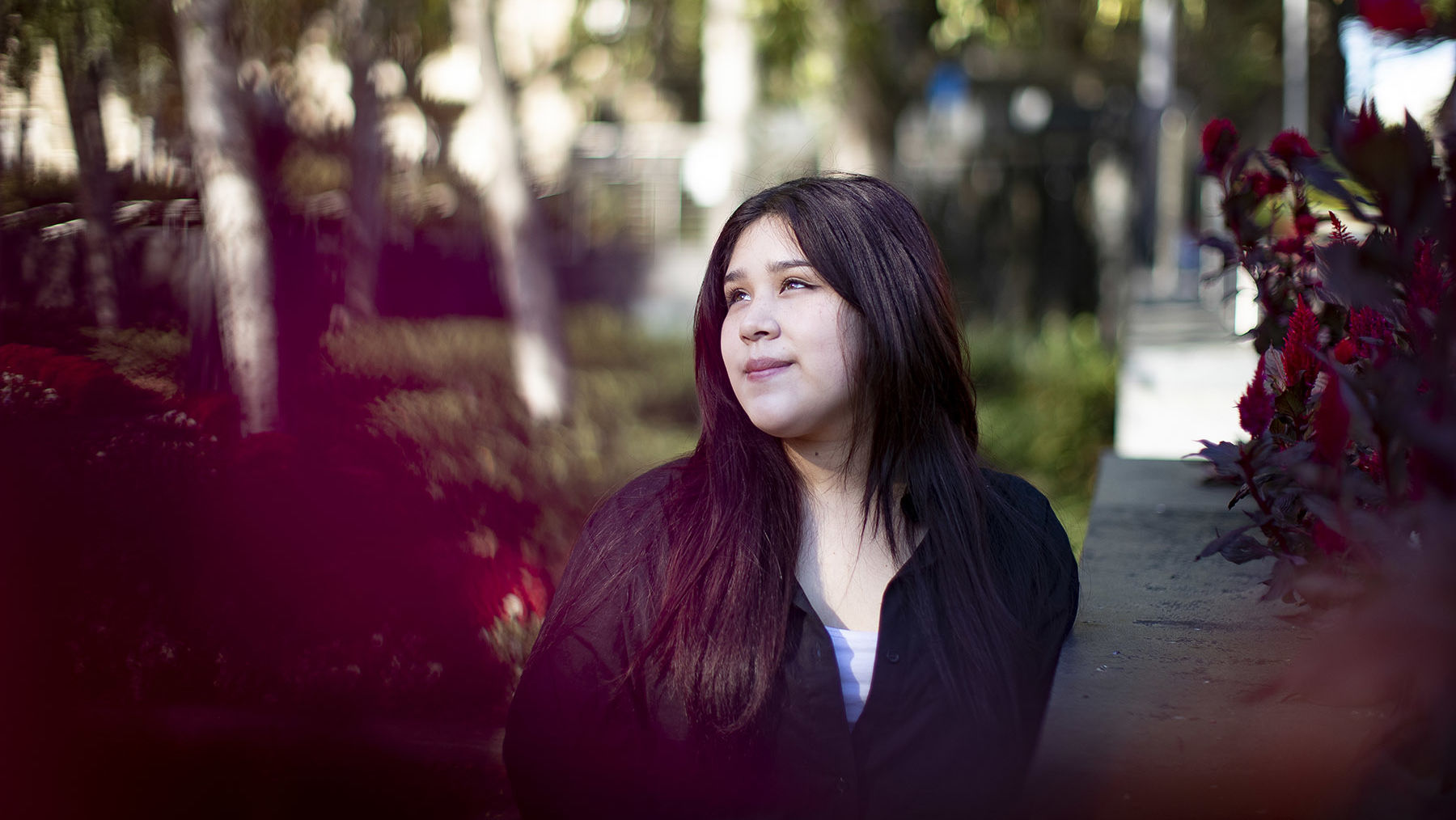 When Flavia Astete arrived in Philadelphia and the United States for the first time this past summer, there was one specific feeling that she could not shake.
Yes, it was a totally new environment for her. And yes, she was about to embark on a totally new adventure. Nerves would seem to be inevitable, but that was not what was on Astete's mind.
"I was just so excited. As soon as I arrived here, I knew that it was a good decision. I immediately thought, 'OK, Flavia. You are stepping out of your comfort zone. You are about to do something great,'" said Astete, who is a native of Peru.
Astete, a first-year advertising student at Temple University's Klein College of Media and Communication, is one of the recent recipients of Temple's #YouAreWelcomeHere scholarship (#YAWH). In 2016, Temple pioneered the #YAWH social media campaign and shortly after, pioneered the scholarship with several other participating schools. The scholarship offers at least 50% of published annual (out-of-state) tuition costs for the winners, up to two students each year who can demonstrate their interest in building intercultural bridges. Also, the scholarship is renewable for all four years of an undergraduate student's education.
This scholarship is only one of a number of special international scholarships offered through Temple's Office of International Affairs. Last year the office created #WhyUS scholarships, which provide undergraduate students who respond to a creative prompt about why they want to study in the U.S. and at Temple with between $2,000 and $10,000 for up to four consecutive years. This year, International Affairs awarded 12 scholarships to students after receiving more than 200 applications within a two-week period. 
"While there is often a great deal of interest in studying in the U.S. from members of the international community, studying here now can be a challenge for a number of reasons, and that's why these scholarships matter," said Lisa Meritz, director of communications and marketing for international affairs. "They make all the difference, helping to make the pursuit of a college education in the United States more accessible, and most importantly, helping point out from a student perspective what makes studying in the U.S. so great for our international students."
The #WhyUS campaign was inspired by the experiences of Vice President Hai-Lung Dai, who came to the U.S. from Taiwan as a graduate student and never looked back. Peter Lundbye,  Temple's international admissions director, developed the idea for the scholarship.
Like #YAWH ,the overall #WhyUS campaign is one that the university has begun to spread to other schools, with 24 institutions currently involved alongside Temple.
When applying for the #WhyUS scholarship, students must respond to a prompt about why they want to study in the U.S. and at Temple. Anna Dudareva, a native of Russia and first-year architecture student in the Tyler School of Art and Architecture, was one of the recipients of this year's scholarships.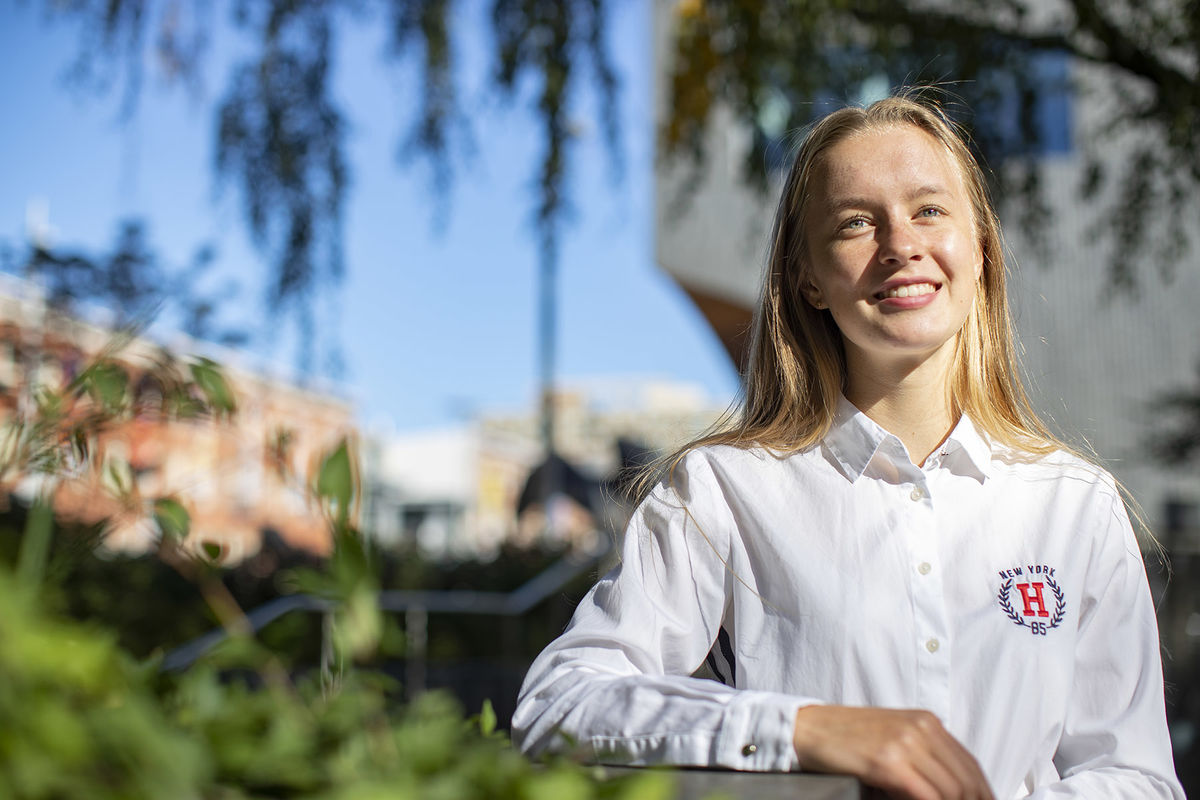 Anna Dudareva, a native of Russia and first-year architecture student in the Tyler School of Art and Architecture, was one of the recipients of the #WhyUS scholarship. Since enrolling at Temple, she has gotten involved in a number of extracurriculars and is a member of the Women's Rowing Team, an elections commissioner for Temple Student Government and a videographer for the Temple News. (Photo by Ryan S. Brandenberg) 
As part of her application, Dudareva created a visual illustration and essay, both of which showcased her love for Philadelphia and why she wanted to study at Temple. In the essay, she describes Temple as "a welcoming place," and that's exactly what she has found it to be.
"Everyone here has just been so friendly. It's really been great. Oh, and I just love the [Charles] Library," Dudareva said.
As an architecture student, Dudareva has an intense course load as she is taking 18 credits. However, that has not stopped her from getting involved in extracurriculars. She is a member of the Women's Rowing Team, serves as elections commissioner for Temple Student Government and she has been working as a videographer for The Temple News.
"I want to stay busy," Dudareva said. "I know that I need to study and prioritize my schoolwork, and I will do that. But I also want to be sure to take advantage of all of the opportunities that I have here." And that's a great thing as both #YAWH and #WhyUS winners promise to take on added responsibilities/projects, such as hosting a monthly international coffee get-together or keeping a blog.
The sentiment about being involved is echoed by Astete.
"My classes and coursework are going great. I have always been intrigued by the advertising field and the effects of social media in our society, so I enjoy having classes related to those topics," Astete said. "My plan is to keep growing for as long as I am here. I want to keep being more involved in the Temple community and I also want to be part of some clubs."
For an international student, choosing to study in the U.S. is somewhat of a leap of faith. It requires courage and confidence, but it's something that both Dudareva and Astete recommend without reservation.
They have already started their educational journeys and if early indications are correct, the best is yet to come.
"I know that for a lot of international students, it feels like it would be hard to come here, and I understand that," Astete said. "That's why this scholarship was so important for me. It helped me gain confidence, and made me realize that I can do this. I can chase my dreams. Any international student can do the same, they just have to have faith in themselves."