Shattering expectations: Leading a glass program through a pandemic
Temple University President Dr. Jason Wingard discusses how the Tyler School of Art and Architecture glass program both adapted and thrived once COVID-19 hit.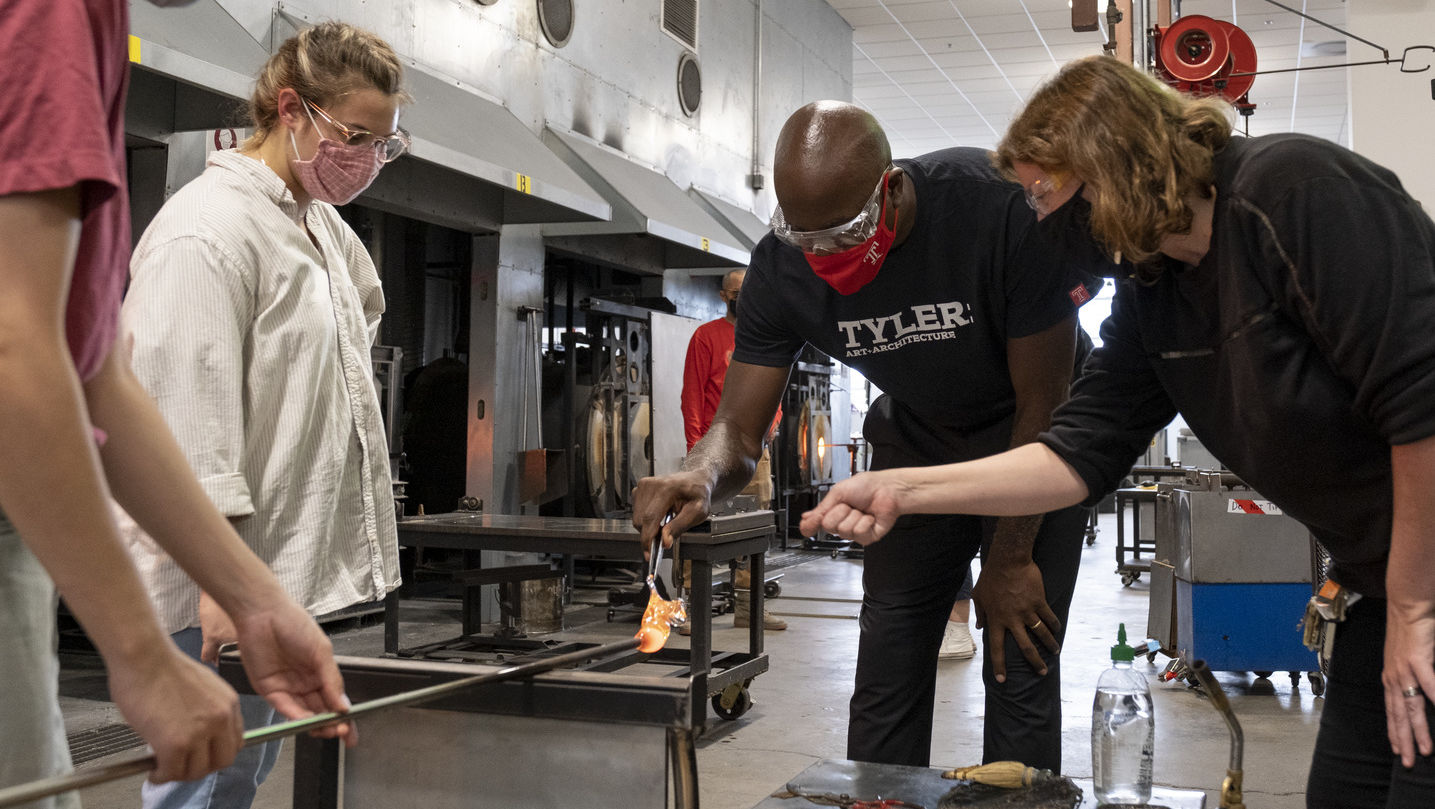 Why did the glassblowers continue to work during the pandemic? Because they couldn't hold their breaths for that long…
Temple University's Tyler School of Art and Architecture houses the nation's best glass program. Here, aggressive innovation and problem-solving, in the face of crisis and challenge, is a flourishing work of art.
Even before COVID-19, students in the program were accustomed to following industry-leading health and safety precautions. Working closely around extreme heat of up to 2000F is dangerous. Glass-blowing artists also work in close proximity to each other in communal studios and usually don't think twice about sharing mouth-powered blow pipes to shape their creations. These methods, which have been around since 1 B.C., suddenly became even more dangerous during the pandemic.
When many disciplines moved to remote learning, the faculty glass artists at Tyler had to do what they do best: get creative.
Adapt to Disruptions
Instead of halting operations, the school enhanced already stringent safety measures to further protect students. Occupancy limits were lowered in the "hot shops" to allow for physical distancing, and students were required to wear masks. Though located in a newly upgraded building with remarkably safe airflow systems, sanitation stations were also installed and advanced cleaning measures were implemented. But, something had to be done about the shared equipment. That's where innovation comes in.
Innovation in Action
Tyler Artist-in-Residence, Amy Lemaire, designed an open-source, 3D-printed attachment to go into face masks—enabling artists to safely blow glass while masking up. Program head, Professor Jessica Jane Julius, and Tyler Dean, Dr. Susan Cahan, also invested in hand pumps to simulate breath. The adaptive equipment functions as a sleeve over the blow pipe, that, when squeezed, inflates air into the glass—eliminating the need for artists to use their mouths or breath. 
In Hot Glass Blowing, a course at Temple taught by Professor Leo Tecosky, students work together in groups of two to hone their skills. Already used to collaboration and prioritizing each other's safety during non-pandemic times, the COVID-19 precautions and innovations provided an opportunity for students to continue to work together and adjust to a changing world.
A Commitment to Excellence
Led by world-renowned faculty who are both educators and working glass artists, along with an extensive network of alumni and professional artists, Temple continued to offer a best-in-class glass education during the global disruption of COVID-19.
Nationally renowned faculty include: Julius, president of the Glass Arts Society Board; Tecosky, an award recipient of the prestigious Corning Museum of Glass Rakow Commission; Assistant Professor Amber Cowan,  a 2021 USA fellow featured in Objects: USA 2020, an exhibition featuring "50 of the most impactful contemporary makers working today and 50 historical artists, whose work viewed together is a testament to the diverse, pluralistic, and hybrid state of handmade objects in American culture today;" and Guggenheim, National Endowment for the Arts and Pew fellow, Professor Judith Schaecter.
Alumni educators and mentors work to help develop the next generation of premiere glass artists and include: Danielle Ruttenberg and Mark Ellis, cofounders of Remark Glass, Philadelphia's first zero-waste glass business;  Angus Powers; Glass Area Head at Alfred University; Ché Rhodes, associate professor at the University of Louisville; and David King, visiting professor of art at Centre College. Other notable alumni? Superstars in the field include Amber Cowan, Beth Lipman and Doreen Garner. 
More Creative Solutions Needed for the Future
The pandemic shined a light on how fundamental in-person learning and collaboration can be, depending on the field.  We are proud that, at Temple, we pushed forward in-person learning in order to teach an ancient craft that could not be translated into an online experience.  In a world of where disruption can be frequent and rapid, adapting creatively and in a tailored way to circumstances is a mission-critical skill for any professional or organization.  More disruption will come in the future, and more creative thinking will be required.  We applaud our Temple artists for leading the way and showing what is possible during tumultuous times.
—President Jason Wingard