Take Off to Temple Tour gives high school counselors from across the U.S. an experiential look at campus and Philadelphia
This tour included visits to Temple's schools and colleges with undergraduate programs.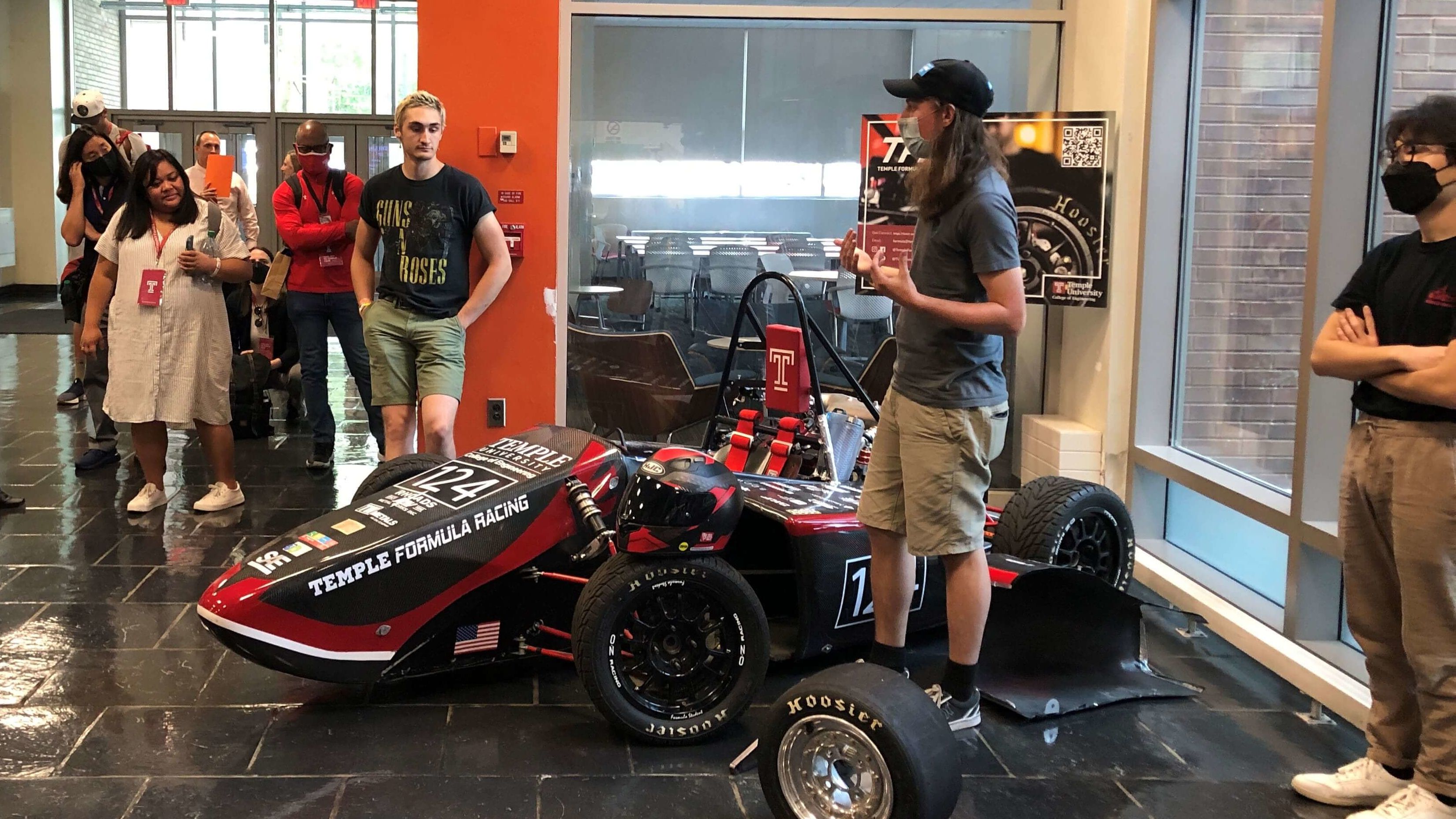 At the beginning of a warm week in late May, high school counselors from across the United States visited Temple and Philadelphia to see the best the university and city have to offer.
"Everyone seems happy and balanced here," observed Julie Kerich from the Emery/Weiner School in Houston, Texas, during the Take Off to Temple Tour—a signature event aimed at raising the university's national profile among key educational stakeholders. "A lot of students want an urban school with a campus, and that's exactly what this is."
Throughout the three-day tour, counselors met staff, faculty, students and alumni from the schools and colleges with undergraduate programs.
"The Take Off to Temple Tour is experiential marketing at its finest," said Shawn Abbott, vice provost for admissions, financial aid and enrollment management. "It's not a traditional campus tour but an audience-specific program in which the individuals representing the institution speak directly to counselors and provide them with the information that they need to influence prospective students to consider Temple."
At every stop on the tour, the goal is to leave counselors with a memorable impression of each school and college.
Rather than featuring PowerPoint presentations and lectures, the sessions are meant to be performative and interactive—from glass and ceramics demonstrations at the Tyler School of Art and Architecture to a reading experience with pizza made of Play-Doh and construction paper in the College of Education and Human Development to a VIP behind-the-scenes look through the Liacouras Center courtesy of the School of Sport, Tourism and Hospitality Management.
"There are so many unique, niche programs that are very different in a good way and a lot of particular majors that you can't necessarily find in other places," said Kelly Tarini from Baltimore City College, a magnet high school in Baltimore, Maryland. "The internship opportunities available to students here are very unique compared with some other schools."
A common thread emerged amid the sessions showcasing the schools and colleges' different programs, opportunities and accomplishments: a close-knit community and commitment to student success throughout an individual's time at Temple and beyond.
"Students are going to have a wide variety of academic opportunities, and they're going to be supported every step of the way from their first year, which is something distinctive that came through loud and clear," said Luigi Solla from Moses Brown School in Providence, Rhode Island. "I come from a school where there are 100 students per grade, so there's a hesitancy of coming to a larger institution. I can assure them they'd be okay at Temple. They wouldn't be lost in the shuffle."
Brian Walter from the local Springside Chestnut Hill Academy was also impressed by what he noticed during the Take Off to Temple Tour.
"What stands out is the spirit," he said. "Temple students are authentically enthusiastic about being here and genuine about their love for the school."
The Take Off to Temple Tour, which began in 2019, is conceived and organized by the admissions team and Nicole Graves, communications and diversity, equity and inclusion coordinator in the Office of the Provost, who build the program and enlist the help of undergraduate enrollment managers and communicators in the individual schools and colleges.
The high schools represented are identified as those that already send a substantial number of students to Philadelphia-area colleges and universities. Temple then identifies the counselors from those schools who have a strong influential profile, meaning they are actively engaged in professional organizations directly associated with college counseling as well as access and inclusion.
"We are in many ways the biggest university-kept secret in the United States," said Abbott. "This is a way for us to amplify our brand and show people who influence high school students all over the country that there's a university in Philadelphia that looks and feels a lot like the colleges and universities where they're already sending students—schools that are increasingly nearly impossible to be admitted."
In addition to touring Main Campus, high school counselors got a taste of Temple Rome by visiting the Italian Market Festival in Bella Vista and eating at Ralph's—the oldest continually operated Italian restaurant in the U.S.—and of Temple Japan by walking to Graffiti Bar and dining at Sampan, an Asian fusion restaurant in Midtown Village. 
"It was awesome to experience through their eyes Temple and for some Philadelphia for the first time," said Abbott. "To see their eyes of wonder expand down Polett Walk to be greeted by the Diamond Marching Band and see our architecture, landscape and world-class facilities and this college campus unfurl in front of them against the backdrop of the Philadelphia skyline was powerful."