Temple partners with Business Executive Exchange Program to promote diverse emerging leadership
Temple was selected as one of just 10 universities nationwide to participate in the program, which comes with a $10,000 award.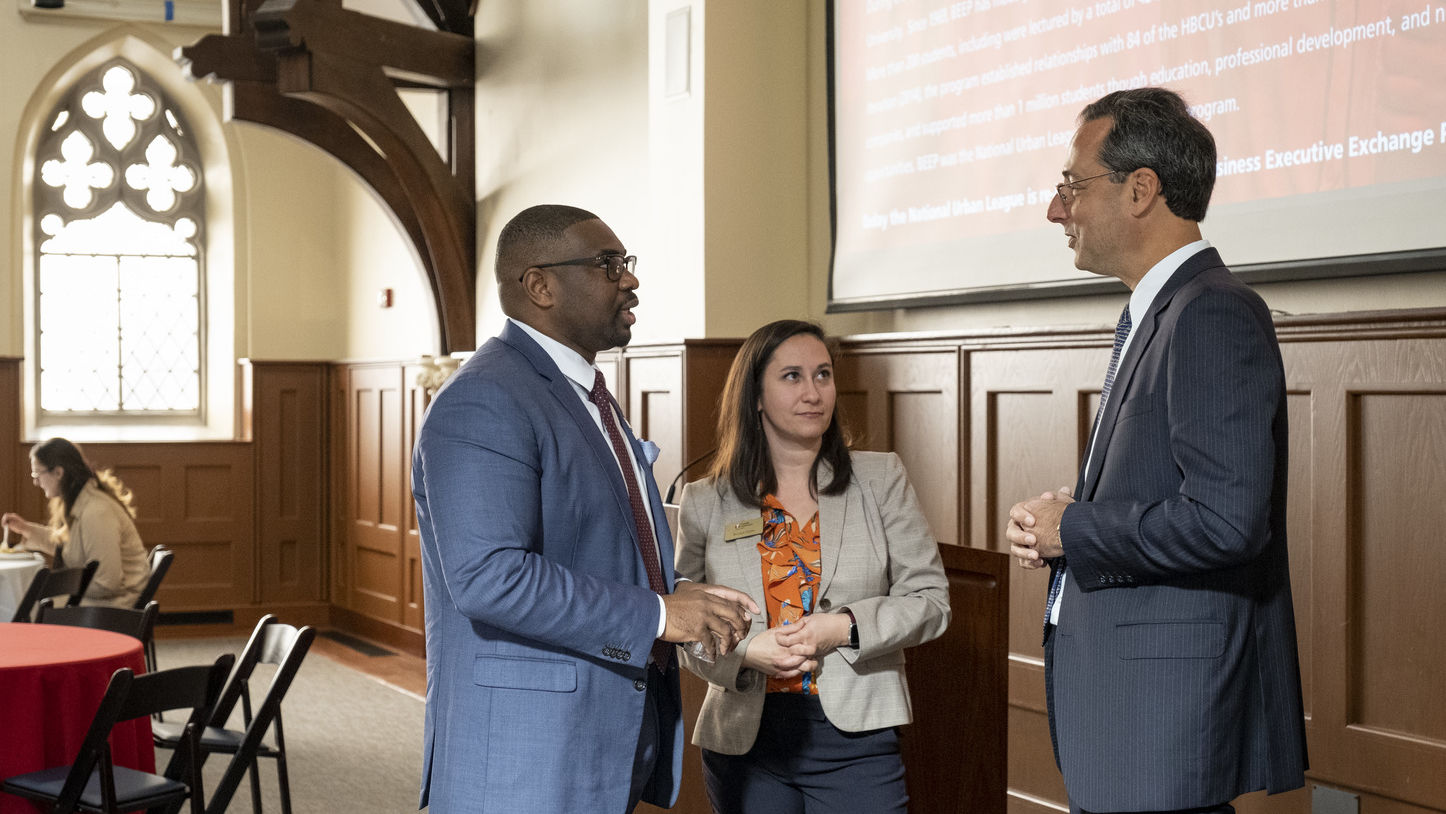 On Tuesday, Oct. 18, Temple welcomed leadership from the National Urban League (NUL), an organization that supports diverse emerging leadership from the Black, Latinx, AAPI and Native communities through its Business Executive Exchange Program (BEEP).
Launched in 1969, BEEP fulfills its mission by offering career development services such as workshops, networking fairs and C-suite chats to students at its university partners. The program returned this year after pausing in 2014, and Temple was selected as one of just 10 universities nationwide to participate in its relaunch.
Temple's Career Center worked with leadership from NUL to schedule a day of programming, which included a Welcome Breakfast and opportunities for BEEP volunteers, including professionals from UPS, to connect with Temple students and offer career advice. Leadership from the Urban League of Philadelphia was also in attendance to share information about local opportunities for career development.
Provost Gregory Mandel opened the breakfast by welcoming the NUL and BEEP guests in attendance and highlighting the recent strides Temple has made in its efforts to promote diversity at the university. "Temple's Class of 2026 began with us this fall, of course, and we're extremely proud. It's one of the most diverse classes in Temple University's history," Mandel said.
Mandel also took the opportunity to address Temple's acceptance of its first-ever Higher Education Excellence in Diversity (HEED) Award. "We were the only school in Philadelphia to receive the award for showing a commitment to diversity and inclusion," Mandel said. "It's what we do naturally. It's what we were founded on and what our mission has been for almost 140 years, so it's always good to be recognized for that effort," he said. 
Kendell Monk, senior director of BEEP, also spoke at the breakfast. He thanked Temple for its participation in the program and said he looks forward to the ways the university and BEEP can continue to work together in the future. "Temple University is a natural fit as we relaunch this initiative and expand and reimagine the opportunity to support students," Monk said.
Following the breakfast, NUL staff and BEEP volunteers took to the campus to visit classrooms, where they talked with students about the ways they can prepare for success in their careers following graduation. The discussion continued during a lunch at Mitten Hall between NUL staff, BEEP volunteers and Temple student leaders.
Tuesday's programming was highlighted by an afternoon panel discussion at the Howard Gittis Student Center featuring professionals from UPS, who fielded questions from audience members and shared advice from their own professional experiences.
Tomas Varela Jr., CPH '04, former director of advocacy and communication for the Urban League of Philadelphia, opened the panel discussion by sharing with audience members the ways he has benefited throughout his career from career development services like those offered by NUL and its local chapters.
Temple received a $10,000 award for its involvement in BEEP. Staff from the Career Center have earmarked this funding to support technical training for students, which included two Excel workshops launched this semester that filled up within hours. Additional funds will be used for programs, student organization partnerships and student professional development support.