Temple University dispatcher fulfills dream, achieves undergraduate degree 40 years after receiving a full scholarship to Temple
Brian Hathaway was offered a full ride to Temple in 1981 but he never finished undergraduate school—until recently.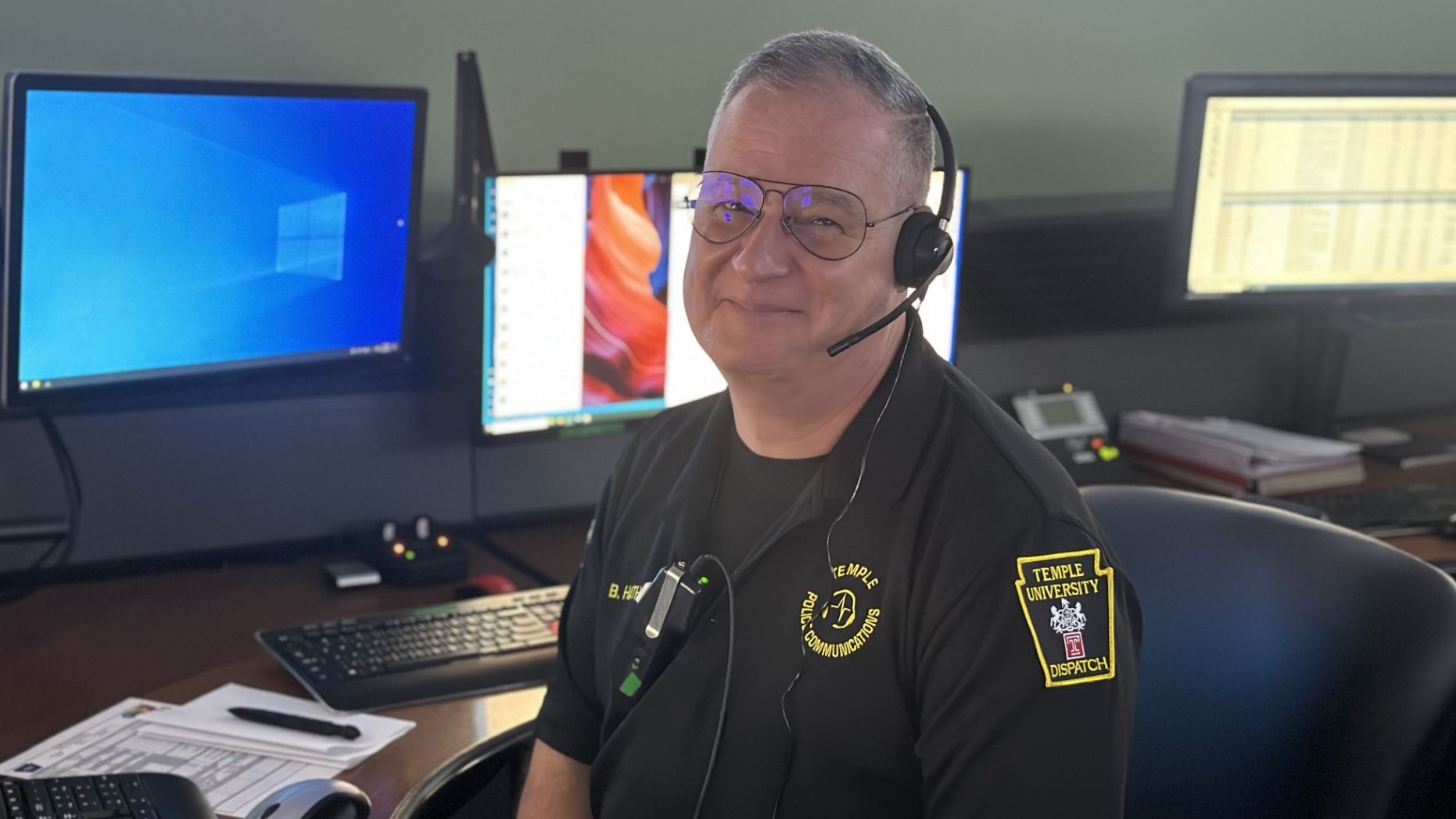 Brian Hathaway remembers being both eager to meet new friends and dive into his studies the first time he stepped onto Temple University's campus as a first-year student in 1981.
"It was nowhere as built up as it is now," he said. "It's amazing how much the campus has grown today compared to what it was like in the 1980s." 
At that time, Temple was awarding full scholarships to one student at every high school within the Delaware Valley, called the Outstanding Achievement scholarship. It was based on students' academic achievement and SAT scores, and Hathaway had earned the scholarship as a student at Archbishop Wood High School in Bucks County.  
"My parents were thrilled, I was thrilled. It meant that my college was covered," Hathaway said. 
He went to Temple for a year. But he then had to make the difficult decision of giving up the scholarship and his time as a Temple student so he could enter the workforce. 
"It became obvious to me that I had to work full time for my family and I just couldn't juggle working and continuing with my education. Giving up the scholarship was hands down the biggest regret of my life, because I did well in school and enjoyed school," he said.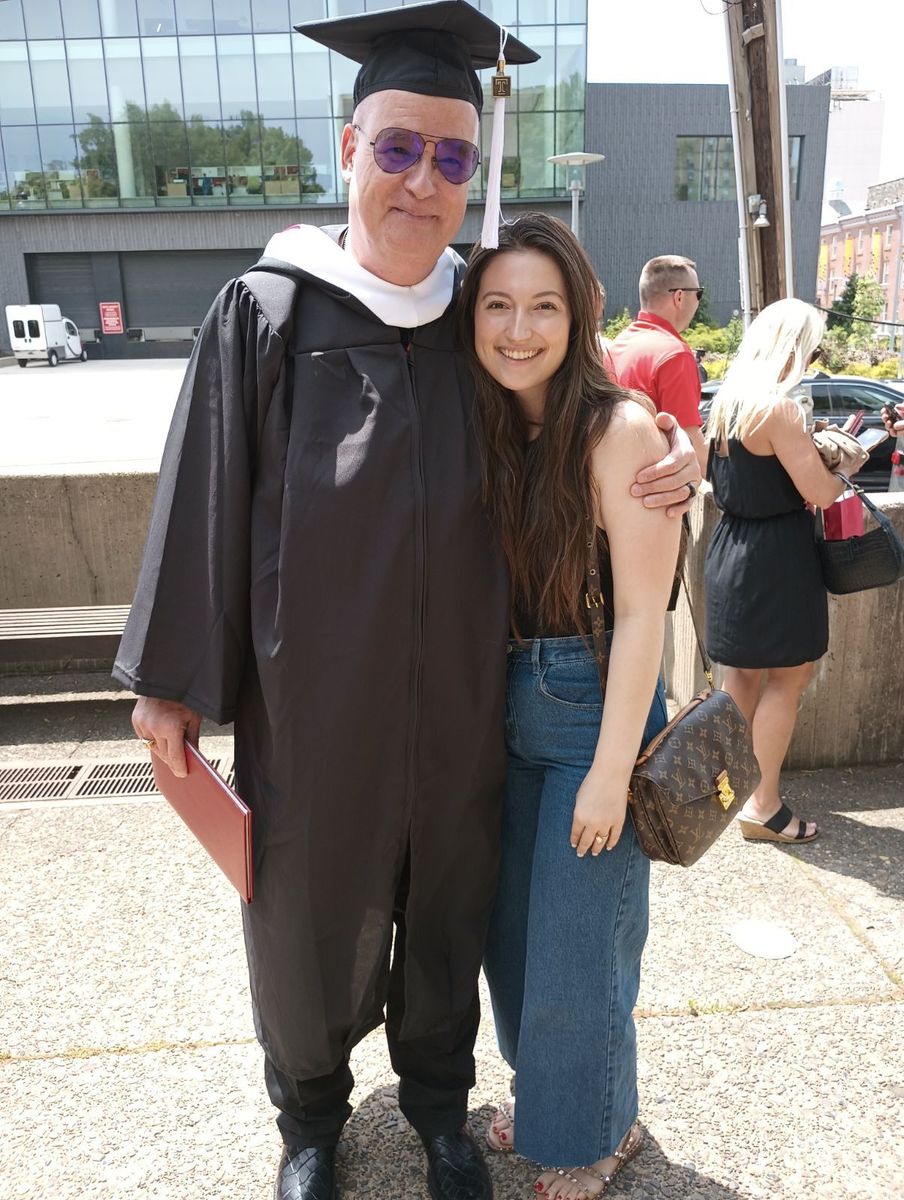 Hathaway went on to have a successful career in sales and eventually became the finance director for a group of car dealerships. But after 25 years, he wanted a change and began working part time for Allied Barton, which is now Allied Universal.
"That gave me the opportunity to work at Temple as a security officer. And in the back of my mind, I was going to find a way to get back to the classroom and complete my education," he said. 
It wasn't long before Temple's Department of Public Safety began hiring dispatchers. Hathaway was hired in September 2013 and has helped so many in the community over the last decade. 
"I wanted a job that allowed me to be there for people," he said. But he also took the job with another goal in mind. 
"I wanted to finish what I started. So three years after being hired, in 2016, I enrolled back at Temple for my undergraduate degree," he said. "Temple offers free tuition to employees, so in essence, the scholarship that I was awarded back in high school was just continued—that's how I see it."
After not knowing how to juggle work and school as a teenager, Hathway did just that and graduated with a bachelor's degree in general studies with an emphasis on criminal justice and psychology in December 2022, 41 years after he started.
"It wasn't easy for me but it was worth it, and I'm proud to be a Temple graduate," he said. 
Today, both of Hathaway's children are also Temple graduates who received free tuition because of Hathaway's employment at Temple as a dispatcher. 
"I am fortunate to work with some outstanding dispatchers, police officers and security officers at Temple. We all do our best to look after and treat Temple students, parents, faculty and staff members, and neighborhood residents as if they are members of our own family. I am proud to be around exceptional, talented and motivated individuals who really do care," he said. 
Hathaway is again hitting the books. He recently enrolled in Temple's College of Education and Human Development to persue a master's in counseling, mental health track, with the goal of becoming a therapist. Most of the master's degree cost is waived because of Hathaway's employment at Temple. 
"Becoming a therapist would allow me to help even more people with whatever issues they might be going through. It's similar to being a dispatcher," he said. "The most rewarding aspect of my work as a dispatcher has been getting help for those threatening to take their lives. Soon, I'll be able to help even more as a therapist."
He expects to graduate in four years.
"It's going to mean an incredible sense of accomplishment when I receive my next diploma," he said. 
Note: If you are worried about a friend, there are resources to help. Do not hesitate to call Public Safety at 215-204-1234. For those experiencing a suicidal crisis, call the National Suicide Prevention Lifeline at 988 or text HOME to 741741.