accolade
Posted Feb 27, 2013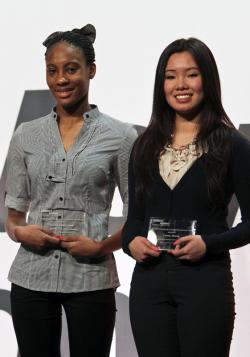 Temple University freshmen Damara McDowell and Cindy Zhang were recently selected as recipients of Gustave G. Amsterdam Leadership Award, presented by Comcast at the Greater Philadelphia Chamber of Commerce's Annual Mayoral Luncheon.
Amsterdam Award recipients are selected from among Comcast Leaders and Achievers Scholarship winners who graduated from a Philadelphia high school and are continuing their education at a Philadelphia college or university. McDowell, a graduate of Freiere Charter High School, is currently majoring in nursing. Zhang, a graduate of Parkway Center High School, is majoring in biology.
Gus Amsterdam was a Philadelphia business leader, community advocate, and founding member of the board of the Comcast Corporation. He dedicated much of his time and energy to the community and to improving education. A graduate of Central High School and the University of Pennsylvania, Amsterdam was committed to civic and educational activities in Philadelphia throughout his life. He served as Chairman of the Philadelphia Redevelopment Authority and on the boards of the Greater Philadelphia Chamber of Commerce, Philadelphia Diagnostic and Rehabilitation Center, Philadelphia Urban League, Federation of Jewish Agencies, University of Pennsylvania Museum and the Franklin Institute, among others.