Site preserves history of fight for rights for the intellectually disabled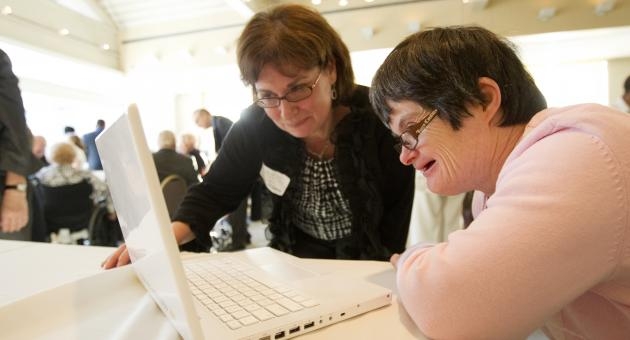 In the 1950s, Eleanor Elkin adopted a baby boy, Richard, whom -- it soon became clear -- had intellectual disabilities. It was a much different era then and the adoption agency offered to take him back.
"But no, I said, you don't send babies back; you don't turn them in like cars. We had had him then probably about two weeks and by then he was my son … there was no doubt …and no way were they going to get him back," Elkin recalled.
The story of Elkin, who is 95 and a leader in the Intellectual Disability Movement in Pennsylvania and across the country, is now documented and preserved through Visionary Voices, a new site that was recently launched by Temple's Institute on Disabilities (IOD).
Visionary Voices came to be about a year ago when Celia Feinstein, co-executive director of the Institute on Disabilities, and a group of colleagues became concerned that the stories and experiences of Elkin and others like her would be lost if they weren't soon captured. Their field now faces budget cuts that threaten the hard-fought freedoms for people with intellectual disabilities.
"If people don't know the history of the struggle, we are destined to relive it," said Feinstein.
The creation of the website came at the perfect time, as the IOD had also just received the personal papers of Dennis Haggerty, a Philadelphia-area attorney, respected disability rights advocate and parent of a child with an intellectual disability. Haggerty's papers, video interviews with Elkin and others and historical photographs comprise the rich content of the site, which is a work in progress. The Haggerty papers are now housed in the Temple University Libraries' Urban Archives
Three more individuals are in line to donate their papers, and 50 people will be interviewed for the site, which is designed to give scholars, people with disabilities, students of all ages, the public, legislators and policy makers the history of the movement going back to the 1960s.
It's fitting that the site, which appears to be the only one of its kind, was created by a Pennsylvania-based university. Pennsylvania played a key role in the creation of public policy that has changed the way people with intellectual disabilities live in the community, said Feinstein.
When Elkin began her work in the 1950s, there were no services, no education and no early intervention for children with intellectual disabilities.
"The expectation was either you institutionalized your child, which most people were advised to do, or did what you could at home," said Feinstein.
Elkin and other parents fought for access to schools, which led to the Right to Education Case, or PARC v. The Commonwealth of Pennsylvania. The resulting PARC Consent Decree opened Pennsylvania's schools to children with disabilities.
Other hard-won battles that are chronicled on the site include deinstitutionalization and the movement toward self-determination for individuals with disabilities.
"There is much to be learned from a generation of advocates who risked so much to ensure the safety and freedom of people with disabilities," said Feinstein. "If their memories and stories are not preserved, they will disappear forever."