Monthly group helps faculty lead discussions on race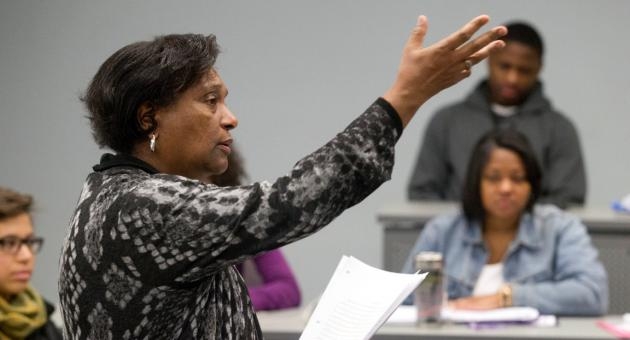 Talking about race is hard, even at a place like Temple, where diversity thrives and all students are required to take a Race and Diversity course as part of the GenEd program. 
That's why, for the past three years, a dedicated group of Temple professors and administrators has gathered once a month to share their challenges, fears, solutions and ideas at "Can we talk? Teaching about race and diversity," a discussion led jointly by the Teaching and Learning Center (TLC) and the Office of Institutional Diversity, Equity, Advocacy and Leadership (IDEAL).
"We all bring our own identities and beliefs, and it's sometimes hard for both students and faculty to have conversations about race," said Pamela Barnett, associate vice provost and director of the TLC. "Faculty are concerned about conflict and the classroom getting out of control. They worry about what students might say and how best to respond. They're also afraid to say the wrong things themselves."
At the monthly meetings, participants walk through these challenges together. Over the course of their meetings, they've talked about how the best way for students to learn is through strong engagement in the classroom; how conflict is sometimes necessary to foster such engagement and that there are many ways to successfully manage an open and interactive classroom environment. 
​It all started soon after Barnett and Donna Marie Peters, assistant professor of sociology, earned a certificate in diversity leadership that Tchet Dorman spearheaded through IDEAL. Peters suggested they apply their training to a series of TLC workshops on race and diversity.
"People said, 'Let's keep going; why should this end?' So we just continued and it's never stopped," said Barnett. 
Since then, a steady group of about 25-30 that includes many regulars, has met monthly during the school year. It's a welcoming group that's constantly absorbing new members, said Barnett. 
"We want all faculty and administrators to feel invited. The more voices, the better the work we can do," she said.
Some of the participants have also gone on to take the 12-credit certificate in diversity offered by IDEAL.
Dorman, director of IDEAL, who co-leads the group with Barnett and Peters, explains why it works so well. "We've made a space where people can deal with their hopes, fears and struggles on teaching about race, sex and gender," he said. "It's an environment where we try to limit judgment of others, because we're all there to learn and grow."
At the first meeting of the year, the comfort of the participants was evident. They felt safe enough to share stories about the burden of the prejudices they grew up with, the fear that students wouldn't consider them qualified to teach about race, their struggles to help students fit in at internships where they are the sole minority and how to respond to a student who offends others with their comments. 
"We've heard instructors say they don't know if they want to even start such a conversation," said Barnett. "They'd rather just lecture and the minute controversy arises, shut it down."
To which the participants have countered, 'no'! 
"Part of what we're teaching students is academic discourse and how to learn from different perspectives and even conflict," said Barnett. 
Participants have shared a variety of strategies on how to create the right classroom environment: 
Have the guts to have the conversation. 
Help students see the connection between the course material and their different perspectives.
If things get heated, take a break.
Teach students how to listen and reflect back what they've heard. 
Set ground rules that allow everyone a chance to explain themselves. 
Make the assumption that everyone's doing the best they can. 
You can find just such an environment in Speakman Hall, where Vanessa Lawrence, associate professor at the Fox School of Business, teaches "African Americans: Equality and the Law." During a recent class, students considered each other's journal entries about times they had race-related experiences. 
There was the student, an African American, who questioned the frequent selection of African-American performers for the Homecoming concert. Another student felt ashamed about getting off the subway when a man wearing Muslim dress got on. One student witnessed a teaching assistant turn to Asian students in class to ask them how to pronounce an Asian name. In each case, Lawrence gently prompted students to recognize assumptions and question their beliefs. 
"College is this amazing place where everybody comes together. They live in the dorms together, they have class together," said Barnett. "And then to have a class where they can actually talk about this diversity under the guidance of a faculty member? We want faculty members to be able to do it well so that it can be a transformative, enriching experience for all."