Verdant Temple landscape upgrades continue
Portions of Polett and Liacouras walks will be renovated this summer.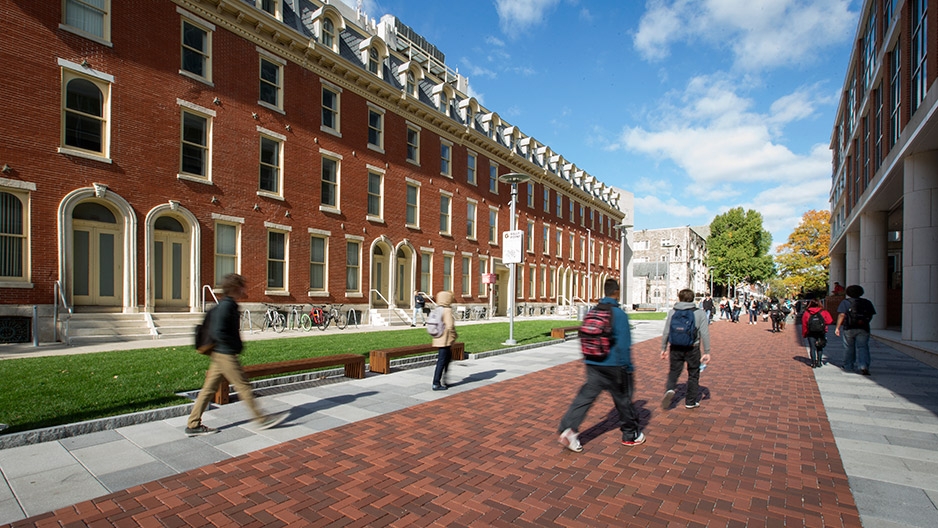 A new phase of the Verdant Temple landscape plan will be implemented this summer as sections of Polett and Liacouras walks receive new landscaping, lighting, paving and other improvements.
Work on this phase is expected to begin after this academic year and end by the fall semester. It will extend the new landscaping that has already been installed on Liacouras Walk (from Montgomery Avenue to Shusterman Hall) to the intersection with Polett Walk.
Polett Walk will be redone west from Liacouras to the gates facing Broad Street. Upgrades include permeable pavement to soak up rainfall and lessen the impact of stormwater on the city's drainage systems, more social spaces with new seating, new planters, and a widening of the walkway.
New LED lighting also will be installed, as well as uplighting, which will better illuminate the architecture of Sullivan Hall and the lawn area beside it.
"Improving significant portions of our main walkways will create an enriching environment for our students, faculty, staff and visitors," said Dozie Ibeh, TYL '01, associate vice president of Temple's Project Delivery Group. "This phase also contributes to the ongoing transformation of this part of campus as we start building our stunning new library."
The next stage of Verdant Temple will focus on updating the nearby Founder's Garden, which was identified in the landscape plan as an important space that could be made more dynamic and welcoming with elements such as new landscaping, lighting, paving and seating.
A subsequent phase of Verdant Temple seeks to renovate the section of Liacouras Walk from Polett Walk to Norris Street once the university's new library is substantially complete. The projected completion date for the library is fall 2018.