We know what you did last summer
Temple students across all disciplines spent their summers conducting research and completing internships.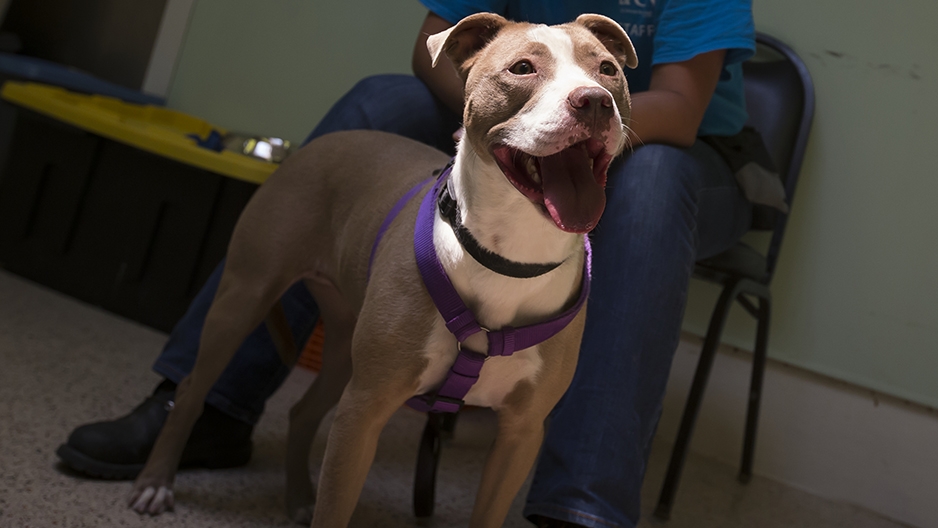 Owls are no slouches, that's why over the summer, students spent their days conducting research or participating in hands-on internships all over the globe. No matter the discipline, students gained real-world experience that will help set them up for success.
Name: Jen Jovinelly
Year and major: Class of 2017; neuroscience: cellular and molecular
Research project: Predicting rescue dog personality and behavior in new adoptive homes
Jen Jovinelly, an aspiring veterinarian, developed the concept for her Diamond Research Scholar project from a familiar feeling—she missed her family dog, an adopted St. Bernard. She figured she could curb her canine withdrawal by volunteering at a shelter near campus, like she had previously done in her hometown.
As she observed how shelter dogs and families are matched, she thought she could use research to create a better way for families to adopt four-legged friends. She spent her summer working with behavioral analysts at the PSPCA to assess and digitally catalog behavior traits of dogs in the shelter. Her goal is to match dogs with families based on actual behaviors, rather than breed or other more superficial factors. She described her end goal as a sort of match.com for dogs and their adoptive families.
Jovinelly's research will continue through December, when she will present her findings. Until then, she recommends fellow students who miss their dogs volunteer at a local shelter.
Name: Kyshon Johnson
Year and major: Class of 2017; international business
Internship: Olympic Guide for NBCUniversal
Add one more Owl to the Rio roster. Kyshon Johnson secured a competitive internship with NBCUniversal as an Olympic guide for the 2016 summer games. She spent four weeks in Brazil as part of the program.
Her day-to-day duties included assisting NBC staff with ensuring network executives and their guests had an exceptional experience, as well as pitching in with administrative tasks such as working the information desk and helping guests sign up for tours and Olympic events.
The internship had its share of perks. Johnson watched Olympians Katie Ledecky, Michael Phelps and Usain Bolt set records. She witnessed the U.S. men's basketball team win the gold medal game against Serbia. She also scored selfies with Simone Manuel and Ibtihaj Muhammad, two history-making female Olympians.
"The experience was priceless and each day I gained a deeper understanding of the business aspect of global sports," Johnson said. "My greatest goal was to work the Rio Olympic Games. Now that I've accomplished that, I am eager to set even higher expectations for myself."
Photograph courtesy of Kyshon Johnson
Kyshon Johnson's summer internship with NBCUniversal in Rio provided her with the opportunity to attend the Olympics Opening Ceremony. 
Name: Max Blake
Year and major: Class of 2018; media studies and production; strategic communication 
Internship: APA Talent Agency
What we've been told has been wrong—It's not all about who you know, it's about who knows you.
That's what Max Blake, Class of 2018, learned at his internship at APA Talent Agency in Beverly Hills, California.
"Interning at an agency was the best learning experience, agencies are the nucleus of the entire industry," said Blake. "I went in with very few expectations. I would watch Entourage and think that an agency is just a bunch of men trying to get actors in movies."
He started—like so many before him—in the mailroom, where his few expectations were shattered.
"It's like the batting cages of the industry," said Blake. "You open checks and scripts and have to deliver them, then you get to meet all of the agents."
Moving on from batting cages, he had the opportunity to shadow agents and assistants of each department within the agency, his favorite being the head of the comedy department.
"Shadowing was a large part of the internship. It's basically eight hours to network," said Blake. "I didn't have many responsibilities, but I get to sell myself."
One of the only non-ivy league intern at the agency, Blake did sell himself. If you ask him if everyone from APA Talent Agency knows him, he will laugh and say "Yes, I think so."
He must have made an impression, because the agency has invited him back after graduation.
In the meantime, Blake plans to apply what he learned at the agency and get more involved with Temple's campus program board.
"I would get to be on the other side as the talent buyer, and get to help Temple at the same time," he said.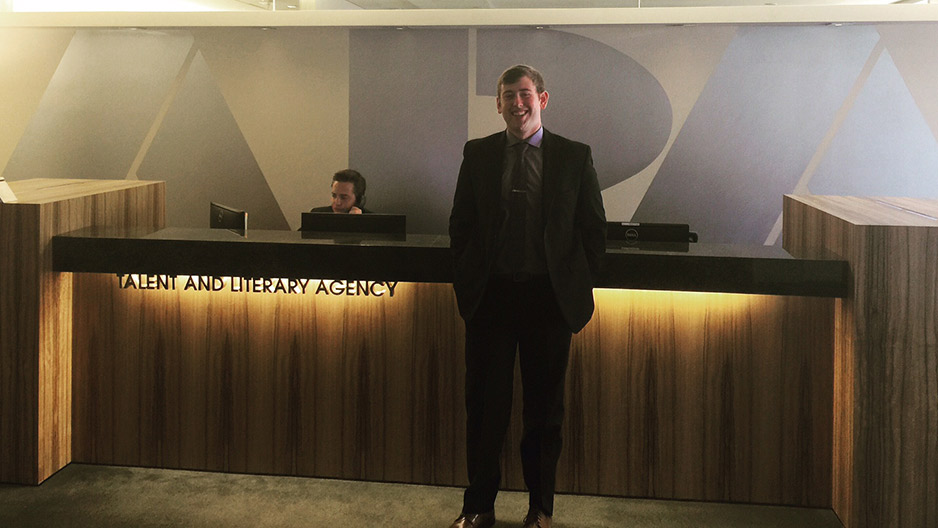 Photograph courtesy of Max Blake
Max Blake standing in the lobby of the Beverly Hills, California, office of APA Talent Agency where he interned over the summer. He's been invited back to the agency after graduation. 
Name: Ryan Doyle
Year and major: Class of 2018; human resources
Internship: Federal Workforce Recruitment Program—Defense Logistics Agency
"The coolest thing was walking through the gates each day and knowing that you're helping others, not just yourself," said Ryan Doyle.
Through the Federal Workforce Recruitment Program—a program that connects highly motivated college students and recent graduates with a disability to full-time paid internships and permanent jobs with federal employers nationwide—Doyle was able to intern with the Defense Logistics Agency.
Doyle worked with food supply logistics, ensuring that sectors of the military and schools get what support they need.
After graduation, Doyle plans to continue working with the Defense Logistics Agency. His internship is able to transition into DLA Pathways to Career Excellence Program, a two-year training program that can eventually lead to a full-time position with the agency. 
—Meaghan Bixby and Samantha Krotzer