Posted
September 15, 2016
When art and dentistry collide
A collaboration between Tyler School of Arts and Maurice H. Kornberg School of Dentistry demonstrates how skills can successfully be transferred between both disciplines.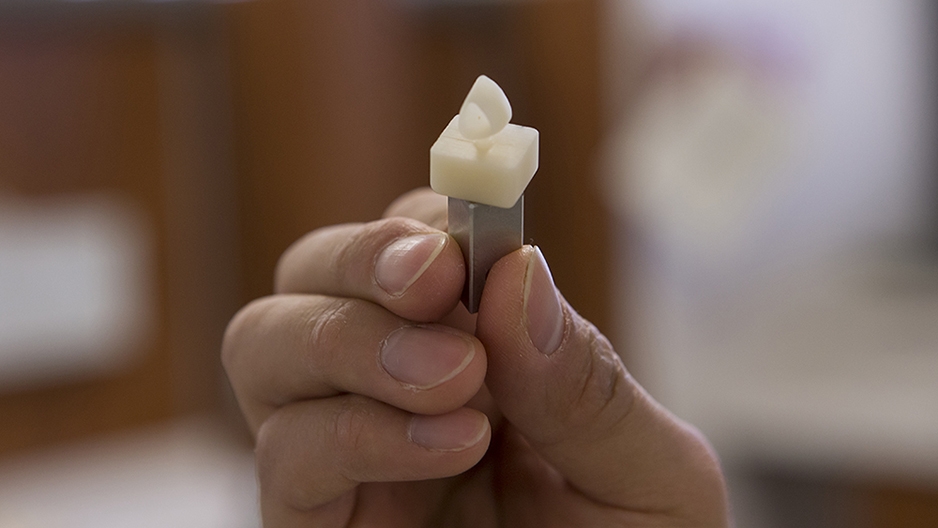 One of Temple's most creative, and unexpected, collaborations started over a casual conversation about art installations last fall at the Maurice H. Kornberg School of Dentistry.

Kornberg and Tyler School of Art were looking for a way to work together. The obvious answer was an art installation at the School of Dentistry. The Temple answer was to bridge the two schools' common ground—using computer-aided design and computer-aided manufacturing (CAD/CAM)—to train a recent Tyler graduate to work as dental lab technician in Kornberg's Henry Schein Digital Dentistry Program.

"Tyler was very pleased to collaborate with the dental school," said Tyler Interim Dean Hester Stinnett, TYL '82. "We see this as a great opportunity for our students." 
Joshua Hallquist, TYL '16, knew that he wanted to design things that fascinated him and captured his interest as he went through Tyler's metal/jewelry/CAD-CAM program. He never imagined that he would end up in the dental field, until he received an email that Kornberg was looking for someone with his skill set.

"I saw this as an interesting opportunity because, as an artist, I have spent countless hours developing wearable objects both by hand fabrication and through computer aided-design, but most of the time the function of the piece was more aesthetic than anything else," said Hallquist. "Designing dental crowns provided a new, interesting challenge. I was able to make something that improved the quality of life for the patient receiving the crown."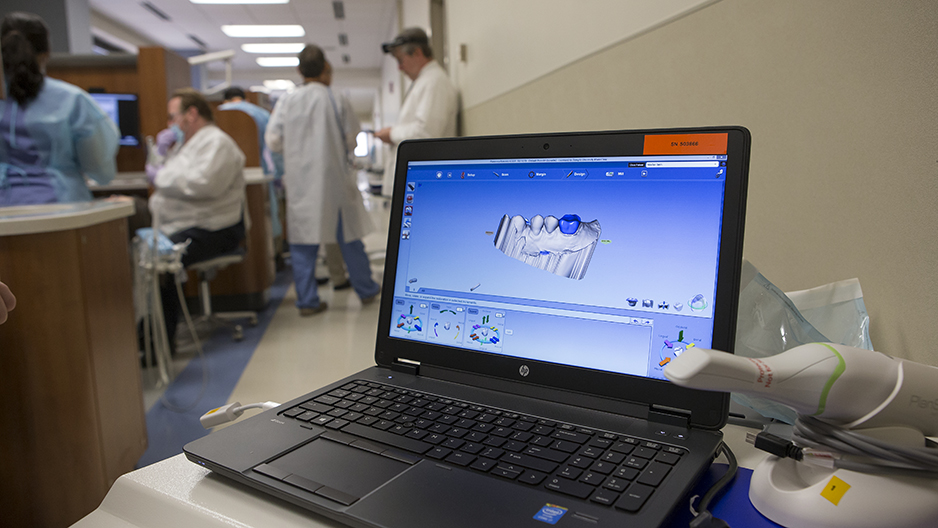 Photography by: Joseph V. Labolito

Kornberg sponsored Hallquist to go to Colorado for three months to work with Custom Milling Center, a large dental lab, to learn the processes involved with the digital design of dental crowns.

"We were very impressed by Joshua's enthusiasm and how quickly he learned the aspects of dentistry he needed to apply to this work," said Kornberg Dean Amid Ismail.  "I am confident that he will be a tremendous asset as we integrate CAD-CAM dentistry in our clinics."
Hallquist found that most of the skills that he developed at Tyler over the past four years were going to be applicable as a dental technician. 
"Jewelry fabrication processes and CAD-CAM design run parallel to crown manufacturing whether it's lost wax casting, using rotary hand tools to finish surfaces, or building a digital model to be 3-D printed or milled by a machine," Hallquist explained.

In addition to the importance of oral health and to maintain function for the patient, much of dentistry is aesthetics, proving that dentistry is an art and a science. Kornberg aims to test the waters at bringing different skill sets together—and Tyler students may be especially qualified for this work.

"We would like to inspire other dental schools with this collaboration, and if it works it could even turn into a new career track for talented artists like Josh," said Cynthia Russell, Kornberg's Director of Faculty Affairs and Strategic Initiatives. "We feel this is a great opportunity to leverage the strengths of programs across Temple's schools and colleges and harness the creativity and innovation throughout the University."

This experimental collaboration continues—Hallquist was offered a full-time position with Kornberg's digital dentistry program for this year—and this uncommon partnership is another example of  Temple as a leading force in modern dental practice.