Posted
September 26, 2016
Professor on communication in a culturally diverse classroom
Elizabeth Hayes Alvarez, assistant professor of religion, provides insight and advice in a powerful commentary for The Chronicle of Higher Education.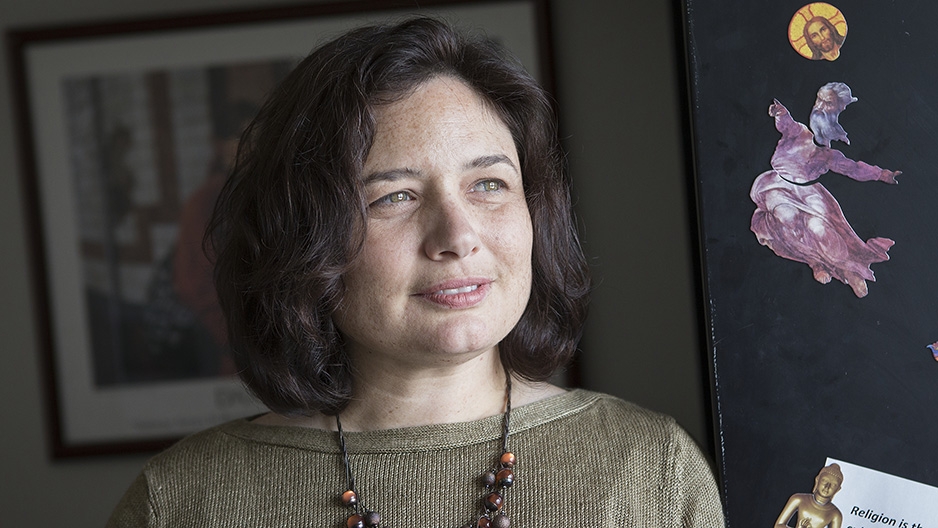 At a time when people seem increasingly divided over their beliefs, having open conversations in a diverse classroom can feel daunting. But Elizabeth Hayes Alvarez, assistant professor in the Department of Religion, has developed a few techniques while teaching at Temple that may help.
In a powerful commentary piece for The Chronicle of Higher Education, Alvarez recounts an incident where two Arabic-speaking students in her "Religion in Philadelphia" course visited a Catholic church for a class assignment. After the service, the students were stopped and questioned by police, who had been called by a church parishioner. 
Such incidents can discourage attempts at cross-cultural understanding, but Alvarez says classrooms like hers can help bring people together.
"Despite the climate of increasing fear and violence, I will continue to give my students carefully designed ethnographic assignments and encourage them to share personal experiences in class," wrote Alvarez, whose book, The Valiant Woman: The Virgin Mary in Nineteenth-Century American Culture, was recently published. "Nothing can replace seeing other cultural practices, listening to each other, and reasoning together."
In the Chronicle piece, Alvarez also shared several pieces of advice she's learned from teaching at Temple that other instructors can use to foster constructive communication among diverse students.
Her tips include recognizing that no individual speaks for an entire ethnic or religious group and encouraging students to contextualize their comments. For example, instead of saying that all Christians believe Jesus will return soon, a student could specify that Christians in a particular denomination, geographic area and time period believed that Jesus would return soon.
"Helping students develop an awareness of their own cultural narratives and differences requires concrete strategies," wrote Alvarez. What's most crucial, she said, is "making the classroom a safe place for discussion so relationships can grow and empathetic engagement can occur."
Read the commentary piece in The Chronicle of Higher Education.