Posted
September 30, 2016
2016 State of the University
Mission, stability, momentum are key themes; new goal set for alumni giving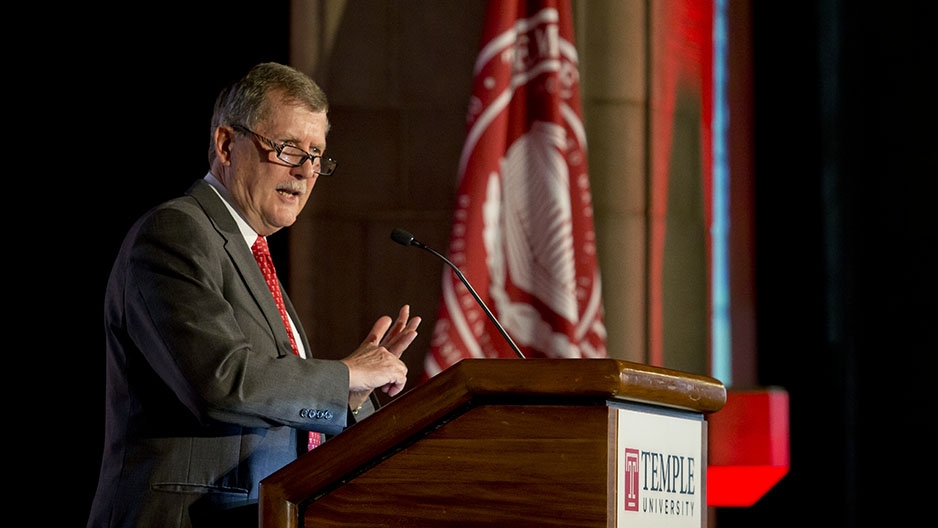 At the State of the University address on Thursday, Temple University Acting President Richard M. Englert affirmed the importance of Temple's mission; celebrated its momentum; praised its faculty, staff and students; and set a new goal for alumni giving.
"Over the past four decades, I've had the great honor of serving [Temple] in 16 different roles…I've seen its greatness, I've seen its people…and I can categorically say there has never been a better time to be at Temple University than right now," Englert told a full house in Mitten Hall.
Mission and stability in a time of transition
Englert opened his address by reflecting on the university's founding and its traditional mission—what he called "an experiment in how an urban university can deliver an affordable, high-quality education." In times of change and growth, he argued, we must recommit to that mission.
"We've grown stronger while still staying true to our founding principles of access, affordability, diversity, excellence and financial responsibility. In all of America, there is no university quite like ours," he said.
"I can categorically say there has never been a better time to be at Temple University."
-- Acting President Richard M. Englert
Englert acknowledged the summer's "dramatic" events, saying that he believes the university "responded well to the challenges."
One critical source of stability during the leadership transition, he said, has been Temple's new provost, long-time Temple administrator and faculty member JoAnne A. Epps, formerly dean of the Beasley School of Law. Her introduction drew one of the morning's warmest rounds of applause.
Temple also benefited from its fundamental strength as an institution, Englert said, citing the university's fiscal health. That financial stability helped leaders manage the changes in Temple's merit scholarship program after unprecedented demand from highly qualified applicants created a temporary budget overrun—a situation that was addressed without increasing tuition or impacting any student's financial aid.
Temple's momentum—and a call for alumni participation
"There's one word to describe what Temple continues to have: momentum," Englert said, noting unprecedented progress in several key areas: record freshman applications, strong rankings, new facilities, groundbreaking research, teaching, faculty recruitment, delivery of health care (especially to North Philadelphia residents), graduation and retention rates.
"Most of all, Temple's great momentum is the result of numerous tireless people all across the Temple community," said Englert, who shared more than a dozen examples of faculty and staff achievements.
While celebrating Temple's major gains in fundraising, Englert urged the Temple community to address one area where there's room for growth: alumni giving.
"Currently we rank No. 202 in the country in undergraduate alumni giving. We have about a 6 percent alumni participation rate. We can do better. Our goal is to move that to 10 percent," Englert said.
"We need to…encourage alumni to get engaged with Temple University—to give at some level, no matter how small or how large. We have more than 316,000 alumni around the world. Think of the power of energizing 10 percent of that group. Their gifts to Temple would be transformational—to support our students, our teaching, our scholarship, our service."
To illustrate the impact that alumni have on the world, Englert showed a video that's part of Temple's new marketing campaign.
You can watch the complete State of the University address at the president's website or Temple's YouTube channel.