Temple Harrisburg celebrates Student Learning Center renovations
Physical upgrades support increased focus on undergraduate offerings.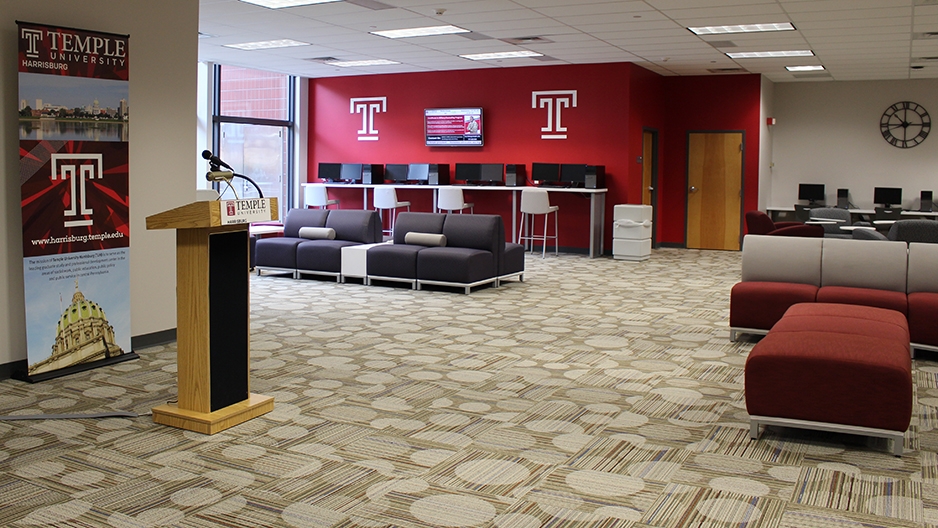 Temple University Harrisburg recently celebrated its newly renovated Student Learning Center with a grand reopening and ribbon-cutting ceremony for its first floor, which has been transformed with new technology, flexible learning space and other upgrades.

The Oct. 26 event at the Harrisburg campus in Strawberry Square featured local and state political officials and Temple President Richard M. Englert, who said the first-floor renovations reflect the university's commitment to creating dynamic learning spaces to students at all locations. School of Media and Communication Dean David Boardman announced an expansion of first-year programs in line with efforts to bring more undergraduate offerings to the campus.

Vicki Lewis McGarvey, who as vice provost for university college coordinates academic programs at Temple's Ambler, Center City, Fort Washington and Harrisburg campuses, said the Student Learning Center project marks the first major renovation since Temple occupied the Strawberry Square space—directly across from the Pennsylvania State Capitol—in 2000 (the university has been offering programs in Harrisburg since the 1950s).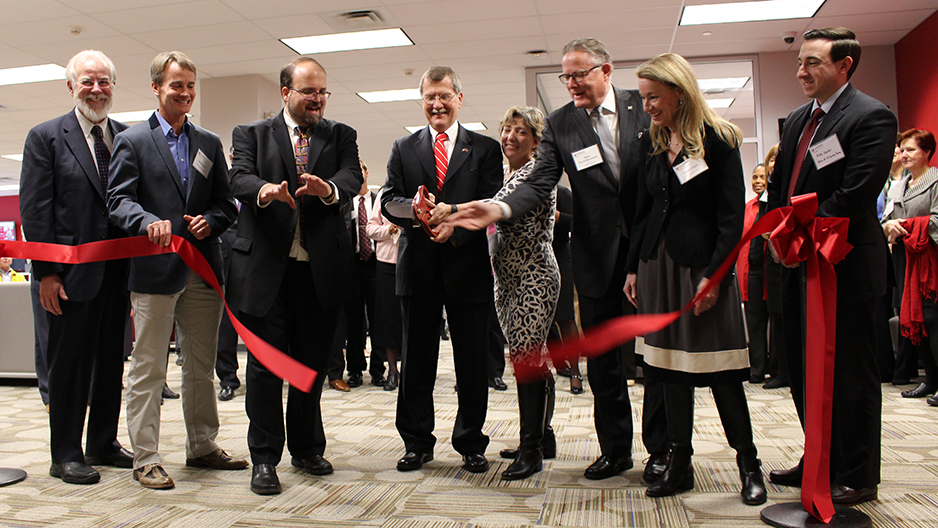 Courtesy of Temple University Harrisburg

The first floor of the two-story campus had been primarily occupied by a traditional library, a few offices and classrooms. The renovation, which started this summer, included downsizing the library stacks, adding more computer workstations, installing new carpeting, moving the main entrance to a more inviting, centralized location, and repainting the space to help brighten it and give it more of a distinctive Temple feel.

Link Martin, Temple Harrisburg's director, said the project also included removing inner walls to allow for more sunlight and increased transparency in the space. Movable furniture, lounge areas and breakout rooms promote flexibility for small-group study sessions and more active learning for the goal of 1,000 students the campus will eventually serve.

"As needs have changed and the ways students work together has changed, we needed to create much more flexible space," Martin said.

The physical renovation supports ongoing efforts to expand undergraduate education at Temple Harrisburg, which currently offers the Pennsylvania Capital Semester through the College of Liberal Arts and the Freshman Year at Temple Harrisburg, as well as postgraduate certificates, master's programs (such as the Master of Social Work) and professional development and high school outreach programs.

Now, School of Media and Communication students of any of the school's majors can start their degree in Harrisburg before transferring to Main Campus.

"The Harrisburg campus offers our students an excellent option to begin their Temple education outside of Philadelphia and in the heart of the state capital," Boardman said. "We are excited to be the pilot school for this new endeavor, offering both general-education courses open to all students and major-specific courses in media and communication."