Engineering researchers lend expertise on I-95 project
As the massive I-95 construction project continues, researchers from Temple's College of Engineering are working in a unique partnership with PennDOT to study ways to better mitigate stormwater runoff from the expressway.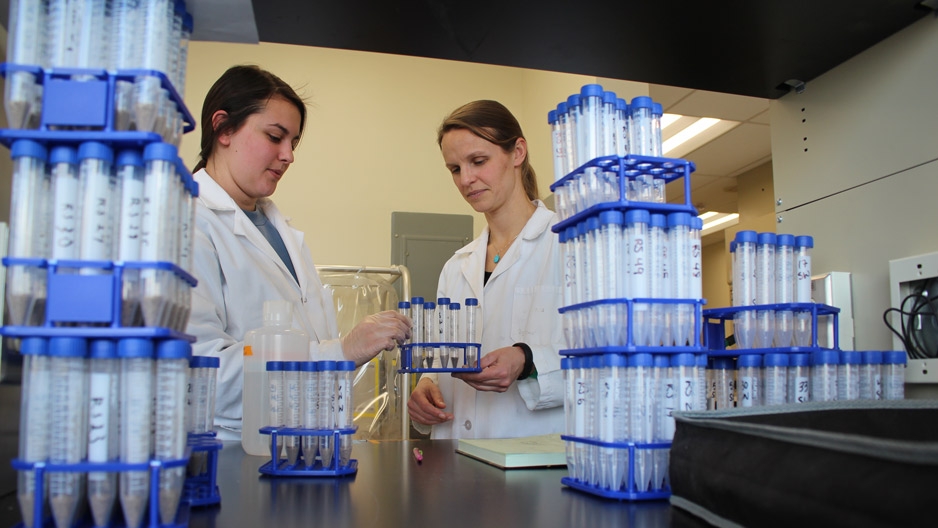 If you drive in Philadelphia, chances are you've noticed—or been stuck in traffic near—the construction on I-95 in Philadelphia at some point.
But what you might not have realized is that researchers from Temple's College of Engineering are working with PennDOT to find ways to better mitigate stormwater runoff from the heavily traveled expressway.
The project to widen I-95, which began in 2009 and will stretch several more years, will require a new stormwater management system that didn't exist when the highway was first built. That's where Temple researchers—who joined into the unique partnership with PennDOT along with engineers from Villanova University—come in. The partnership between PennDOT and university researchers, and the researchers' level of involvement, is unmatched in any other infrastructure project in the country.
Erica McKenzie, an assistant professor in the Department of Civil and Environmental Engineering, is among Temple's researchers working on the project. McKenzie studies the effects of trace materials, like copper from vehicle brakes and zinc from tire composite, that enter stormwater from road runoff.
"My job is to come along and understand how much [of these metals] is washing off," McKenzie explained. "[And] when we implement some kind of a stormwater management strategy, is that effective?"
McKenzie and her students are also studying the use of road salt for deicing highways and how it mobilizes the other materials in stormwater runoff. So far, her research has revealed a buildup of contaminants in construction areas.
She said the I-95 project is particularly exciting for her because it stretches across disciplines. She said other faculty members working on the project are studying many aspects, from the topography of the area to how well plants survive in stormwater management areas. The researchers are also working to ensure that the solutions are also aesthetically appealing in addition to being functional. 
"Beyond the science, we want these things to be pretty," McKenzie said. "These [projects] are in neighborhoods, and we want them to be seen as an aesthetic resource."
Read more about the project and McKenzie's research here.
—Marco Cerino