Cradle to Grave marks 11 years teaching about gun violence
Cradle to Grave, which began in February 2006, has reached more than 11,000 youth and adults and been proven to reduce young people's proclivity toward violence.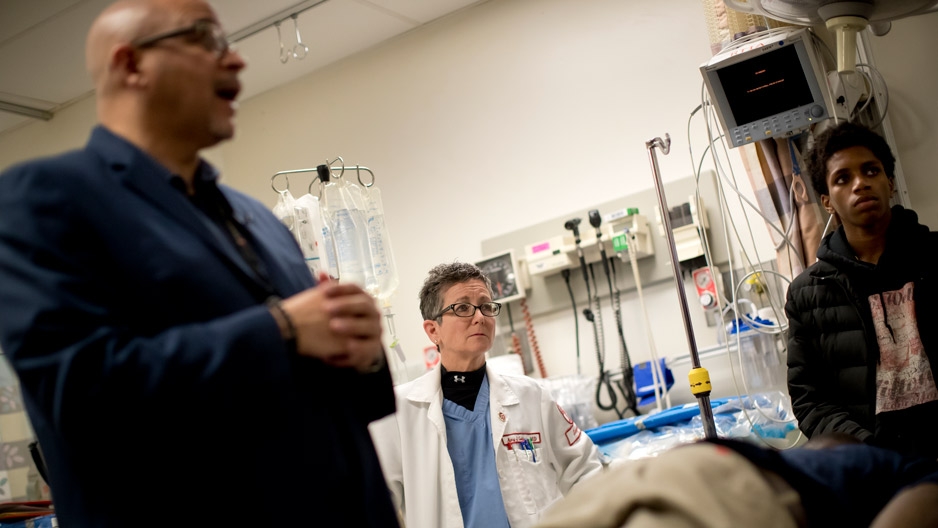 More than a decade ago, Temple University Hospital trauma surgeon Amy Goldberg for the first time stood in front of a group of wide-eyed 8th graders, teaching them the harsh reality of what really happens when a person who's been shot comes through the ER doors.
"What I'll never forget is the questions that the students asked us," Goldberg said recently. "They asked me how do I deal with it. They asked us why aren't we going to the parents to educate the parents as to what gun violence can do. It was so insightful that they were so moved by it."
On that day, what would later become Temple's Cradle to Grave program was born. Goldberg, now chair of the Lewis Katz School of Medicine's Department of Surgery, joined forces with Scott Charles, who brought in that first group of students in 2004 and later joined Temple as the hospital's trauma outreach coordinator, to design the educational program and bring it to fruition.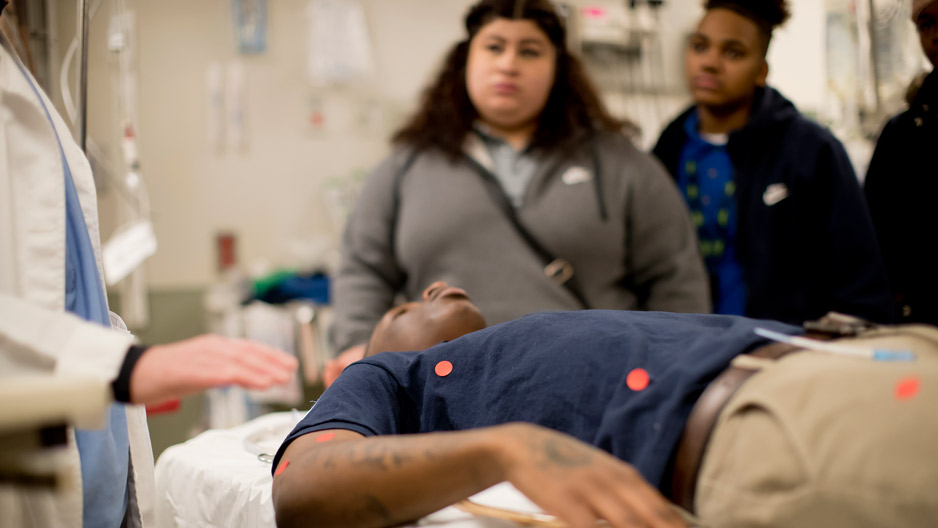 Cradle to Grave officially began 11 years ago, in February 2006. Since then, more than 11,000 people—mostly youth who live in gun violence-plagued Philadelphia neighborhoods—have participated in the class, which generally takes place at Temple Hospital, beginning in a trauma bay and ending in the morgue.
Goldberg—who first came to Temple in 1987 for her internship and has cared for thousands of victims of gun violence—said she realized early in her career that more needed to be done.
"I was really outraged that nobody else in the city seemed to think that what was going on up here in our neighborhood was so inappropriate," Goldberg said.
Beyond Cradle to Grave's reach, the program is proven to reduce youth's inclination toward violence. A study authored in part by Goldberg and Charles in 2010 found that students who went through the program showed a change in attitude toward guns and violence, indicating that the program potentially reduced the likelihood they would engage in violent behavior.
I was really outraged that nobody else in the city seemed to think that what was going on up here in our neighborhood was so inappropriate."
-- Amy Goldberg, chair, Department of Surgery
"The study looked at their attitudes toward guns and violence, and those students who had gone through the program did indeed have a lower proclivity toward violence," Goldberg said. "When you watch the program, you can see that students surely are moved by it and seem to understand what we're trying to express. But [to] actually do a study that's published in a peer-reviewed journal that shows that their attitudes are statistically significantly reduced in those areas of guns and violence, we were really happy."
Charles said one measure in the study that was particularly significant was the question students were asked about their response to shame.
"One of the foremost experts on violence, Dr. James Gilligan, has long argued that shame lies at the root of all acts of violence," Charles said. "So by bringing kids through, one of the things that we hoped we would see is improvements particularly on that subscale of aggressive responses to shame, and that was clearly by far where we saw the greatest improvement."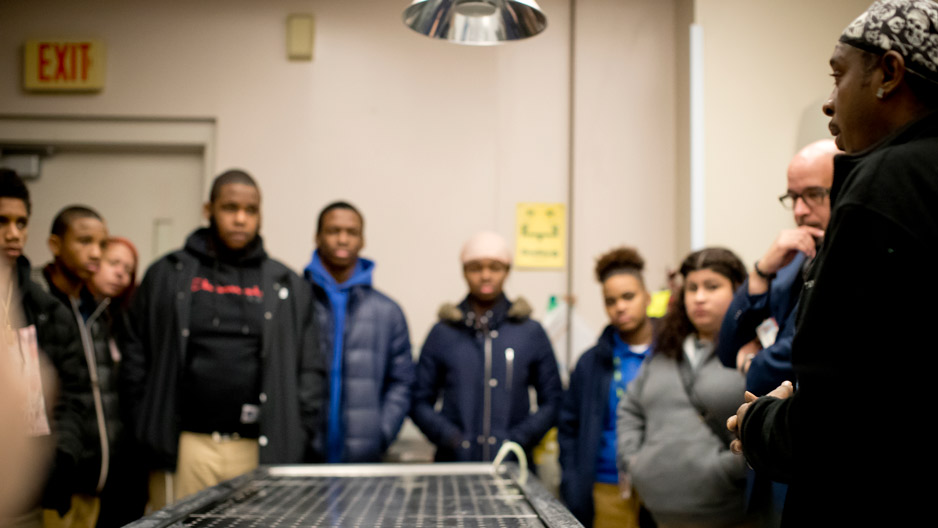 In the future, Goldberg and Charles hope to expand the program to reach more people in Philadelphia and beyond. They also hope to further study its impact on participants, including a study on participants' behavior after they participate in Cradle to Grave.
Goldberg said that the people in the community who continue to utilize Cradle to Grave to learn more about gun violence are the real reason the program has had such staying power—not just the fact that she and Charles continue to host it.
"The community finds the program useful, and I think that's really what's most exciting," she said. "Whether it's North Philadelphia, all over Philadelphia, or Delaware or New Jersey, people want to come and participate in the program, and I think that's really what's had the greatest impact."