Temple's new signage standards brighten campus and help people find their way.
A subtle yet significant addition to campus life is turning up throughout Temple: new signs. If you've noticed, that's the point.

As part of the Verdant Temple landscape master plan, the university established more consistent signage standards for building identification, directional signs and campus gateway markers, both for pedestrians and motorists. New building directory maps and interpretive signs—which typically give historical information about certain spaces—are also planned.

Taken together, the various signage improvements enhance visibility and consistency.

"It gives the university better identity at a vehicular and pedestrian level," said James Templeton, director of architecture in the university's Project Delivery Group. "It will help tremendously with wayfinding. Plus it helps unify and improve the appearance of the campus. It's an extra layer of detail that will aesthetically improve how we experience Temple."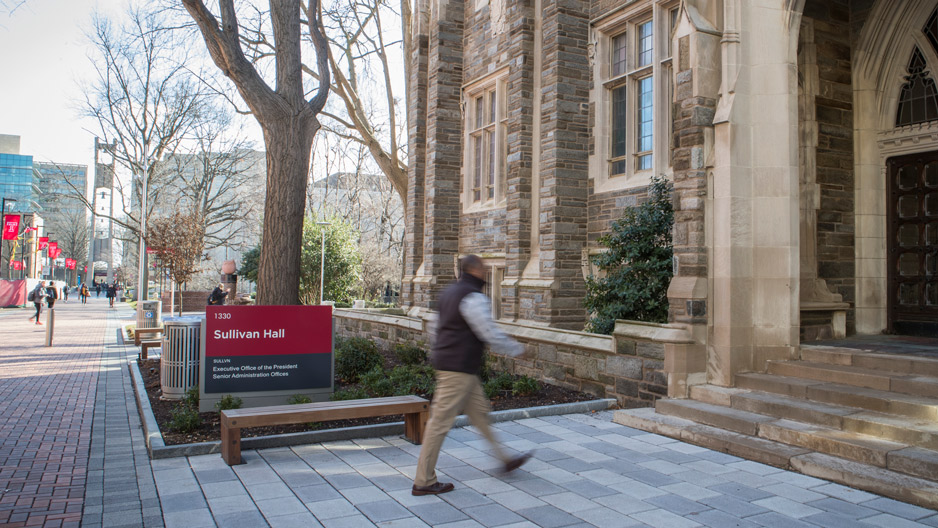 The new signs are being implemented in phases. Directional signage for vehicles was the first type to be installed. Since then, new building identification signs have been placed in front of Sullivan and Mitten halls, the Science Education and Research Center, and on and in front of the Liacouras Garage and Montgomery Garage (home to Campus Safety Services and Parking Services).

Some signage at the Katz School of Medicine and School of Podiatric Medicine also follows the standards. Recently installed street signs mark the intersection of Liacouras and Polett walks, Temple's primary pedestrian pathways on Main Campus.

The signage was developed in collaboration with Cloud Gehshan, an internationally recognized environmental graphic design consultancy based in Old City Philadelphia.

"We wanted it to be something that was bold, something that has some architecture to it, but simple enough to build so that it's relatively easy to install or modify if needed," Templeton said.