Summertime, and the livin' is … under construction
More than 100 construction and renovation projects are underway around Temple.
Temple's Project Delivery Group is living up to its name—and then some.

The university's team of professional architects, construction managers and support staff who execute capital projects—from planning and design through construction—are overseeing 160 construction projects ranging from Temple's new library to smaller renovations.

With such a large number of active projects taking shape this summer, portions of Main Campus will be transformed when the academic year starts in the fall. Here is a roundup of notable campus developments that will support Temple's dynamic community of students, faculty, staff and visitors.


The hallmark capital project at Temple continues to be its new library, a four-story, 225,000-square-foot academic commons that will occupy a city block. The construction site at Polett and Liacouras walks has been humming with activity for the past year, but recent developments include portions of the building's frame rising out of the ground. This includes the area of the library that will house an automated storage and retrieval system. This robotic system uses less space for book storage, thereby increasing spaces for collaboration and learning. Steel framing will continue over the summer and into the fall.

Another notable new-construction project is the Student Training and Recreation (STAR) Complex, an academic, athletics and recreation facility quickly taking shape at 15th Street and Montgomery Avenue. The facility will provide enhanced space for students in the College of Public Health to hone their clinical skills, along with areas for students to play sports and weight train. The project is expected to be finished by the fall semester.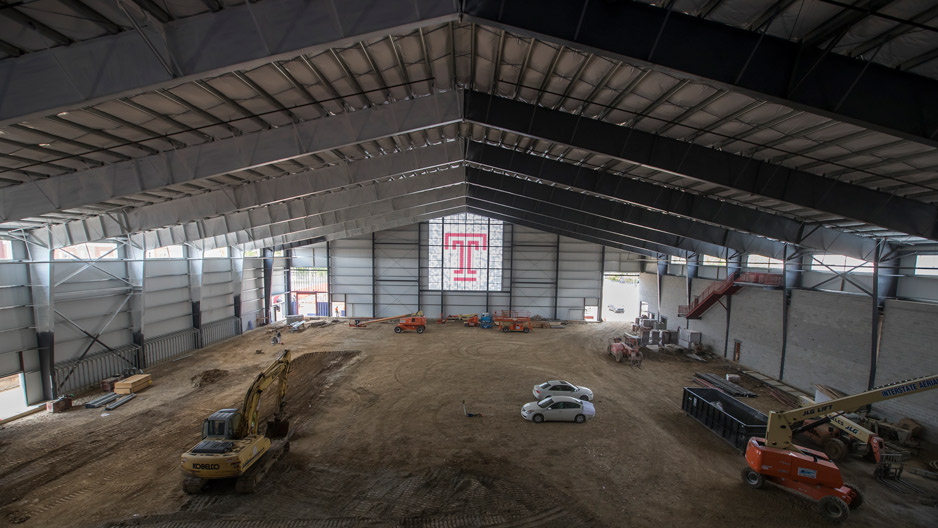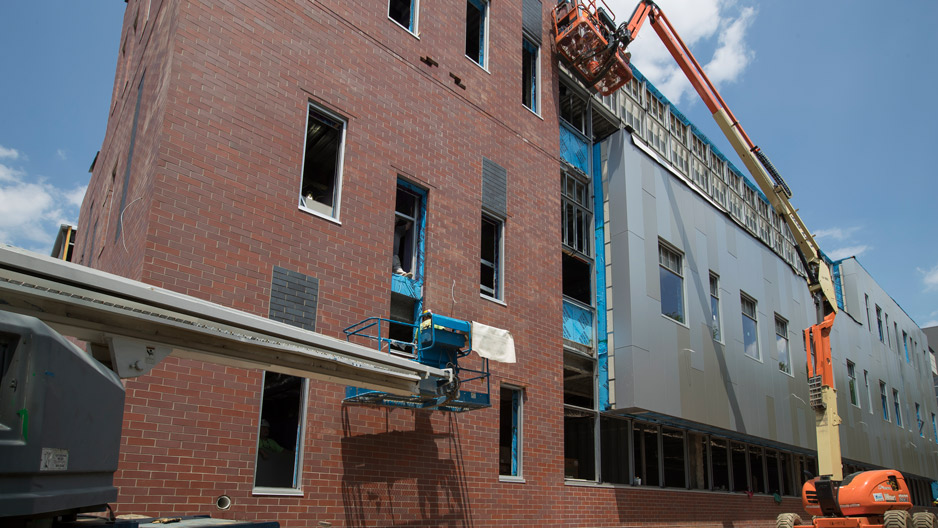 The summer makeover of the Howard Gittis Student Center food court and atrium headlines Temple's renovations. The project will bring a host of popular brands—including Chick-fil-A, BurgerFi and Saladworks—to the food court, as well as a new Starbucks to the atrium.

Founder's Garden, the pocket park at the pedestrian heart of Main Campus (Polett and Liacouras walks), is being renovated to improve the landscaping, especially on the upper level of Founder's Garden, which will feature more usable spaces and clearly defined pathways. Outdated pavement will be replaced, and new lighting, outdoor furniture and other features will be installed.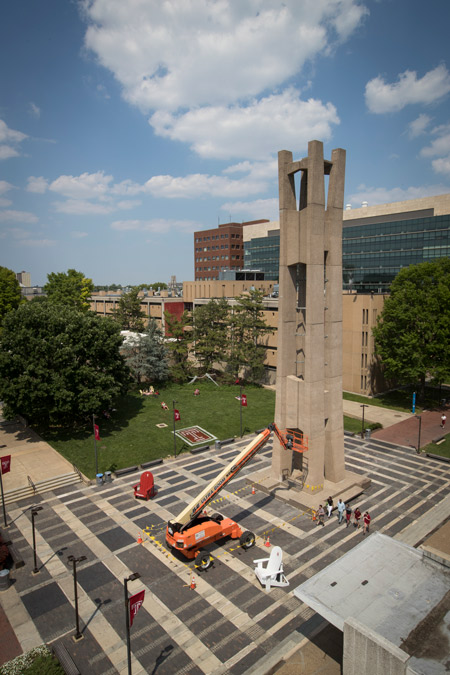 Just to the west of Founder's Garden, the front steps to Sullivan Hall, home to Temple's senior administration, are being renovated. To the east, Temple's iconic Bell Tower is being cleaned and resealed. In the fall, a newly landscaped Lenfest Circle at the base of the Bell Tower will be created to honor Trustee H. F. "Gerry" Lenfest.

Façade work is ongoing at Tomlinson Theater, as well as Johnson and Hardwick residence halls, where paint and flooring are being renewed. A second phase of restroom replacements is occurring at the Temple Towers residence hall. Across Cecil B. Moore Avenue, Weiss Hall's plaza is under renovation to weatherproof the area and to install new paving, steps, lighting and plantings.

Student Financial Services, which had been temporarily located at 1700 N. Broad St., recently returned to its renovated home in the lower level of Carnell and Conwell halls. New windows are being installed on both Conwell and Carnell.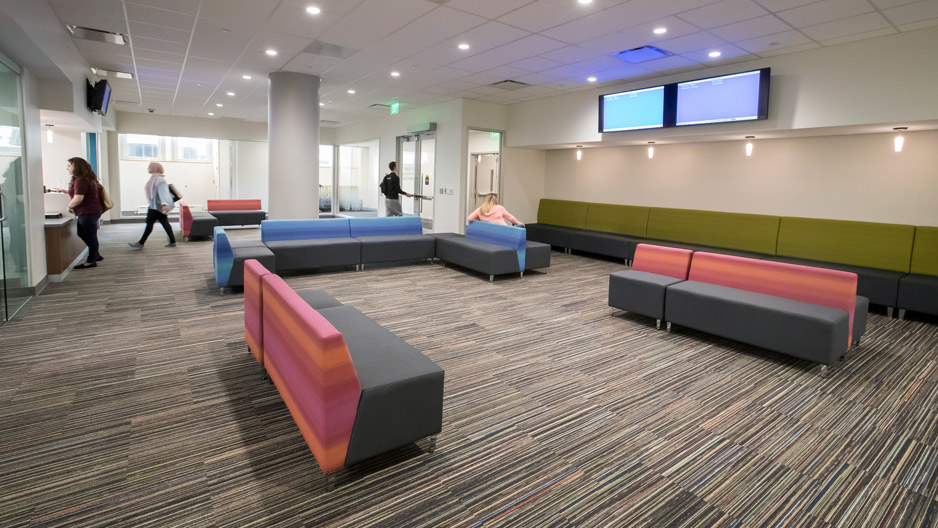 With Student Financial Services out of 1700 North Broad, construction has begun on a new home in that building for Tuttleman Counseling Services. Tuttleman's new space is expected to open for the fall 2017 semester. Student Health Services will join in the move to 1700 North Broad and is projected to open there in early 2018. Other notable student-services moves are detailed here.
At Gladfelter and Anderson halls, a multi-year renovation project will soon start to enhance the terrace that connects both buildings, which house the College of Liberal Arts. The initial phases will fix water leakage and start to make the terrace more inviting and active with new paving, greenery and other elements.

Covered bike shelters have or are being installed outside Ritter Hall, the Student Center, Tomlinson Theater and the College of Engineering. These shelters add at least 30 bicycle parking spots to Main Campus.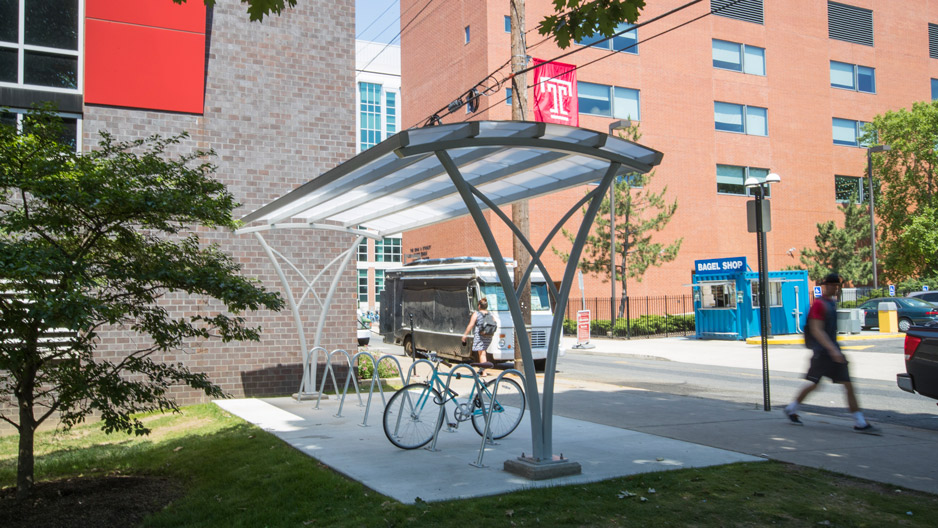 A project to install utility lines will begin shortly at the Biology-Life Sciences Building and head south next to 12th Street before turning to the walkway between the TECH Center and Anderson Hall toward Montgomery Garage. This summer, the City of Philadelphia plans to resurface 12th Street from Diamond Street to Cecil B. Moore Avenue and 10th Street from Diamond Street to Montgomery Avenue.