Department of Licenses and Inspections opens new office on Cecil B. Moore Avenue
Philadelphia Mayor Jim Kenney, City Council President Darrell Clarke and L&I Commissioner Dave Perri spoke at the grand opening about how the office will serve North Philadelphia.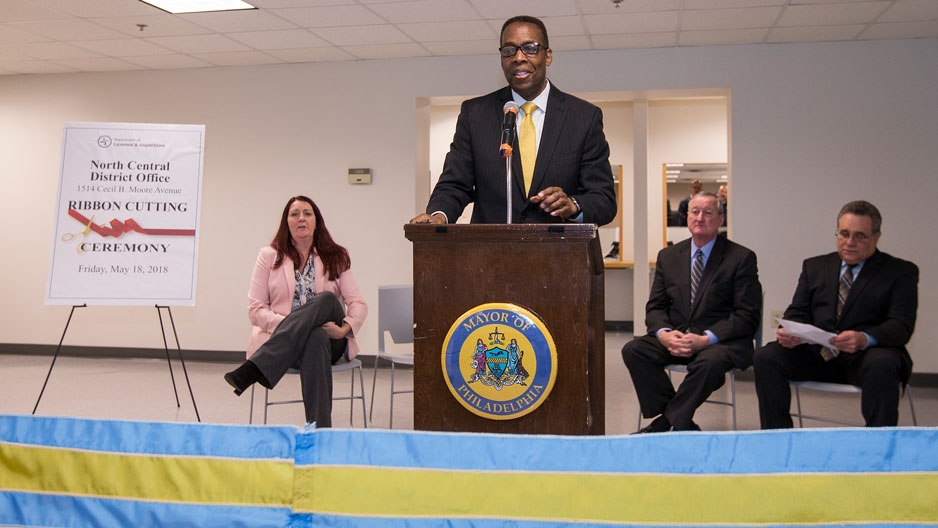 In response to unprecedented levels of growth and development in the area, Philadelphia's Department of Licenses and Inspections recently opened a district office adjacent to Temple University's Main Campus in North Philadelphia. 
The office at 1514 Cecil B. Moore Ave. on the western edge of campus is located within the Beech Interplex building, home to Beech Community Services, which regularly partners with Temple on community initiatives and programing. The new office will house 35 L&I inspectors and four supervisors, said Karen Guss, the department's director of communications.
"Beech is happy to own, develop and construct the new facility for Licenses and Inspections as part of our overall community efforts in the Cecil B. Moore community," Beech Companies President and CEO Ken Scott said.
Philadelphia Mayor Jim Kenney was on hand May 18 at the grand opening of the new North Central District Office to commend L&I on selecting the location for a new site as well as to discuss North Philadelphia's economic growth. 
"I don't have to tell anyone here that Philadelphia is experiencing a building boom. This part of the city has been experiencing that building boom in full force," Kenney said. "The increase in construction is good for the city. It creates jobs and economic development and demonstrates 
that more and more individuals recognize that Philadelphia is a great place to live and work."
City Council President Darrell Clarke shared his excitement with the crowd as he thanked community members for attending the office's opening and L&I for making an investment in the North Philadelphia community.
"This is going to be an awesome opportunity for the citizens of North Philadelphia," Clarke said. "I also want to thank the Beech Community Services for always being the entity in the North Philadelphia community who provides opportunities for municipal services and nonprofit services." Beech Companies has been working with the Kenney administration for the last two years to bring the L&I office to North Philadelphia to help mitigate growing concerns related to enforcement issues.
As the program concluded, L&I Commissioner Dave Perri emphasized the importance of listening to community members and ensuring builders and subcontractors are following correct protocols. North Philadelphia has become a very attractive area to developers in recent years as they want to draw Temple students into housing. 
L&I's focus is on making sure that, as development happens, members of the community and surrounding neighborhood are respected, informed and heard.
"L&I will require pre-construction meetings with builders and their subcontractors so we can lay out all the rules and expectations before jobs start," Perri said. "We have a strong commitment to deal with quality-of-life issues that arise from building construction."
Perri added that L&I specifically selected this location because they want to foster better relationships and communication with community leaders and organizations in North Philadelphia. The Yorktown Community Development Corporation, which handles issues in one of the surrounding neighborhoods adjacent to Main Campus, had its first of the promised monthly meetings with L&I recently.
The local office will also be a great benefit to Temple University students, said Vice President for Public Affairs William Bergman. Speaking after the announcement, Bergman said having "an L&I office in North Philadelphia will mean safer housing for Temple students and all the residents of North Philadelphia. That's a win for everyone."