Meet Ms. Dot, one of Temple's longest-tenured employees
Dorothy Johnson has worked at Temple for 61 years, fostering friendships and making memories along the way.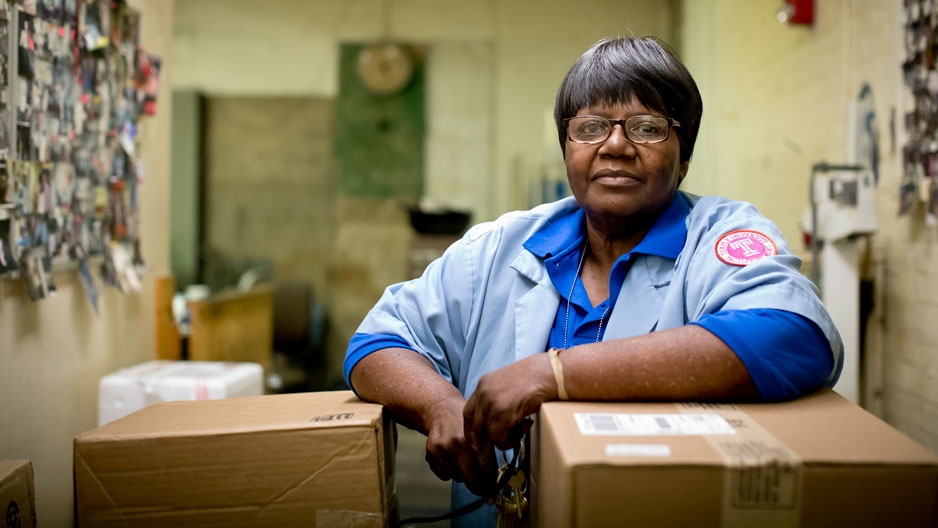 Updated July 11, 2018
Walk into the Kornberg School of Dentistry looking for Dorothy Johnson, a staff member in facilities management, and people know instantly for whom you're searching. 
"Oh, you mean Ms. Dot," a woman at the reception desk said with a smile when asked recently about Johnson. 
Johnson—better known by her colleagues and biggest fans as Ms. Dot or Ms. Dotty—has worked at Temple for 61 years after starting her first job with the university in 1957 at age 20.

That year, Peabody Hall, which has come and gone as Temple's oldest residence hall, was built. Mitten Hall was the Main Campus hub, where prominent figures including Amelia Earhart and President Franklin D. Roosevelt spoke, and the first athletic playing fields west of Broad Street were installed.
Since she started, Johnson has watched Temple grow from six schools and colleges to 17, and she's seen nine university presidents come and go (out of 11 since Temple's founding). The year she started, 17,842 students were enrolled. Temple's student body has since grown to more than 40,000.
Johnson worked in facilities management on Main Campus until 1976, before transferring to the dental school, where she now works in the mailroom. 
"I love it, I love it, I love it," Johnson said of why she chose to stay as long as she has. "I love the job, and I love the people. You get to know them. They become family."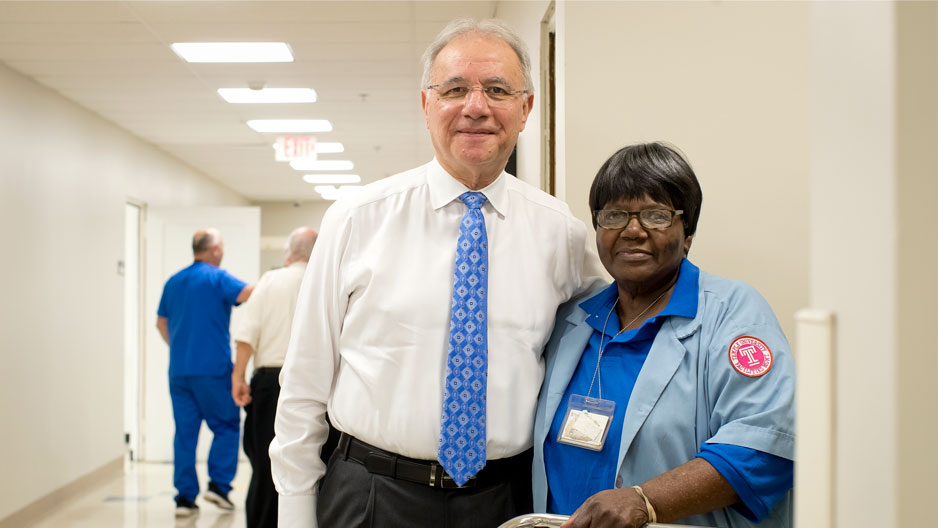 Dean Amid Ismail stops on his way to a meeting to greet Ms. Dot.
That sense of family is evident walking with Johnson through the halls of the dental school. The love and friendship she's developed over the years with fellow staff, faculty, students and community members were palpable. Everyone she saw gave her a hug and sang her praises. She knew them all by name and usually had a story to tell.
"I'm always picking at the guys, locking them out of the mailroom," Johnson shared, laughing as she recalled countless fond memories with her fellow staff, including her best friend and sister-in-law, Alice, who also worked at Temple for about 30 years before retiring. 
"We'd always be laughing, dancing, joking, making the night go," Johnson said. 
Johnson showed a large picture board hanging on the wall in the mailroom, filled with photos, handwritten notes and newspaper clippings collected over her many years at Temple. She remembered the names and faces of each person pictured.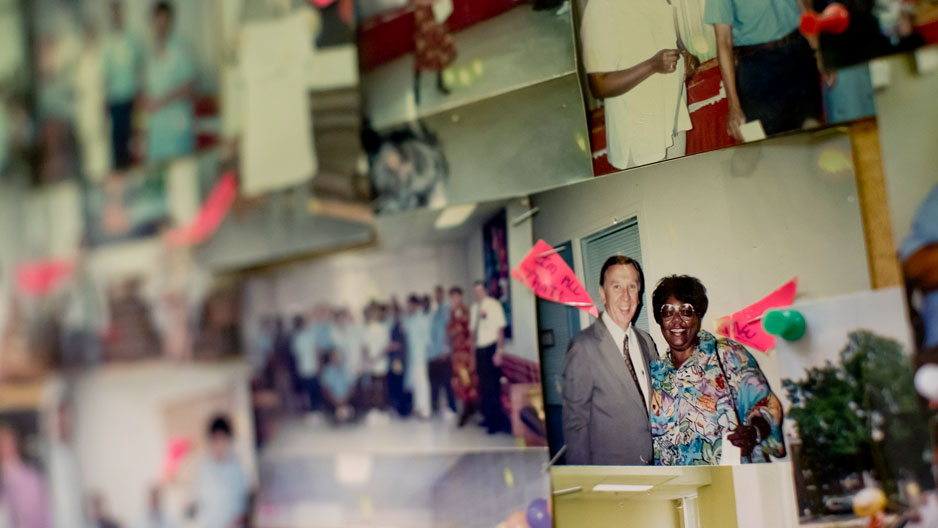 Ms. Dot's photo board in the mailroom shows moments from her 61 years at Temple. 
"Ms. Johnson's smile and positive demeanor continuously flow throughout the day," said Kornberg School of Dentistry Dean Amid Ismail. "She has a perspective on life and Temple University that incorporates decades as a citizen of North Philadelphia—where she and Temple are blessed to be born and located."
A Philadelphia native, Johnson was born in the Northeast section of the city and later moved to West Philadelphia, where she currently lives.
An exceptionally kind and hardworking person, Johnson is "An exemplar of goodness. A model of commitment to her community and Temple University," Ismail said.
Editor's note: An earlier version of this story reported that Ms. Dot was the university's longest-tenured employee. A longer-tenured employee, who joined the university in 1954, has since been identified. 

—Nicole Quaste