A dozen construction projects that are changing Temple—at home and abroad
From Philadelphia to Rome and Tokyo, Temple's campuses continue to grow and improve.
Summer is generally a time for relaxation and escape. But for Temple's Project Delivery Group—which manages the design and construction of new capital projects and renovations—it's time to grab the hard hats, break out the big rigs and get to work.
Here are a dozen notable projects, some completed over the summer and others ongoing, that are changing Temple's campuses, both domestic and international.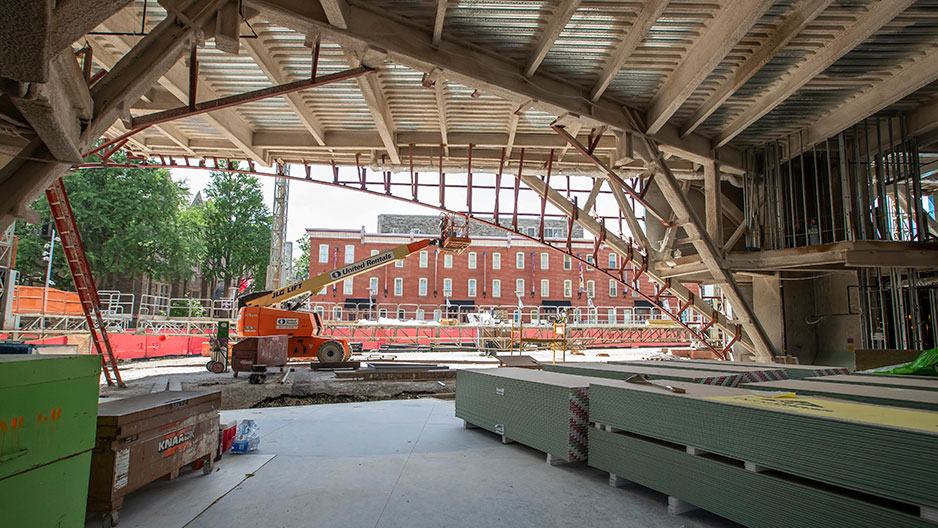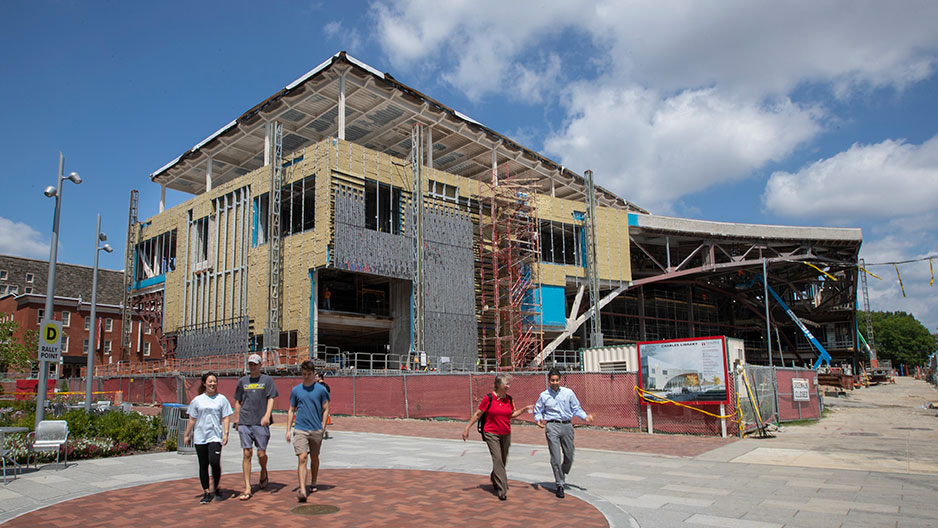 Charles Library
The massive, transformational library at the heart of Main Campus continues to take shape as the building progresses toward enclosure by the end of the calendar year. Roofing has started, the granite facade is being put up on the south and east exterior walls, and glass installation is up next. Inside the building, scaffolding is framing the areas where large woodwork will be installed in the open lobby. The project is slated for substantial completion by the end of the spring semester. Volumes will be moved from Paley Library to Charles Library in summer 2019, and the building will be ready to greet everyone at the start of next academic year.
Video Production:
Gina Benigno and Louis Peluyera
1810 Liacouras Walk and Speakman Hall 
One of the most striking projects for those returning to Main Campus is the expansion of the Fox School of Business to 1810 Liacouras Walk. Steel framing on the addition to 1810 has been erected, and the glass curtain wall is installed. The glass-enclosed skywalk connecting Speakman Hall to 1810 is finishing up, and Liacouras Walk beneath it has been reopened in time for the start of classes. Construction will continue into the fall. The exterior renovation to Speakman Hall, which is connected to the north side of Alter, also continues as the building is reclad with terracotta.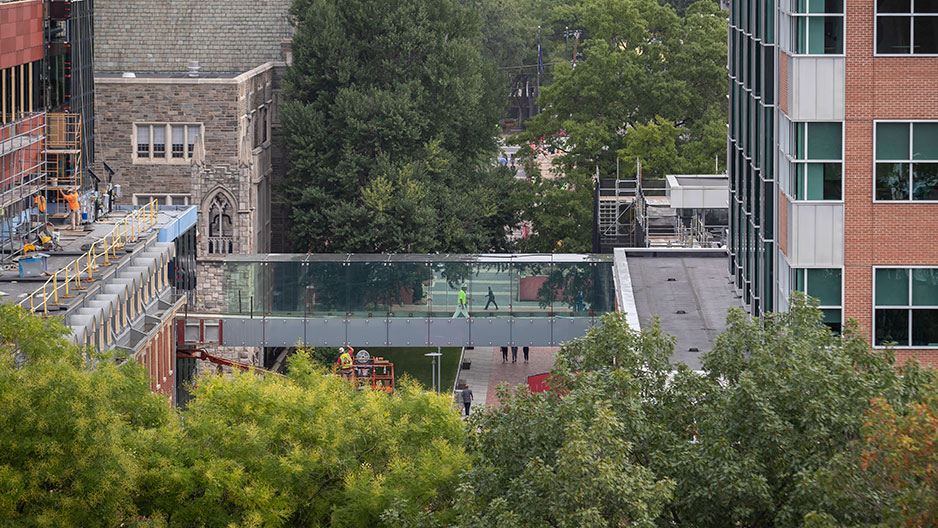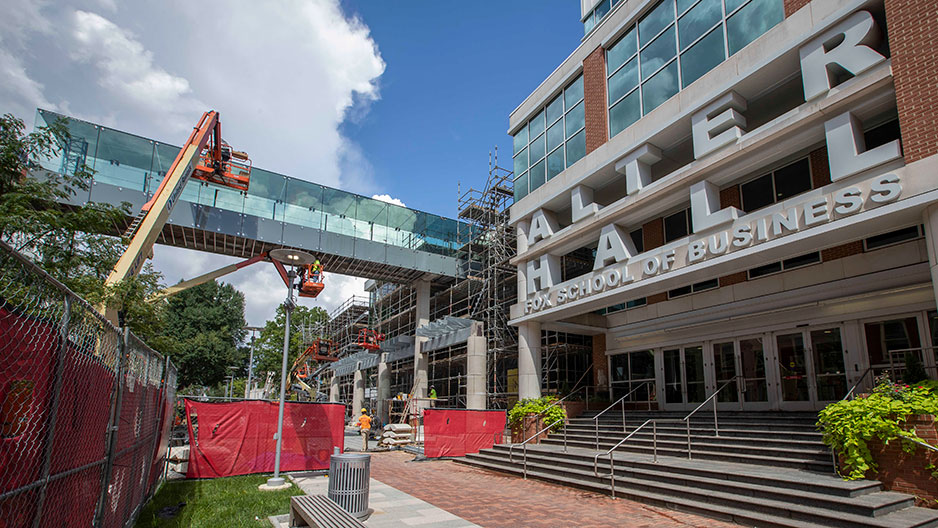 Career Center renovation
The university Career Center, on the second floor of Mitten Hall, has been completely remodeled with a focus on students and visiting employers. A relaxing student lounge with comfortable seating includes a computer lab and a beautiful garden view. Monitors throughout the Career Center will be used to highlight career events, intern spotlights and tips from employers. Recruiters will have access to a newly designed interview suite and an employer lounge for meetings with students. A spacious conference room doubles as a digital classroom for career workshops and meetups. The Career Center serves all undergraduate and graduate students, as well as recent alumni.
TECH Center upgrades
Everyone's favorite 24/7 study spot has new lighting, and the lower PC towers have been removed to make the space more accessible. What's more: A new map for seating availability includes search capability, and almost every device has been replaced. That means 437 new Windows desktops, 170 iMacs, 59 Windows laptops, 38 MacBooks, 12 laser printers, five iPads, three Inkjet printers, two new poster printers, a 3D printer and a 3D scanner.
Campus dining enhancements
Based on student feedback and demand, three new restaurants are opening on the first floor of Morgan Hall: a Panda Express, a Chick-fil-A and a Starbucks. These are replacing AFC Sushi, Pleasant News, Stella's Bakery and Creamery, The Night Owl and Wok. Tony Luke's will remain open, and a new sushi offering, called Bento, will be at the former location of Stella's Bakery and Creamery. The former Starbucks in the TECH Center is being converted to a Java City.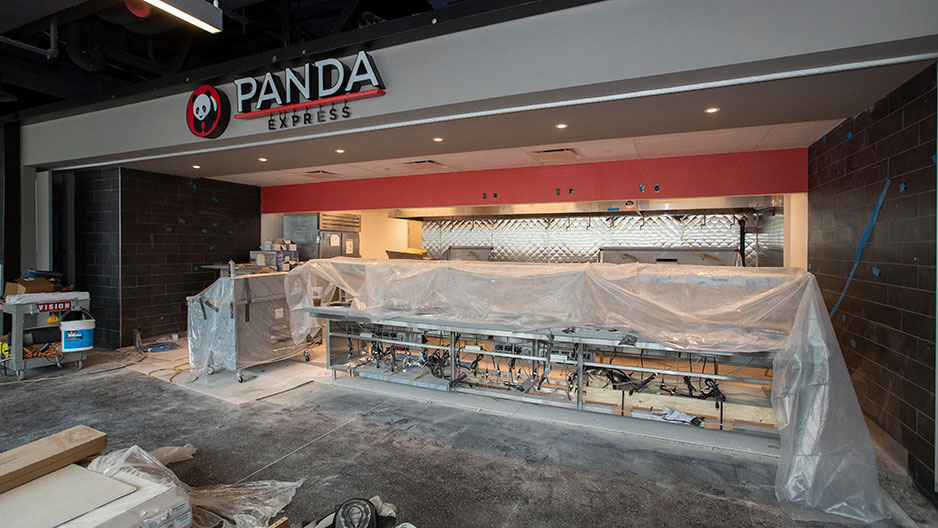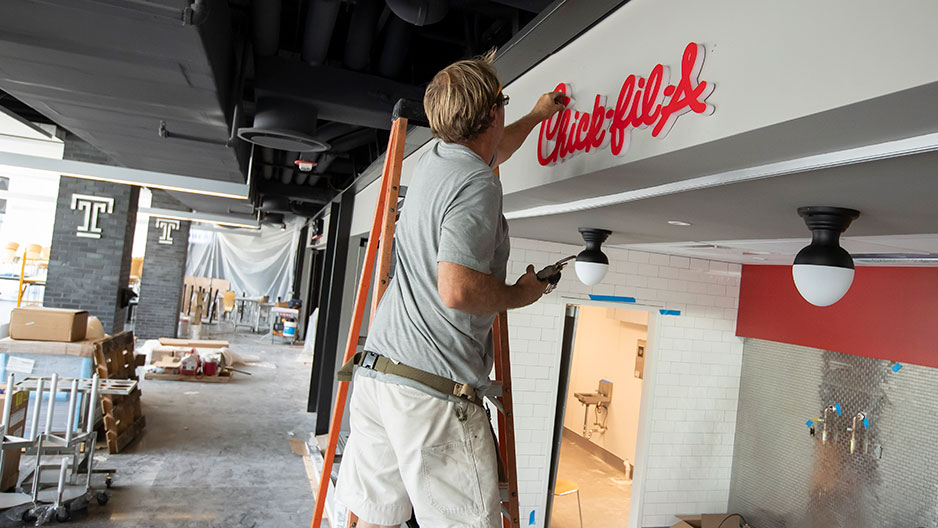 Landscaping improvements
As part of the ongoing implementation of the university's landscape plan, Verdant Temple, new pavers and outdoor furniture that match similar projects across Main Campus have been installed on Polett Walk near the Bell Tower (west to 13th Street and east to 12th). The same goes for the section of Liacouras Walk in front of the elevated row of retailers. This area, across from Charles Library, includes new pavers, lighting, furniture and other exterior enhancements.
Bell Tower/Lenfest Circle lights
The recently refurbished Bell Tower, which includes a circular base named for the late Trustee H.F. "Gerry" Lenfest and his wife, Marguerite, is receiving another upgrade: lights. The iconic tower will be lit from its inward cavity, where the bells hang. The outside faces and legs of the tower will be illuminated as well. The lights will turn on at sunset each night.
Alpha Center 
The Alpha Center, proposed for a university-owned parcel at 13th and Diamond streets, is in the design process and is pending City Council approval. The building would centralize resources offered by the College of Education in one easily accessible, community-centered location. The center would include an early learning center and offer behavioral health services, programs for people with disabilities, education and workforce development resources. The center would also include a community dental clinic staffed by faculty from the Kornberg School of Dentistry. Pending city approval, the estimated completion date is spring 2020.
Mezzanine enhancement, Gladfelter and Anderson halls
The re-roofing of the mezzanine level to fix water leakage will continue into the fall. From there, ambitious plans call to bring more activity back to this underused plaza, including new pavers and expanded green space, as well as different ways to access the area. Under design is a new entrance and lobby to Anderson Hall. This project is expected to continue to fall 2021.
Rome Campus
Temple University Rome, housed in the historic Villa Caproni building, recently received a facelift to increase classroom space, enhance technology, and provide more and innovative flexible teaching and public spaces, including a new aula magna (meeting room) for conferences and all-school gatherings. Designs are advancing to renovate the campus library and other public spaces.
Japan Campus
Construction has started on a new building for Temple's Japan Campus in Tokyo—the oldest and largest foreign university in Japan—which is relocating to the campus of academic partner Showa Women's University. Currently housed in three commercial buildings in Minami-Azabu, Temple Japan will become the sole occupant of a six-story building at Showa, a traditional university campus in Tokyo's Setagaya City. The building is expected to open in late 2019 or early 2020.
Bell Garage
The approximately 200-space Bell Garage is being refurbished, including making it accessible with an elevator and improving the garage's entrance, exit and lighting. The facility's concrete will be recoated, and metal panels will be applied to the exterior to give it more of an identity. Plans call for it to reopen in spring 2019.
But wait, there's more
Undergraduate Admissions in Conwell Hall previously had its front lobby renovated, but this summer the department's office space was redone with new offices, cubicles, furniture, lighting, ceiling and flooring. Peabody Hall, which was previously demolished, is a pocket park temporarily until final decisions are made on what schools or colleges will occupy that space. 
A computer store that will sell Apple products is under construction on the first floor of Pearson and McGonigle halls. Once Paley Library is largely cleared, it will become the new home of the College of Public Health. The College of Liberal Arts and College of Science and Technology advising offices will remain on the first floor and will be joined by a campus bookstore. Construction is expected to begin in late 2019. 
A steam-line vault is being replaced on the northern end of Beasley Walk by Polett Walk. After that, the sidewalk and asphalt will be replaced in the area behind Mitten Hall. The southern end of Beasley Walk, behind 1810 Liacouras Walk, will remain closed as construction on that building continues. Several facade upgrades, as part of an ongoing restoration effort, have been completed, including on Annenberg Hall and Tomlinson Theater, the College Engineering, the Beasley School of Law's Klein Hall and 1700 N. Broad St. The roof on 1300 Residence Hall was replaced this summer.