Temple gears up to pack more than 3K backpacks in an hour to break record
As part of Homecoming, Temple students and staff aim to earn a Guinness World Records title while benefiting the community. This year, the record to beat is most backpacks packed with school supplies in an hour.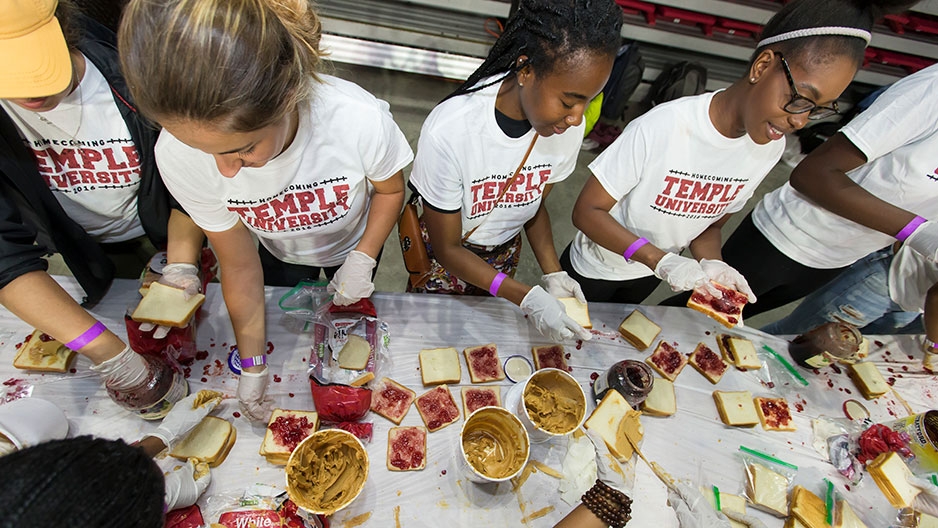 Jennylee Ramos has been here from the beginning. As a graduate extern for Student Activities, she was involved with Temple's first successful Guinness World Records title attempt in 2016, when more than 1,000 Owls joined forces to make a record number of sandwiches in an hour.
"Typically, the Monday of Homecoming is focused on community engagement," explained Ramos, FOX '16, STH '18, now assistant director for programs and marketing in Student Activities. "We found a way to do that and earn a Guinness World Records title, making it a fun event."
Main Campus Program Board, a student organization that plans events on and off campus, came up with the idea to build Homecoming's community-engagement event around breaking a world record three years ago. Since then, earning a Guinness World Records title has become an annual tradition. 
In Temple's first Guinness World Records title attempt in 2016, the 49,100 peanut butter and jelly sandwiches students and staffers made to shatter the previous record by nearly 10,000 were donated to food banks throughout the region. Last year during Homecoming, Temple broke the record for the largest sock drive in eight hours at a single location, collecting and donating 2,798 pairs of socks. 
This year's Guinness World Records title attempt, "Pack It Up TU," keeps the community-engagement focus: Owls will come together Oct. 15 to attempt to break the record for most backpacks stuffed with school supplies in an hour. The current record of 3,000 was achieved by Brown University in June.
The backpacks packed with crayons, erasers, pencils and other school supplies will be donated to local schools and organizations for distribution to the children they serve.
"We thought it would be a great opportunity to bring Temple together and help local organizations that may need school supplies," Ramos said. "It brings together those two passions: programming and community service."
Want to help Temple earn another Guinness World Records title this year? Visit Main Campus Program Board's website to register as an individual or a team.