Major success: Owls study more than the playbook
Enrolled in 39 different majors, from electrical engineering to early childhood education, Temple football players are excelling in multiple disciplines.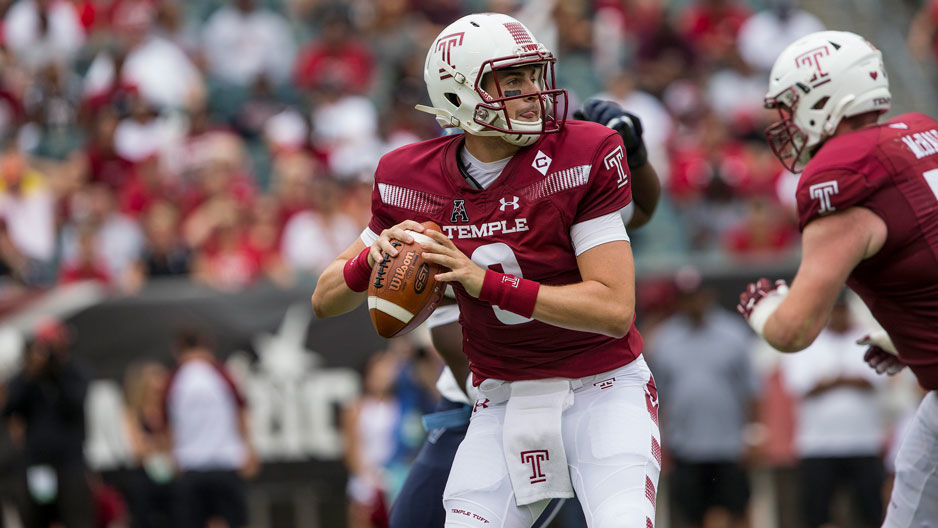 Michael Dogbe's dream job is to play professional football in the NFL. If that doesn't pan out, though, he has a plan.
"You always need one," he said. "Just in case."
A graduate student, Dogbe plays defensive tackle for Temple's football team. As he and his fellow Owls prepared for their last game of the season, they also continued preparations for careers away from the field, too.
Dogbe, for example, is pursuing a graduate degree in innovation management and entrepreneurship. From electrical engineering and early childhood education, to biochemistry and business management, he and the Owls represent programs across a multitude of disciplines. Dogbe and his teammates are enrolled in 39 different academic programs across Temple's 17 schools and colleges—a staggering figure that is believed to rank among the most academically diverse in the nation. 
Justin Miller serves as the director of Temple's Resnick Academic Support Center for Student-Athletes, which oversees academic advisors, learning specialists and tutors for student-athletes in all of Temple's intercollegiate sports.
Miller has two reasons to believe Temple is among the best in the nation in diversity of football players' majors. When athletic conferences across the nation publish their academic honor rolls annually at the conclusion of football season, Miller routinely analyzes these lists. "Temple is at or near the top each year," he said, in the distribution of football players' majors. Miller also cites discussions he has had with his peers at different universities, who often marvel at the number of different majors for Temple's players.
Mike Meade is among these peers. He is the president of the National Association for Academic and Student-Athlete Development Professionals. At the organization's signature event each year, Meade has shared with Miller his admiration for the academic success of Temple's student-athletes and the diversity of the football players' majors.
"Success includes not only student-athletes' academic performance, but also finding their passion," said Meade, the University of Oklahoma's senior associate athletics director for academic services. "The drive that comes from their pursuit of academic interests and career goals leads to a world of opportunity for growth and fulfillment after graduation. The diversity of majors among Temple's student-athletes is a testament to the department and institution's commitment to providing such opportunities for an enriching academic experience."
This year, the number of academic programs in which football players are enrolled approached 40. In the three years prior, the Owls pursued 43, 41 and 38 different majors.
"It's a point of pride to actively engage our student-athletes and their parents," said Miller, who has been at Temple since 2010. "We get everyone just as excited to study here and perform in the classroom as they are to excel on the field. Athletics holds true to Temple founder Russell Conwell's mission of access and opportunity. No programs are off limits for our players. We encourage them throughout their Temple journey. We often say, 'The doors are open to earned success. It's your role to take ownership and walk through those doors,' and our players do just that."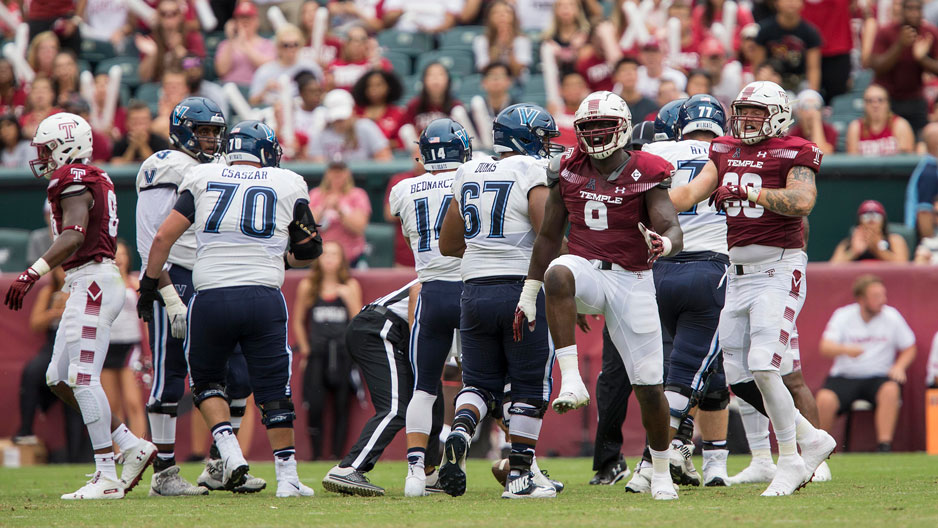 Defensive tackle Michael Dogbe, right center, is pursuing a graduate degree in innovation management and entrepreneurship.
Dogbe, who in 2018 earned his undergraduate degree at Temple in strategic communications, said he is comparably motivated to play football at the next level and, as he put it, "be my own boss." He said he is prepared to leverage the skills he has fostered in the classroom to either open a gym or a fitness center.
"Temple University has given me all of the tools that I need in order to succeed," said Dogbe, a native of Morris Plains, New Jersey.
Dogbe's teammate, quarterback and fellow graduate student Frank Nutile, is also enrolled in the innovation management and entrepreneurship program at the Fox School of Business. Dogbe and Nutile have roomed together in each of their five years at Temple, and Nutile—who in 2018 earned his undergraduate degree in accounting—said he and Dogbe often study together and enroll in the same classes.
"We collaborate all the time," said Nutile, a native of Wayne, New Jersey. "And the support we receive from Justin Miller, it's immensely helpful."
Nutile, in particular, recalled struggling with an undergraduate course. Upon request from Nutile, Miller within the same week arranged for a tutor to work with him.
"It made all of the difference for me," Nutile said, "and I have heard from other teammates who have had similar experiences."
Miller credits Temple's size—"it's as comprehensive a university as you will find," he said—with aiding the success of Temple's football players.
"We had one football player who enrolled at Temple and wanted to be an English major, and his goal was to write Hallmark greeting cards," Miller said. "We had another student who found a home in the College of Education and now wants to become a higher-ed administrator. Given the way our university is structured, with 17 schools and colleges, we are able not only to hear those conversations, but also to facilitate our players' requests to pursue the programs that align with their true passions."
The results speak for themselves.
Last month, Temple's intercollegiate athletics programs scored a 74 FGR, or federal graduate rate, tying last year's university record. Among its Football Bowl Subdivision counterparts, Temple ranked 18th in the nation. For the fourth consecutive year, at least 17 football players will receive their degrees before playing in a bowl game.
"When my senior year approached, people asked me, 'What's next?' Football isn't a guarantee," Dogbe said. "I thought to myself, 'You know, it'd be great to own my own business.' And thanks to this university, I'll be ready for whatever comes next."