Rod Carey selected as Temple's head football coach
His teams at Northern Illinois won two conference championships and four division titles in six seasons.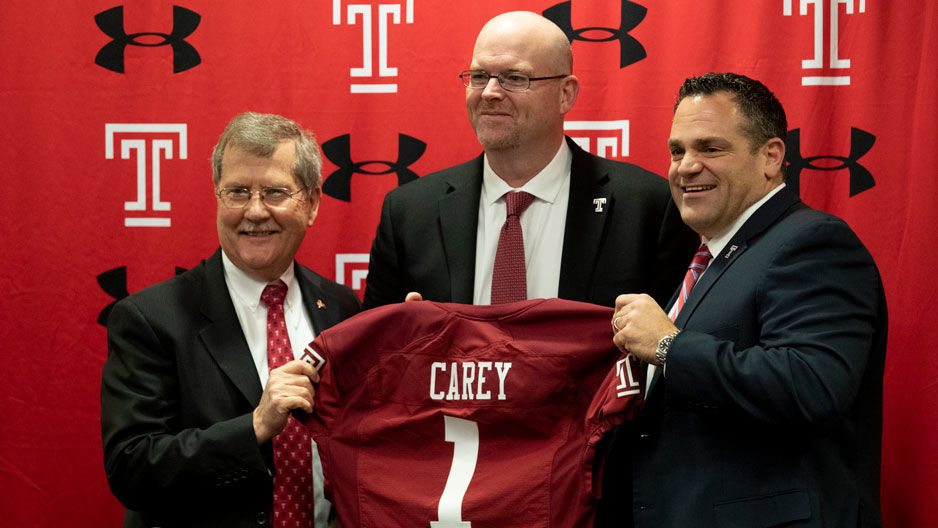 Temple University announced today the hiring of Rod Carey as head football coach. Carey joins Temple from Northern Illinois University, where he served as head coach for six seasons.
Carey coached Northern Illinois to two Mid-American Conference (MAC) championships—2014 and 2018—and four division championships. He led the Huskies in six bowl games, including the prestigious Orange Bowl in 2013. He compiled a 52-30 overall record at Northern Illinois, and 38-10 record in conference play.
"We are very happy to announce that Rod Carey will take over as the next Temple head football coach," said Temple Director of Athletics Patrick Kraft. "Rod is a proven winner with a history of success as a head coach at the FBS level. He has won four regular-season titles and two MAC championships at Northern Illinois while taking the Huskies to six bowl games, including the 2013 Orange Bowl. He has also recruited and coached All-American players at NIU."
"I am really excited to lead the Temple University football program and look forward to continuing its proud Temple TUFF tradition," said Carey. "I am extremely grateful to President Englert and Director of Athletics Dr. Patrick Kraft for the opportunity to take over one of the top programs in the American Athletic Conference. This program is on the rise, coming off a record-setting class, and I look forward to raising the bar for success even higher."
Carey guided Northern Illinois to a 12-0 regular season record in 2013, his first full year at the helm. The Huskies spent nine weeks in the Associated Press top 25 poll and reached as high as No. 16. He followed that year by guiding the Huskies to an 11-3 record in 2014, tying for the West Division title and winning the MAC Championship with a 51-17 victory over Bowling Green.
Over the next four seasons, Carey led the Huskies to three eight-win campaigns and two MAC West Division titles. This past season, the Huskies defeated Buffalo, 30-29, in the MAC title game for Northern Illinois' second conference championship under Carey.
"Our football program represents a great source of pride for our university and the city of Philadelphia, as well as for more than 300,000 alumni around the world," said Temple President Richard M. Englert. "Coach Carey has a proven track record of success on the football field, and also in supporting the development of his players. We are confident he will also be successful here in representing Temple University, advancing our football program, and ensuring that our players continue to serve as leaders in the classroom, on the field, and in the community."
At NIU, Carey coached seven All-Americans, including defensive end Sutton Smith, who this year became the university's first two-time First Team All-American.
Carey rose quickly to the head coaching position upon his 2011 arrival at Northern Illinois. After joining the staff as an offensive line coach, he added run game coordinator to his duties for the 2012 season and then became the offensive coordinator following the team's first game. Three months later he was named the head coach.
Prior to his arrival at Northern Illinois, Carey coached at the University of North Dakota, Illinois State University, and the University of Wisconsin-Stout.
A native of Wayzata, Minnesota, Carey began his collegiate coaching career in 1998 as a graduate assistant at the University of Minnesota. He previously coached his alma mater, Wayzata (Minn.) High School, from 1994-97.
Carey, a three-year starter at center for Indiana University during his collegiate playing days (1990-93), served as a team captain and won the Hoosiers' Corby Davis Outstanding Offensive Player Award as a senior. He earned his bachelor's degree from Indiana in 1994.
Carey and his wife, Tonya, have two children—daughter Kennedi and son Charlie.