Temple becomes first Philadelphia university to display Progress Pride flag
The Progress Pride flag, now on display in the Howard Gittis Student Center atrium, updates the traditional LGBTQ rainbow flag to include colors representing additional communities.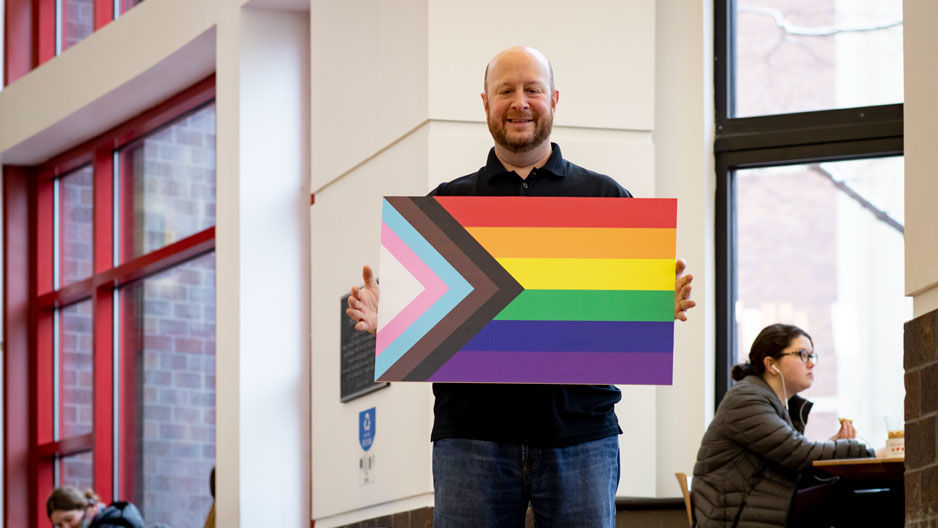 Continuing its leadership in diversity and inclusion, Temple in January became the first Philadelphia college or university to display a Progress Pride flag on campus. 
The flag, designed by Portland, Oregon-based artist Daniel Quasar and funded via an ongoing Kickstarter campaign, updates the traditional six-stripe rainbow LGBTQ flag, adding five pointed stripes to the hoist of the flag: three representing trans individuals and two representing marginalized people of color and individuals living with AIDS or facing other stigmas. 
On Jan. 18, the new flag was installed on a column in the atrium at the Howard Gittis Student Center. Flags are a familiar sight in the atrium, with numerous international flags already displayed there. The international flags, which are rotated annually, have recently been updated, and 14 new flags were added, bringing the number of countries represented from 49 to 63.
"We are an inclusive university, and we try to do a better job every year to be inclusive," said Jason Levy, senior director of Student Center operations and conferences. "The most important thing for us is for people to feel like they have a place in the Student Center. We want everyone who comes in to feel they're a part of something special."
The installation of the Progress Pride flag came as a result of joint efforts among Levy's team, the Office of Institutional Diversity, Equity, Advocacy and Leadership (IDEAL), the Queer Student Union (QSU), and Temple Student Government (TSG). Temple is the first Philadelphia-area college or university to display the flag. 
"As an organization, it is our job to represent the student body," said TSG Director of Communications Hailey McCormack, a junior early childhood education major. "By adding the Progress Pride flag, it is a small step in the right direction in making sure that we as a university are recognizing the needs of students who identify in the LGBTQ+ community."
Nu'Rodney Prad, director of student engagement for IDEAL, said beyond inclusivity, the hope is that the flag will help to spark important conversations around diversity and further educate people who may be unaware of its meaning. A description card was installed along with the flag. 
"It's always good to be the institution that creates best practices as it pertains to this area. It's important as leaders within a city and an urban environment that we promote and check in with communities that are marginalized to show and demonstrate that there is support here," Prad said. "It's important for us to be a role model in having difficult conversations and dialogues to support others."