For alumna in Shreveport, reporting on the Owls was a hoot
Louisiana-based journalist Alison Lorraine, KLN '16, reported on her alma mater when Temple visited Shreveport for the 2018 Independence Bowl.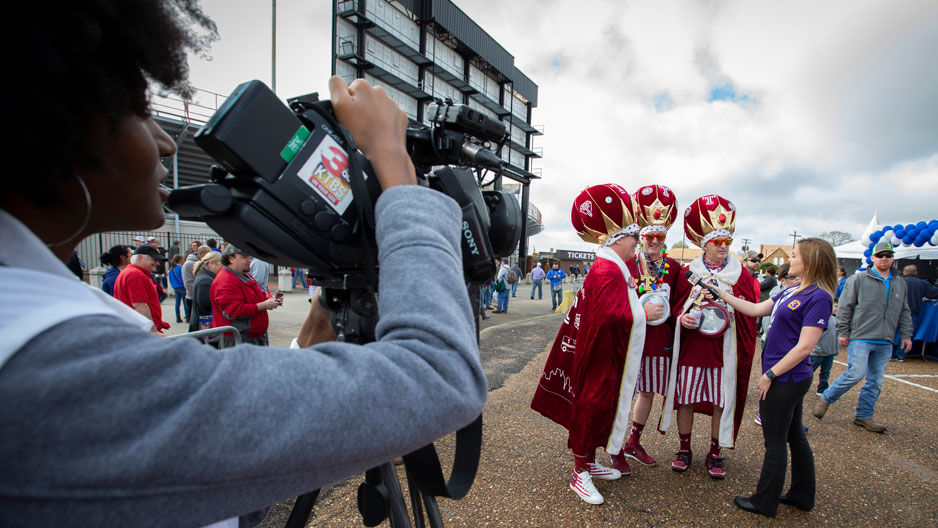 It's 11:30 a.m. on a sunny Thursday morning in Shreveport, Louisiana. 
Only hours earlier, Alison Lorraine, KLN '16, wrapped her evening anchoring duties for local ABC affiliate KTBS 3. Now, with microphone in hand and press credential swinging from her neck, she stands outside of Independence Stadium shaking hands and conducting interviews with bowl game ticket holders.
It's not exactly where she thought she would be, but it's where she wants to be.
"I've been working overtime shifts, coming in early, leaving late, and working my off-hours over the last few days just to be here, and it doesn't bother me," Lorraine said. "This is what it's all about. This is where I want to be."
Lorraine jumped at the opportunity to cover the Temple football team's visit to Shreveport for the 2018 Independence Bowl. Lorraine earned a journalism degree in 2016 from Temple's Klein College of Media and Communication. For KTBS 3, she usually covers general assignment stories or those that pertain to her education beat. But when Lorraine learned the Owls had been selected to visit her new hometown, she called her producers and lobbied to cover the game and its festivities.
"There's no way I could miss this," she said, smiling.
A native of Doylestown, Pennsylvania, Lorraine enrolled at Temple after earning an associate's degree in communications from Bucks County Community College. She arrived on North Broad Street with little to no experience in front of a camera, and even fewer professional contacts. She credits Temple journalism faculty George Miller, Maida Odom, Neil Ortiz, Fran Viola and John Di Carlo for affording her with the experiences to prepare for her career and the opportunities to develop a highlight reel.
"I remember being sent to Center City and the Art Museum's steps to record standups thinking, 'What am I doing here?'" she said. "Now I look back on those memories and say, 'I do this every day. It's second nature.' While you're going through it, though, you think those deer-in-the-headlights moments will be there every time."
Lorraine's professional journey first took her through Dothan, Alabama, where she earned more than two years of reporting and anchoring experience, before joining Shreveport's ABC affiliate in June 2018. 
She said one of her most-recent stories validates the importance of her work and the journalism industry. 
"I sat down with a woman who lost her husband to an accident, then was told her baby was sick and might not make it," Lorraine said. "Sure enough, she delivers her baby girl and she survives, but is too sick for daycare. What's she going to do, quit her job? All this woman had left was her work family. The company allowed her to bring her baby to work until she was healthy enough for daycare. When you report on those types of stories, not only do you build great trust with your audience and your community, but it reminds you of the good in people."
Along the way, Lorraine also has earned the respect of her colleagues.
"From day one, Alison fit in at our station and has taken to our coverage area like it was her hometown," said Trey Lankford, KTBS 3's news operations manager. "We are really glad to have her."
On game day, Lorraine bounced between the Independence Bowl tailgate parties for Temple and the Owls' opponent, Duke University. With the help of a colleague, she set up her establishing shots and positioned the camera for fan interviews. She greeted fans and asked for their game predictions. Along the way, she accepted hugs from more than a few of her admiring viewers and shook hands with Temple President Richard M. Englert.
"I had a chance to speak with Alison just prior to kickoff," Englert said. "During our brief interaction, I saw in Alison the defining characteristics of all Temple graduates: They are dynamic, they work hard and they allow nothing to obstruct the pursuit of their dreams. She's another example of how our Owls launch their careers in exciting ways across the country and around the world."
Journalism is difficult to break into. Lorraine knows this all too well. She remembers applying for jobs in the months after graduation. Discouragement crept in before she eventually got a call from that television station in Dothan.
"Temple made me tough and it taught me to keep going and never give up," Lorraine said. "Today, here I am: I'm covering the Temple Owls in the Independence Bowl. I'm 24 years old. I anchor a 10 p.m. newscast in a medium-size market. And I'm so thankful for everything Temple did to help get me here."