Temple Ambler's "Hip Haven" wins major awards at 2019 Philadelphia Flower Show
The exhibit, constructed by Temple students and faculty, incorporates techniques accessible at home and pays homage to 1960s counterculture.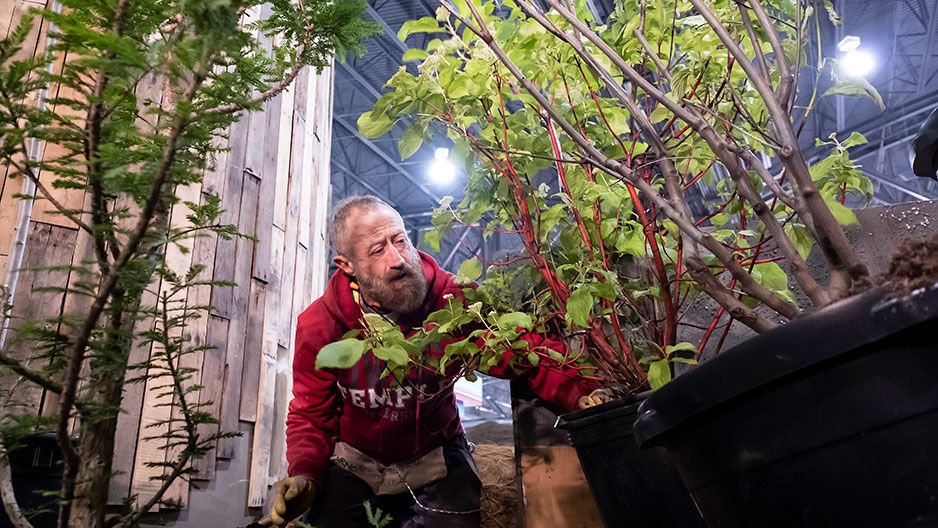 It is one of the most iconic images from the turbulent '60s era of the United States.
As demonstrators protested against the War in Vietnam in a March on the Pentagon in October 1967, they were confronted by armed soldiers from the 503rd Military Police Battalion. Rather than meet the soldiers with violence, at least one protestor stepped toward them, and placed a flower in a rifle barrel.
"Flower power" won the day.
Fast forward to 2019, and the Pennsylvania Horticultural Society is embracing "flower power" as the theme for this year's Philadelphia Flower Show. During the weeklong event, which welcomes hundreds of thousands to the region each year, Temple University is inviting visitors to "get hip to living more responsibly," said Associate Professor of Landscape Architecture Rob Kuper, who coordinated Temple's 2019 Flower Show exhibit with Adjunct Assistant Professor Michael LoFurno and Greenhouse Horticulturist Benjamin Snyder, TYL '16.
Temple's exhibit, "Hip Haven: Hangin' Loose at a Home Refuge," recognizes the stark contrast between the forces that did—and continue to—shape the nation, Kuper said. The exhibit incorporates the harsh, unyielding features of "The Machine" and the free-flowing, free-thinking ideals of the hippie counterculture in "The Haven." 
"We're showing those contrasts through the use of materials and plants. There are small things, however, that unify the exhibit—colors and shapes, for example," Kuper said. "Hip Haven questions contemporary material and social norms. We hope to turn visitors on to the wonders of nature, community, individual freedom and peace and demonstrate how to create a home refuge that is conscious of the present and the future."
Months of hard work, dedication and teamwork have paid off for the students and faculty who have worked on the 2019 exhibit. Their dedication has paid off. Temple's exhibit was presented with numerous honors at the show: a Pennsylvania Horticultural Society (PHS) Gold Medal, awarded to a major exhibit that receives 95 or more points out of 100 in the criteria of design, horticulture, plantsmanship and educational value; the Bulkley Medal of the Garden Club of America; a PHS Gold Medal Plant Award; a Special Achievement Award of the Garden Club Federation of Pennsylvania; and a PHS Sustainability Award.
As part of the Flower Show's Gardener's Hub, all of the educational exhibits were asked to incorporate examples of techniques that visitors could use at home, according to LoFurno.
"Each year, we always work toward sharing concepts that people can take and use in their own home environments. Some of our educational themes this year include using cold frames to extend the harvest season," he said. "People have become so distant from their food sources they may not really even think about berries growing on bushes and nuts growing in trees anymore; the food forage area of 'The Haven' hearkens back to when food self-sufficiency was common. With the reflective surfaces in 'The Machine,' we're also demonstrating what needs to happen to prevent bird/window strikes."
Junior landscape architecture major Michelle Armour said the build experience within the design-build studio in which she and fellow students participated "has been extremely beneficial."
"The skills we are using are allowing us to bring ideas that we designed and make them a reality. It's exciting and nerve-wracking at the same time … I was really inspired by the '60s counterculture and their unconventional approach to design," she said. "While they were rebelling against the status quo, they were also very resourceful in sourcing and repurposing materials. 
"I hope visitors are inspired to be creative and feel free to be playful in designing their own gardens and living spaces," she continued. "You need spaces where you can simply recharge and get away, at least for a little while, from all of the things that demand our attention every day."
Catch the exhibit: The Flower Show runs through Sunday, March 10 at the Pennsylvania Convention Center at 12th and Arch streets.
—James Duffy