Boxing legend, famed coach address record-breaking graduating class
Temple graduated its largest class in history, with 10,071 students earning degrees from the university's 17 schools and colleges during the 2018–2019 academic year.
Video Production:
Colin Giering, Louis Peluyera and Gina Poulos
As members of Temple's Class of 2019 accepted their diplomas at the university's 132nd Commencement ceremony on May 9, they became more than alumni—they became part of the university's history as its largest graduating class to date.
Temple's 10,071 graduates in the Class of 2019—some of whom earned their degrees midway through the academic year in December—came from as near as a half-mile away in North Philadelphia and as far as Honolulu, Hawaii and Australia. The oldest graduate, who earned a Bachelor of Arts degree from the College of Education, is 70 years old, while the youngest, who earned a Bachelor of Business Administration degree from the Fox School of Business, is just 19.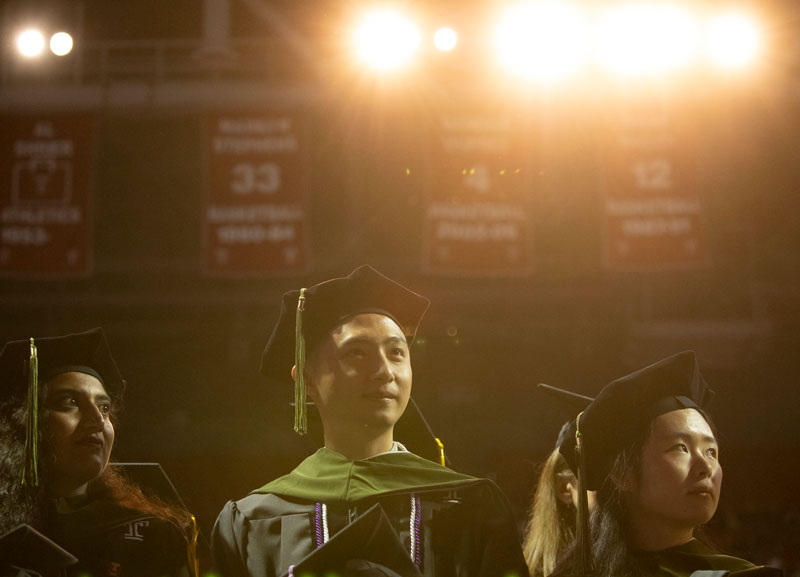 Graduates at the 2019 Commencement ceremony (PHOTO: Ryan S. Brandenberg)
During the ceremony, held at the Liacouras Center, President Richard M. Englert congratulated the graduates and encouraged them to live their lives by Temple's motto.
"Our graduates have won Super Bowls, Oscars, Pulitzers and Grammys. Our graduates have worked in the White House Press Corps and around the world in the Peace Corps … I know each of you will add to this legacy in your own way with a diligence built on Temple's motto: perseverance conquers," Englert said. "You each have your own perseverance story."
Persevere they have: Among the graduates were Marcus Forst, who overcame a battle with T-cell lymphoblastic lymphoma to become Temple's first-ever Goldwater Scholar; Megan Maxwell, the first Temple student ever to be selected as a Carnegie Endowment junior fellow; and Evy Lopez-Feliciano, a longtime staff member who balanced life's demands as a mother, wife and daughter while working toward her bachelor's degree for 14 years.
"I look around today and I feel such awe and such gratitude," said university Trustee Leonard Barrack, FOX '65, LAW '68, an honorary degree recipient. Barrack shared the story of how he returned home to Philadelphia and enrolled in night school at Temple after his father and brother died in a commercial plane crash while he was away for his first year of college elsewhere.
"Temple became family to me and gave me so many hopes and dreams that I thought went down with the plane that took my father and brother," Barrack said.

Leonard Barrack, trustee and honorary degree recipient, addresses the graduates. (PHOTO: Ryan S. Brandenberg)
Vanessa Chandler, a tourism and hospitality management major in the School of Sport, Tourism and Hospitality Management, delivered the student address to her classmates.
"I encourage every graduate to consider not what you want to be, but who you want to be," Chandler said. "It is the 'who' that makes us our individual, nuanced selves … consider the 'who' you have developed during your time at Temple."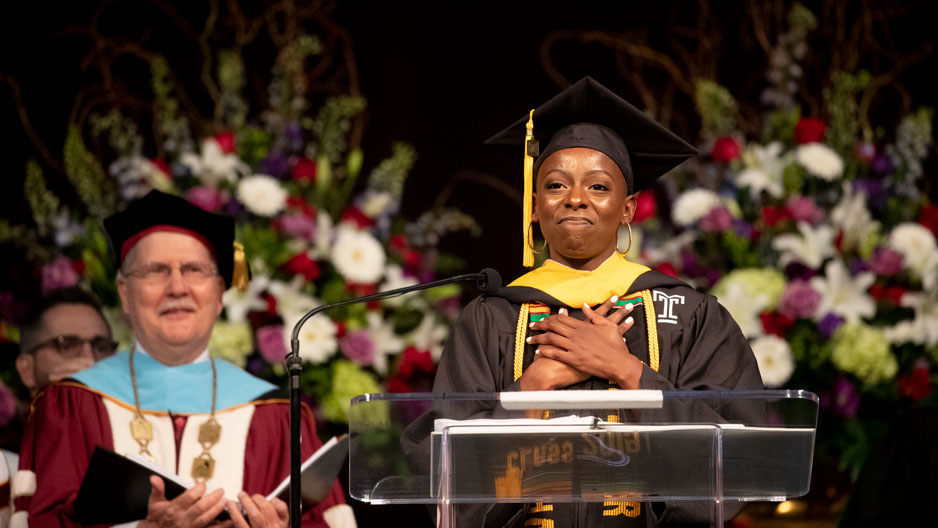 Student speaker Vanessa Chandler addresses her fellow graduates during Temple University's Commencement ceremony May 9. (PHOTO: Ryan S. Brandenberg)
More than 6,900 of this year's graduates earned undergraduate degrees, while more than 2,500 earned master's degrees and almost 600 celebrated the culmination of their professional studies. Graduates earning degrees for the 2018–2019 academic year hailed from all 50 states plus Washington, D.C., and from 108 countries worldwide. Seventeen percent of the class—approximately 1,700 students—came from right here in Philadelphia, with more than 170 from the seven ZIP codes surrounding Temple.
Those students earned their degrees alongside three other celebrated Philadelphians—Barrack, former Temple men's basketball coach Fran Dunphy, and world champion boxer Bernard Hopkins were all awarded honorary degrees during the ceremony.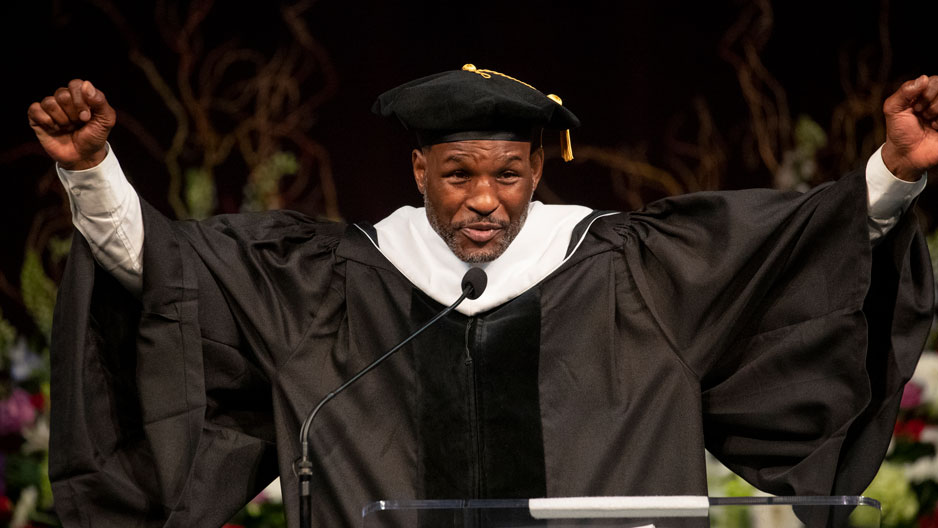 Bernard Hopkins, who received an honorary degree from Temple this year, speaks to the Class of 2019. (PHOTO: Ryan S. Brandenberg)
Hopkins, who grew up in the Raymond Rosen Apartments just blocks from Temple's Main Campus and broke the record as the oldest boxing world champion, spoke of his time in state prison and how it encouraged him to change his life and pursue his professional boxing career. He urged the graduates to "be steady" in their life pursuits.
"You're gonna get knocked down. You're gonna get told things you don't believe in," Hopkins said. "Always fight for what is right. Your trainers are Temple strong." 

Graduates and spectators fill the Liacouras Center during Temple's 132nd Commencement. (PHOTO: Joseph V. Labolito)
Thirteen sets of twins graduated in the Class of 2019, and 340 graduates earned their second degrees from Temple this academic year. Eighteen graduates earned their third temple degrees, and two earned their fourth. More than 3,000 graduates in the 2018–2019 academic year were enrolled in the university's Fly in 4 program, which aims to help students graduate within four years, and more than 10 percent of those graduates were recipients of Fly in 4 grants awarded by the university to support their studies.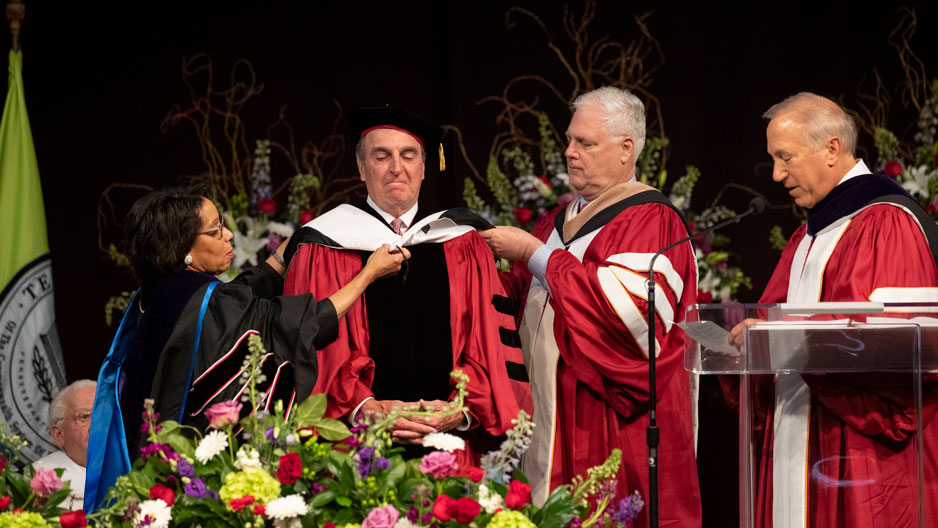 Former men's basketball coach Fran Dunphy receives his honorary degree and hood. (PHOTO: Ryan S. Brandenberg) 
Dunphy, the beloved former men's basketball coach who recently stepped down, left the graduates with words of wisdom.
"It's not about you—life is about others," Dunphy said. "For all that you do and all that you have done, ask yourself, 'Can I do more?' I believe Temple University has been asking 'Can I do more?' since 1884. You are Temple."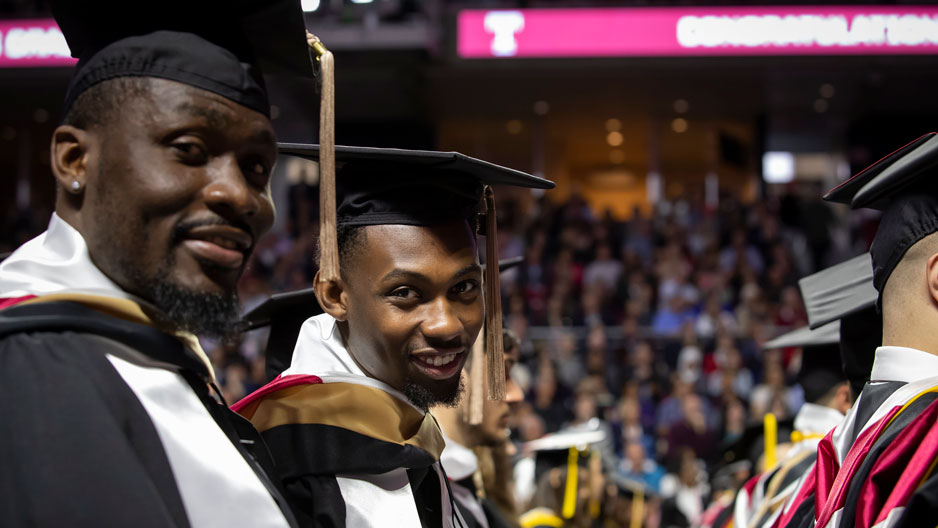 Graduates during the Commencement ceremony (PHOTO: Betsy Manning)