CLA construction project closes part of Polett Walk through 2020
The yearlong project will reinvent Anderson and Gladfelter halls and close Polett between 11th and 12th streets to foot traffic during construction. Read on for information on how to access campus from the east and how to enter Anderson and Gladfelter halls while the renovation is underway. 
A transformational construction project at the College of Liberal Arts (CLA) will mean changes to a busy Main Campus thoroughfare, but will bring major upgrades to Anderson and Gladfelter halls in Fall 2020. 
Beginning July 22, Polett Walk between 11th and 12th streets closed for construction on Anderson and Gladfelter halls. Pedestrian traffic into campus from the east is detoured to the walkway between Anderson Hall and the Bell Building, which houses the TECH Center.
Signage and detour notifications are in place. Here's what you need to know:
How to enter Anderson and Gladfelter halls
Gladfelter Hall will be ADA-accessible for the duration of the project through the main entrance to the Science Education and Research Center (SERC) on 12th Street. Anderson Hall is ADA-accessible through a south entrance located between Anderson Hall and the Bell Building (TECH Center). A temporary ADA-compliant ramp is set up at this location.

These will serve as the buildings' primary entryways through projected completion of construction in Fall 2020.

Additional non-ADA entrances have been created on the east side of Anderson, near a guard booth, and on the east side of Gladfelter on 11th Street. There also will be a non-ADA entrance to Gladfelter Hall accessible from Polett Walk.
Signage has been provided throughout to help members of the Temple community navigate this space.
CLA's future home
This construction project represents the largest renovation undertaken at Anderson and Gladfelter halls since the opening of the academic buildings in 1973. 
"This project will create a bold new eastern gateway and entry sequence to Temple's campus, an iconic lobby for the College of Liberal Arts, and a complete reimagining of the Anderson and Gladfelter terrace deck that can be enjoyed by the entire university community and our North Philadelphia neighbors," said Dozie Ibeh, associate vice president of Temple's Project Delivery Group.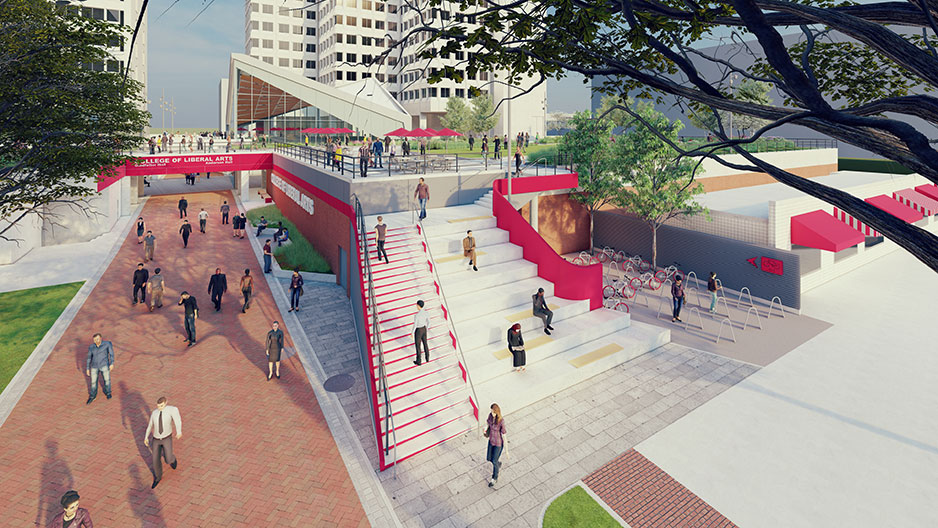 Rendering of the completed renovation from above, looking east from 12th Street (Image courtesy WRT, LLC)
When completed, the project will have transformed a current courtyard at Anderson Hall into grand lobby to the academic building. Gladfelter Hall's first floor will serve as the home of CLA's academic advising center and professional development center. 
The terrace level between the two buildings, which has been inaccessible for the last year, will be reopened as an inviting, elevated green space complete with abundant outdoor seating and a stormwater management system. An elevator located outside of Gladfelter Hall will significantly increase the terrace's accessibility.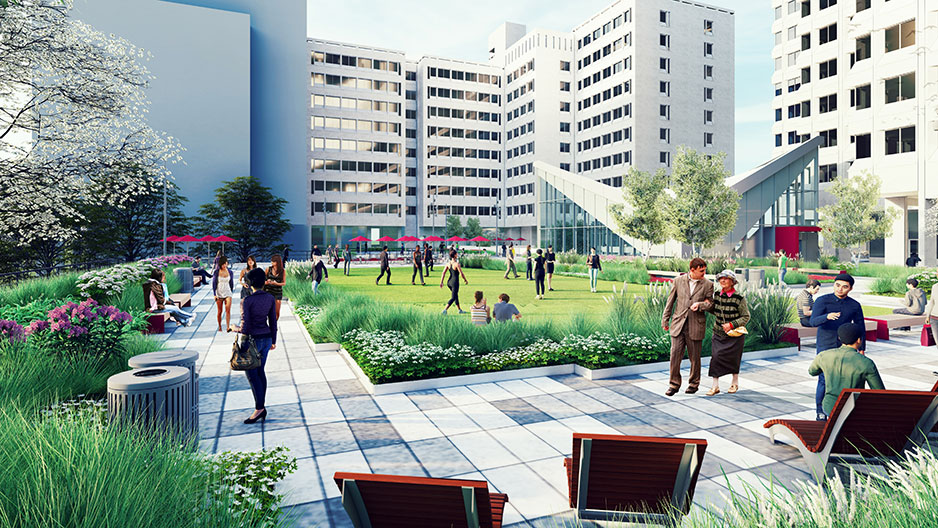 Rendering of the terrace between Anderson and Gladfelter halls after completion of the renovation (Image courtesy WRT, LLC)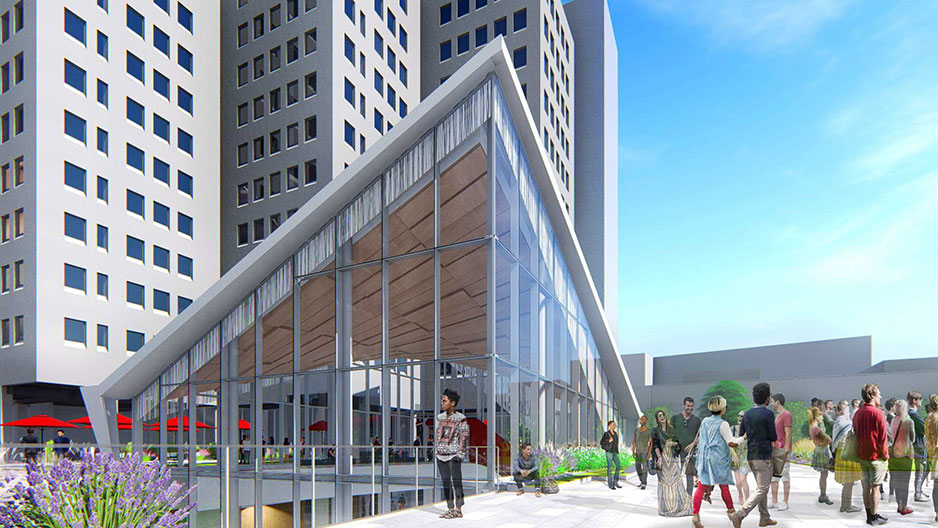 Rendering of what Anderson Hall's lobby will look like after the renovation (Image courtesy Erdy McHenry Architecture, LLC)
Two new staircases will grant street-level access to the terrace level. An outdoor amphitheater, adjacent to the dining and vending space on 12th street, will serve as class and meeting space with unique views of Temple's iconic Bell Tower.

—Christopher A. Vito