Posted
September 10, 2019
The significance of Temple University Japan's new campus
Bruce Stronach has served as dean at Temple University Japan (TUJ) since 2008. In this piece, he writes of the broader significance of TUJ's move to the campus of Showa Women's University.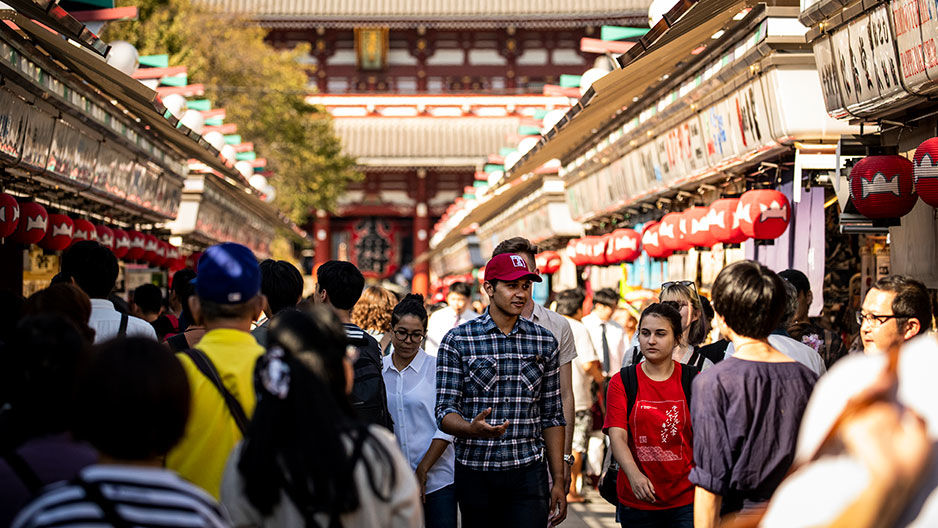 As I write this, I am sitting in what remains of the Temple University Japan (TUJ) Dean's Office; this has been my office for 12 years, but I'm happy to be packed and ready to move. 
By the time this is published, TUJ will have moved to Tokyo's Sangen-jaya District on the campus of Showa Women's University (SWU), after 23 years in the Minami-Azabu District. We are not just moving location; we are moving from three office buildings to a traditional university campus. While this is significant for our students and faculty, the move means far more for Japan, the U.S. and the world: It holds great potential to have a transformative impact on the meaning of higher education in the global era.
An evolving institution 
Since TUJ first opened in 1982, it has been a nomad institution, moving between a series of four different campuses through 1996. Those were key years in TUJ's development—a time when the institution defined itself as an overseas branch campus and also established itself as an institution of higher education in Japanese society. In 1996, TUJ first came under direct ownership of Temple's Main Campus. TUJ's branch campus identity and its establishment as a higher education institution in Japan, in combination, went a long way to create the physical and administrative platform upon which its current academic and organizational structure was developed.
Within a few years of opening TUJ in Minami-Azabu, it became obvious that rented office spaces were not ideal facilities for a university operation. Office buildings have narrow halls, with no large gathering spaces, no real lecture halls and no genuine campus. Literally and figuratively, those spaces were not ours.
So TUJ embarked on the search for a new location. There were four attempts at developing a new campus from 2004 to 2016, all of which were based on the fundamental concept that TUJ must be located in downtown Tokyo. TUJ thrives on its relationship with businesses, governmental organizations, embassies and other universities downtown. Non-Japanese students make up 60 percent of the student body, and whether they are studying business, art, Japanese language or political science, they all want to be where the action is—and downtown Tokyo is action.
The question of how TUJ came to be relocated onto the campus of a private women's university is less important than why it came about—and what it says about the role of universities in today's globalized world. 
Two fundamental principles for both TUJ and SWU were: first, that international diversity and a global perspective are necessary elements of higher education, and second, that negotiations between the institutions were not to be corporate negotiations based on a zero-sum-game perception of winning or losing, but a variable sum game in which a trusted partnership would bring equal value—albeit in different forms—to both sides.
International identities
The world today is struggling with the social and psychological impacts of globalization; identity, belonging and the group are all in flux, creating an anxiety and anomie not seen since the days of Durkheim. But much like industrialization in the 19th century, globalization is an irreversible phenomenon built on developments in communication, information and transportation technologies. We must learn to live in this new and evolving global technological environment.
As a nation, Japan has recognized the need to compete globally at all levels of the corporate hierarchy, from large corporations to small businesses—and it is asking its universities to develop global human resources. Japanese universities must create programs and curricula that support the education of a generation of professionals who will no longer work for one employer their entire careers, and who will require constant upgrades to their knowledge of rapidly developing technical and social innovations.
Its universities must also recruit foreign students who can be productive members of Japanese society in the future.
In other words, Japanese universities must do what TUJ does already—and will continue to in the future.
TUJ is by far the most diverse and international institution in which it has been my pleasure to work. TUJ utilizes its strong points to support the internationalization of Japanese higher education by making academic credit-exchange agreements with Japanese universities and providing workshops and training on university administration. 
TUJ is committed to being a part of Japanese globalization. It will recruit foreign students to come to Japan, learn Japanese, learn how to interact with Japanese people and stay to become productive members of society. It will also be the place where Japanese citizens will become global human resources through being educated in critical thinking, while communicating and interacting with a diverse student body drawn from around the world. 
For our non-Japanese students, the greatest asset of studying Japan and its culture at TUJ is that our students get a global perspective on the country. Be it anime, business or foreign policy, a TUJ student can study and discuss those topics not only with Japanese faculty and students, but also faculty and students from around the world.
The move to Sangen-jaya and the relationship with SWU is but the beginning of the next phase of TUJ's development as a global institution of higher education. Globalization has been of fundamental importance to TUJ. It has greatly increased the ability of TUJ to coordinate with Main Campus through improvements in financial transactions and communications. It has significantly reduced the cost of bringing students and faculty to Japan. It has created the need for an educational niche that TUJ is uniquely suited to fill.
TUJ as an institution of higher education, and as a branch campus of Temple University, will continue in the mid-term future to be a small American liberal arts university that will also be one of the first institutions to fulfill the needs of a new generation of global citizens. It will have an educational role—and assimilating role—that gives it weight and impact far beyond its size. 
However, the technology that drives globalization is evolving so rapidly that what those attributes will mean in the future, and what impact they will have on TUJ's curriculum and its pedagogy, remains to be seen. 
What we do know is that TUJ has a new platform upon which it is free to build its future.

Bruce Stronach has a doctorate in public diplomacy and has worked in Japanese and American universities for more than 40 years. He has served as TUJ's dean since 2008 and is currently co-authoring a history of TUJ with Rich Joslyn, a past dean.