From store clerk to board chair, Mitchell Morgan's story is the essence of 'Temple made'
Mitchell Morgan, FOX '76, LAW '80, worked full-time at his father's shoe store in North Philadelphia to pay his way through business school at Temple. Now, he's the founder and CEO of one of the country's largest apartment companies and chair of the university's Board of Trustees.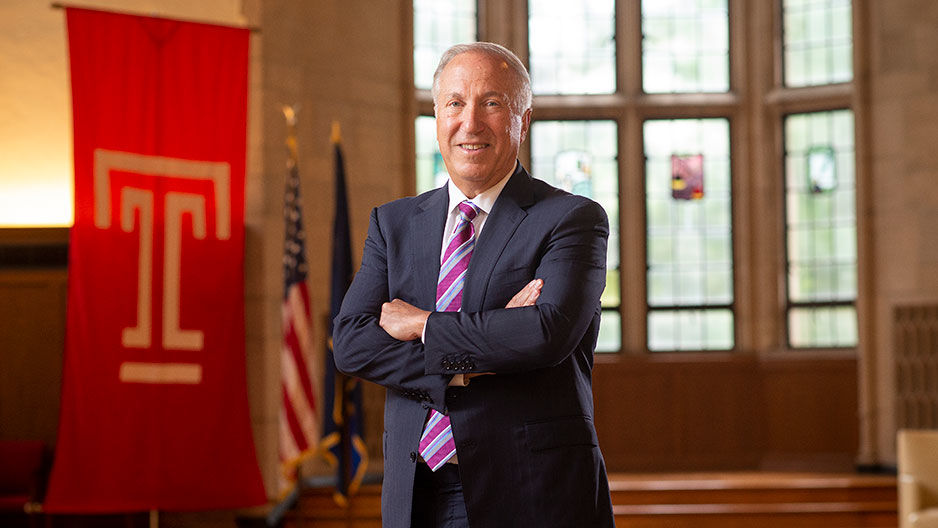 As a first-generation college student at Temple in the '70s, Mitchell Morgan, FOX '76, LAW '80, was too busy rushing between class and his full-time job at his father's shoe store at Germantown and Lehigh avenues to dream for a second that one day, Temple's largest residence hall would bear his name.
But now, four decades later, the 27-story Mitchell and Hilarie Morgan Hall, named for Morgan and his wife, is a building that defines an evolving campus that he and his classmates couldn't have imagined during their time at Temple. And Morgan himself—inspired by a transformation at Temple that has mirrored his very own up-by-the-bootstraps story—will lead the university into the future as chair of the Board of Trustees.
"I'm beyond honored to be part of this great university," Morgan said of his new role and his eponymous residence hall, opened in 2013. "Building this incredible residence hall filled an important void for the university and helped shape the future transformation of the campus from a commuting school to a campus where more than half of our undergraduate students live on or near campus." 
Weeks after Morgan assumed his role as Board of Trustees chair Aug. 1, he reflected on his journey to where he is today, not only as Temple's new chair, but as the founder of the 19th largest apartment company in the U.S., with roughly 54,000 units spread across 12 states. 
Hard work and a humble beginning
Where Morgan stands as founder and CEO of the multi-billion-dollar empire he's built in Morgan Properties is a far cry from his upbringing as the youngest of three siblings in a middle-class family, forced to work full-time to pay his way through business school and law school at Temple.
 
But for all his resounding success, Morgan retains his Philly kid sensibilities, always remembering his roots and—more importantly—what they taught him. It isn't lost on him and others that his own life story is the quintessence of "Temple made." 
"Mitch Morgan has known this campus as a student, and as a trustee," said President Richard M. Englert. "He has walked these streets and the areas around campus. As a longtime board member, he has already had a great impact on shaping Temple—especially the physical plant—and making it the school we see today."
Morgan spent his earliest years in Philadelphia's Mount Airy neighborhood, the son of a man who returned from serving in World War II and drove a taxicab to earn a living before opening eight shoe stores around the city. When Morgan was 4, his family moved to Springfield, Montgomery County, where he completed most of his elementary and high school years, until age 17, when his father declared bankruptcy and moved the family to more affordable Conshohocken. There, Morgan finished his final year of high school and graduated from Plymouth Whitemarsh. 
"My father, who had some financial difficulties along the way, actually went bankrupt twice before I was 18," Morgan explained. "He was an interesting businessman. He had a great vision for style. He just didn't have any mind for the budget. I would always say as a kid, 'Dad, what's your budget?' And he would say, 'Oh, I have a feel for it.' Unfortunately, he didn't have a feel for it."
It was perhaps this early-developed eye for the budget and firsthand witness to his father's struggle in business that inspired Morgan to pursue a degree in accounting. He started at Temple in 1972. 
"I had classes from 8:30 to 12:30, and then I went right to the shoe store," Morgan recalled.
Upon graduating in the midst of a recession, Morgan sold life insurance for a short time after completing his bachelor's in 1976. He then all but begged for his first accounting job, where he earned just $1.65 an hour—less than he earned selling shoes—while attending law school at Temple in the evenings.
"I realized what I wanted to do in life by realizing what I don't want to do in life," Morgan said. "I didn't want to sell shoes, but I did, because I needed to support myself, like a typical Temple student. You work and you go to school. You have no choice, you have to do both."
Although he earned his law degree in 1980 and, to his mother's delight, passed the bar exam, Morgan never worked as a lawyer. He instead employed his JD to bolster his credibility and expertise in the accounting world. He moved through other accounting jobs, including one at Laventhol & Horwath, then based in Rittenhouse Square, before finding his way into the multifamily apartment business, where he first worked as a chief financial officer before again learning what he didn't want to do.
"I didn't want to work for anybody," he simply puts it. In 1985, he established his company, Morgan Properties, which has since grown to become one of the largest apartment owners in the country, and the largest landlord in Pennsylvania, Maryland and New Jersey. Morgan Properties employs 1,200 people and owns more than 160 apartment complexes in 12 states, from New York to Tennessee. 
Morgan Properties purchases apartment buildings typically built between 1960 and 1990 and value-adds, upgrading bathrooms and kitchens and updating HVAC systems, roofs and windows. 
A self-described people person, Morgan takes great pride not only in the business he's built from the ground up—his two sons and daughter all now work for King of Prussia-based Morgan Properties after cutting their teeth at businesses in New York City—but in the fact that his position allows him to mentor and hire Temple students.
"The Temple students we hire work harder, they have grit," Morgan said. "I'm not sure why. I think we just grew up a little rougher, and we knew we had to fight for what we want in life. So I love hiring Temple students. They are great."
People need to remember that Temple is an amazing university of more than 39,000 students who have grit, work hard and change Philadelphia and the rest of the world they venture out to work in."
-- Mitchell Morgan, chair, Board of Trustees
Leading Temple forward
Morgan wants to make sure everyone appreciates Temple for the school that it is today.
"Temple is under-acknowledged in Philadelphia. It is often compared to Penn. It's similar to Philadelphia, actually, which stands in the shadow of New York and Washington, D.C.," he said. "People need to remember that Temple is an amazing university of more than 39,000 students who have grit, work hard and change Philadelphia and the rest of the world they venture out to work in."
Morgan's wife, Hilarie, earned her PhD from the University of Pennsylvania, and the couple's three children are all Penn graduates. Morgan has tremendous respect for the Ivy League institution on the other side of the Schuylkill and met with his friend and Penn board chair David Cohen to pick his brain before taking on this leadership role. The conversation with Cohen made him realize one of the big distinctions between the two schools is their students.
"We had this conversation, and the thing is, at the University of Pennsylvania, kids are educated in Philadelphia, but they often leave Philadelphia," he said. "Whereas at Temple, they're educated here and they tend to stay here. We really are Philadelphia's university."
In a similar vein, Morgan plans to place heavy emphasis not only on continuing to elevate Temple's profile, but also on drawing the university's some 300,000 alumni back to campus to visit, mentor students and give back. 
"No one would believe what Temple is today. When you see all the new construction and all of the buildings—the Science Education and Research Center (SERC) and Morgan Hall, the Tyler School of Art and Architecture building, it's amazing," Morgan said. "And there's more to come," he added, referencing the new Charles Library, opened in August 2019.
A role in changing lives
It was by happenstance that Morgan first joined the board in 2002 as chair of the facilities committee at the invitation of then-Chair Howard Gittis, HON '97. It's a role that he has held ever since. 
"[Gittis] said to me, 'Kid, you're Temple made. You came from nothing, you're really successful, and you should be on the board,'" Morgan recalled. "I really never had any expectation of coming back to Temple until he made that phone call to me. And then when I came back to Temple, I fell in love with Temple."
The Morgans' philanthropy in the Philadelphia region is extensive. Their foundation not only has made multi-million dollar gifts to Temple, but has also endowed chairs at Children's Hospital of Philadelphia and the University of Pennsylvania, funded a gallery at the Philadelphia Museum of Art, and supported various other institutions, including the Philadelphia Orchestra and the National Museum of American Jewish History on Independence Mall. 
But of all his causes, Temple is the one closest to Morgan's heart.
"My priorities in life are my family and then my business, and now, Temple," Morgan said.
Each time he visits campus for a board meeting or other event, Morgan makes a point to walk the campus to explore what's new and to see the students, one of his greatest inspirations.
"When you're a trustee, sometimes the tendency is to just go from your car to the boardroom, and you don't realize what you're doing here. What we're doing here is we're changing lives," he said. "You don't see that you're changing lives until you walk around and see these kids here, and you feel good about what you're doing." 
Morgan plans to lead the Board of Trustees much the same as he leads his own company: By building a group of strong, sharp leaders and taking a collaborative approach to decision making.
"I've promised my fellow trustees tremendous transparency," Morgan said. "Chairman of the board and trustees, their job is not to run the university. Their job is to set missions and goals and direction. My style is that I hope to be able to change Temple for the better. It's great now, but I want to make it better, and I plan to do that by surrounding myself with great leaders."