Foundation grant funds expansion of Temple's Urban Youth Leadership Academy
The academy supports middle schoolers preparing for success in high school, college and careers, and a grant from the Lasko Family Foundation funded its expansion this year.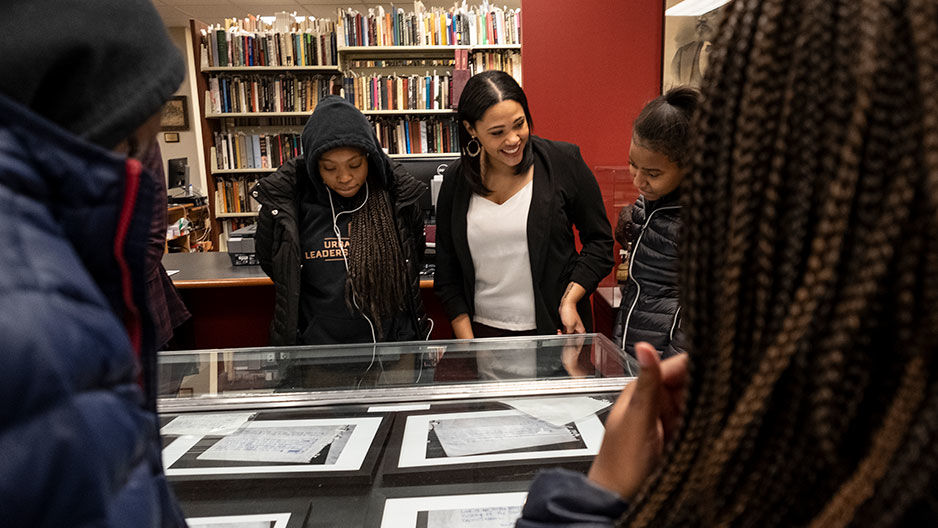 A cohort of girls from two North Philadelphia middle schools is now participating in the College of Education's Urban Youth Leadership Academy (UYLA), thanks to a $30,000 grant from the Lasko Family Foundation that helped the program expand this academic year.
UYLA, which piloted with six eighth-grade boys from the Duckrey and Dunbar middle schools adjacent to Temple's Main Campus in the 2016–2017 academic year, is a mentorship program aimed at setting middle-schoolers on the path toward academic success in high school and beyond. The program was operating on a shoestring budget until the Lasko grant, which was matched with $10,000 of in-kind support from the College of Education, enabled its expansion.
"This initial investment from the Lasko Family Foundation is important in the College's broader place-based efforts to enhance community engagement," said Professor of Higher Education James Earl Davis, Bernard C. Watson Endowed Chair in Urban Education. "The grant represents continuity and expansion of the Urban Youth Leadership Academy that reinforces school-to-college and career pathways."
Juwan Bennett, CLA '14, '16, a PhD student in the College of Liberal Arts who helped launch UYLA, said the grant supported adding a girls' cohort, a request the program had received from the principals at Duckrey and Dunbar when they selected the boys to participate in the pilot.
"Having the female cohort of UYLA is so important, because representation matters," said Alexus Moran, EDU '17, program coordinator for the program who is currently earning her master of education at Temple.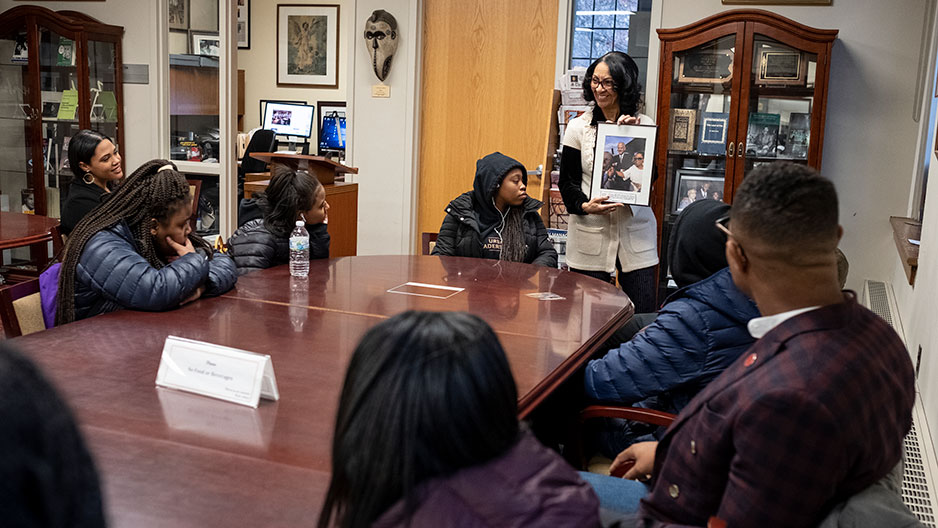 Diane Turner, curator at the Charles L. Blockson Afro-American Collection, gives a presentation to students from the Urban Youth Leadership Academy on Dec. 5, 2019. (PHOTO: Joseph V. Labolito)
"They were saying, 'We're really struggling with the girls,'" Bennett recounted. "Middle school is a really important time developmentally. If we want to think about leadership, we also have to think about women … we should be training them and developing them as leaders just as we did with our boys' cohort."
The new cohort, also students from Duckrey and Dunbar, began the program in the fall, along with another cohort of six boys from the schools. Including the UYLA alumni, who are now juniors in high school but still participate in the program tangentially, there are currently 18 local students involved with the program.
Bennett and Moran said the funding has also supported them in their quest to develop partnerships to benefit UYLA's students as much as possible. One of those is with Cristo Rey Philadelphia High School, a preparatory high school that boasts a unique work-study curriculum to ensure access for socioeconomically disadvantaged students.
Through the partnership with Cristo Rey, Bennett and Moran said, parents of the current UYLA cohort have been able to meet with enrollment staff at the school to consider it as an option for high school. The high school application process in Philadelphia—particularly for magnet schools—is as intense as the college application process, Bennett said, and applying to Cristo Rey in addition to public schools gives students an additional option they would not have had otherwise.
The grant funding has also supported programming within the schools for students who are not involved with UYLA, such as high-school essay workshops and standardized-test preparation. The idea, Bennett said, is to begin working with students as early as possible to ensure they're set on the path to success.
"If we're working with fifth- and sixth-graders, by the time they get to us [for UYLA], they're already prepared," Bennett said. The groundwork makes the leadership program all the more impactful.
Bennett and Moran said they've developed an evaluation plan to continue ensuring that the program is successful and provides what students need. 
"We really have a holistic approach. For us, it's about engaging the students and even engaging the parents," Bennett said. "When kids come here, we're like, 'What do you want to do? This is your program, you design it.'"
Learn more about the Urban Youth Leadership Academy and how to support it.