Temple medical student volunteers helped keep the Liacouras Center surge facility running
Students at the Lewis Katz School of Medicine worked to serve patients at the field hospital.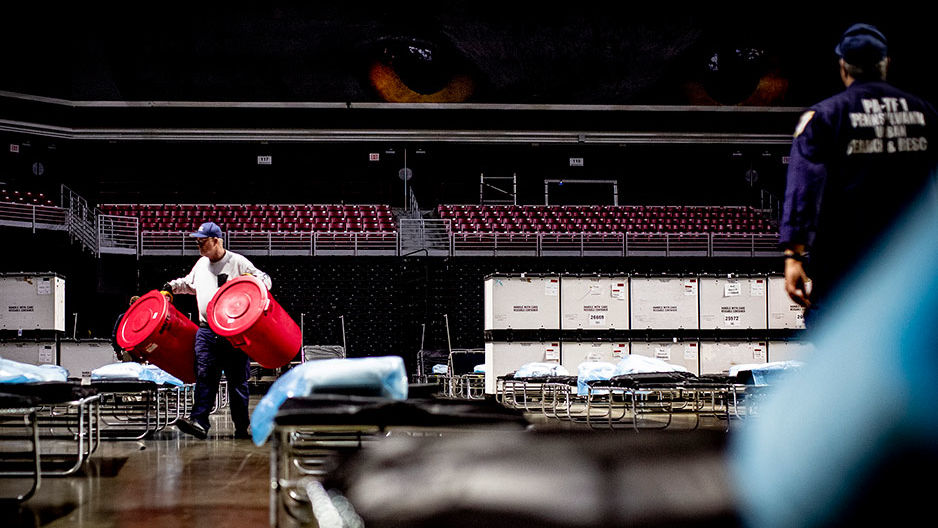 When the Liacouras Center was converted into a surge medical facility in response to the COVID-19 pandemic, students at the Lewis Katz School of Medicine were eager to help. 
A group of them began volunteering at the facility in March: establishing infrastructure, assisting with protocols and helping ensure the temporary hospital ran smoothly.
Faculty at the Katz School of Medicine approached the Temple Emergency Action Corps (TEAC), a student group that provides medical disaster relief, during preparations for the facility and asked if any of its members would like to be involved. A number of them said yes and began recruiting their classmates as well. 
"We wanted to feel useful, we wanted to help out and be alongside the residents and the attendings that we had come to know so well," said Michael Creager, a rising fourth year medical student and one of the facility's first volunteers. "We were excited about the opportunity to be able to do something."
About 25 students volunteered at the facility daily during the first two weeks, alongside another 10 who helped when they could. All of them balanced working there with coursework and other responsibilities.                                                                                                                                                                                                                                             
Lawrence Kaplan, associate dean of inter-professional education and professor of medicine, said the students were instrumental in transforming the Center into a field hospital. They helped with multiple aspects of the facility, from patient transfer and triage protocols to the routine for distributing and sanitizing personal protective equipment (PPE) and finding room for more beds. 
Each morning the volunteers met with the heads of various departments to discuss the day's agenda, then set to work on clinical protocols, troubleshooting and collecting data. They weren't in direct contact with patients: Staff and faculty at the Katz School of Medicine didn't want to put them at risk. However, the fast-changing nature of the pandemic meant there was always something new for them to take on. 
"I think the classic way to describe a Temple student [is] 'think globally, act locally.' Students that come to Temple," Kaplan said, "they really want to fix what doesn't work."
"It's a very collaborative project," said Joe Corcoran, a volunteer and rising fourth year student. 
Assisting at the field hospital gave them the chance to learn about aspects of medical infrastructure they might not have explored at school. "How to set up a hospital pharmacy is not something that any medical student is ever taught," Kaplan said.
"It's been an incredible educational opportunity—definitely one of the best I've had throughout medical school," Creager said. "We've had the opportunity to learn so much, not just in terms of COVID the disease itself, but how hospitals function from everything from food delivery all the way through to administration and patient care."
More than anything else, the students volunteered because they felt they needed to serve. "I think all of us decided to go into medicine so that we could help treat patients and we could work in a team," Creager said. "When suddenly the pandemic began and we couldn't be in the hospital any more and we couldn't help care for patients, I think a lot of us felt like we were useless and we weren't fulfilling our calling."
"As medical students we're in a unique spot [where] we both have this training and knowledge to see COVID with enormous clarity," Corcoran said, "but we lack the credentials to necessarily do anything about it in the traditional medical roles." 
Volunteering at the field hospital allowed them to make a difference and put their skills to use. 
Kaplan believes their eagerness to help is a hallmark of Temple's student body. "I think the classic way to describe a Temple student [is] 'think globally, act locally.' Students that come to Temple," he said, "they really want to fix what doesn't work," in North Philadelphia and beyond
"I think [the volunteers] embodied what is really wonderful about the students at Temple University and more specifically, the students at Lewis Katz."
—Edirin Oputu