Staying fit in the age of COVID-19: How Temple's planning to reopen fitness facilities
We know how important physical activity is. Here's how Temple is working to make on-campus recreation possible.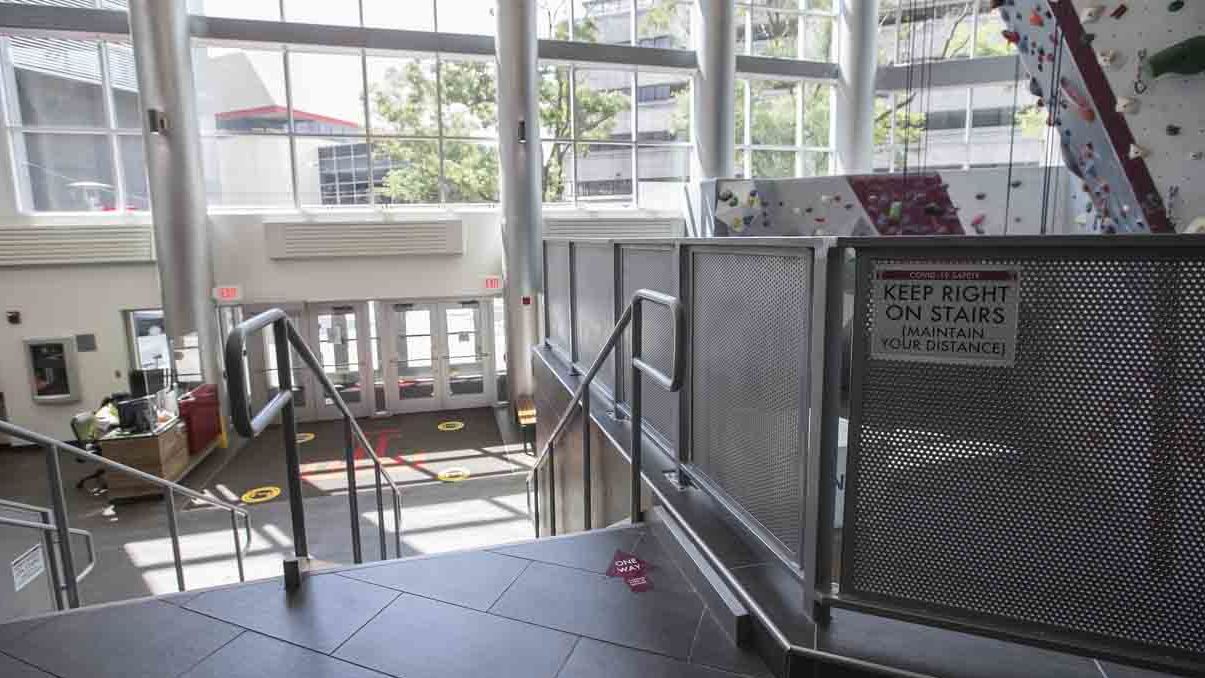 We know you can't wait to get back to doing things you love. We totally get it.
That's why Temple has developed a plan that will allow us to use our Campus Recreation facilities and programs while complying with local and state guidelines and Temple's four pillars of public health.
Just as the plan to reopen the state of Pennsylvania and the return to campus for the entire university is happening in phases, so is the opening of our Campus Recreation facilities. This approach affords us the opportunity to monitor each stage before moving onto the next one.
According to this plan, outdoor recreation facilities will open sooner, with indoor facilities planned to become available in the later stages of our reopening.
At every stage, you will notice some changes that ensure your safety.
Everyone using our campus recreation facilities must continue to maintain six feet of distance from others and properly wear cloth face coverings during all activities. Cloth, reusable facial coverings, whether they are handmade or manufactured are sufficient. Coverings with a vent, handkerchiefs and gaiters are not considered acceptable. You will notice signage placed to remind you to follow Temple's public health pillars. And you will notice equipment will be placed six feet apart to ensure safe physical distancing. 
Participants will be asked to make reservations in advance online for the use of spaces and equipment. When you make a reservation, you will receive a confirmation email explaining any new policies and procedures for physical distancing in the recreation facilities along with other guidelines.
 
Internally, just as we are following enhanced procedures for keeping all of our buildings clean and disinfected, we are likewise following enhanced procedures for recreation areas and any equipment. Disinfecting wipe stations will also be installed so that you may wipe off equipment before and after use.
Here are the details of the plan, including what's available to you now and what you can expect going forward.
Club Sports and Intramurals
Unfortunately, we were forced to suspend all club sports activities and contact intramural leagues for the fall 2020 semester.
However, some intramural programs may be offered and those that are will be updated on the Campus Recreation website.
Also keep in mind that we continue to offer Esports intramurals. Esports are a great way to connect with other gamers in leagues that are offered for a variety of platforms. The leagues are structured with regular season games followed by playoffs.
Outdoor Fitness and Recreation
As we explained, both indoor and outdoor facilities will be opening in phases, which are outlined below.
Currently, during this first stage of reopening, you can participate in some outdoor activities as long as you maintain safe physical distancing and properly wear an appropriate face covering.
Stage 1
On Main Campus, you can use the Tennis Courts by making an advanced reservation through the facility request form on the Campus Recreation website, but you will have to bring your own rackets and tennis balls. At Ambler Campus, the Loop Drive and internal walkways are available for outdoor recreational activities, such as biking, walking and running.
Stage 2
On Main Campus, you will be able to use Geasey Outdoor Turf by making a reservation in advance. Note that you will not be permitted to play any organized games or contact sports until we move into a later stage. On Ambler Campus, the Ambler Arboretum will become available for biking, walking and running.
Stage 3
Temple Sports Complex Outdoor Track will be open for use. Hours of availability will be posted on the Campus Recreation website after the fall athletics schedule has been determined. At Ambler, the Tennis Courts will become available for use by reservation.

Indoor Fitness and Recreation
In accordance with Pennsylvania Governor Tom Wolf's orders, indoor fitness activities are now permitted in university facilities during our state's current phase of reopening.
The phases can change rapidly, so our goal at Temple is to make indoor fitness facilities available as soon as possible. Currently, the plan is for our indoor facilities to begin to open during Stage 4 on Aug. 24, the first day of fall semester classes.
Stage 4
Both the IBC fitness facility and the 3rd floor Recreation Courts in Pearson and McGonigle Halls will open for use through advanced online registration. The cardio machines in both locations will be positioned six feet apart to protect everyone's health.
Stages 5 and 6
Assuming a low level of coronavirus transmission and in compliance with local and state guidelines, Temple will begin to open other recreational facilities in Stages 5 and 6 on a limited basis, including Pool 30 in Pearson Hall, the Aramark STAR Complex Weight Room, TASB Fitness Center, the HSC Recreation Center, the Podiatry Fitness Facility and the Red Barn Recreation Center at Ambler.
Virtual Fitness Resources
Exercise and fitness activities don't just boost physical health; they're also important for our mental health and well-being—a great way to have fun and blow off a little steam. Those of you who enjoy group fitness classes will be able to participate in Campus Rec's group fitness offerings virtually through Zoom by registering in advance. Led by certified staff, the virtual sessions include yoga, pilates, strength training and high intensity interval training.
Stay Informed
Find out more about Temple's new recreation protocols by accessing the full guide via TUportal under the Return to Campus tab. You can also check temple.edu/return. These resources are frequently updated with the most current information, such as new protocols and guides for planning your return.
Also, be sure to check your Temple email frequently for communication from university leadership, your school or college and other departments. Following the university (@TempleUniv) on social media can also help you stay informed.