Posted
September 30, 2020
National Coming Out Week goes virtual with this message: Love
Temple's annual weeklong celebration of the LGBTQIA+ community starts Oct. 5. This year's theme is Love is the Message and all events will be virtual.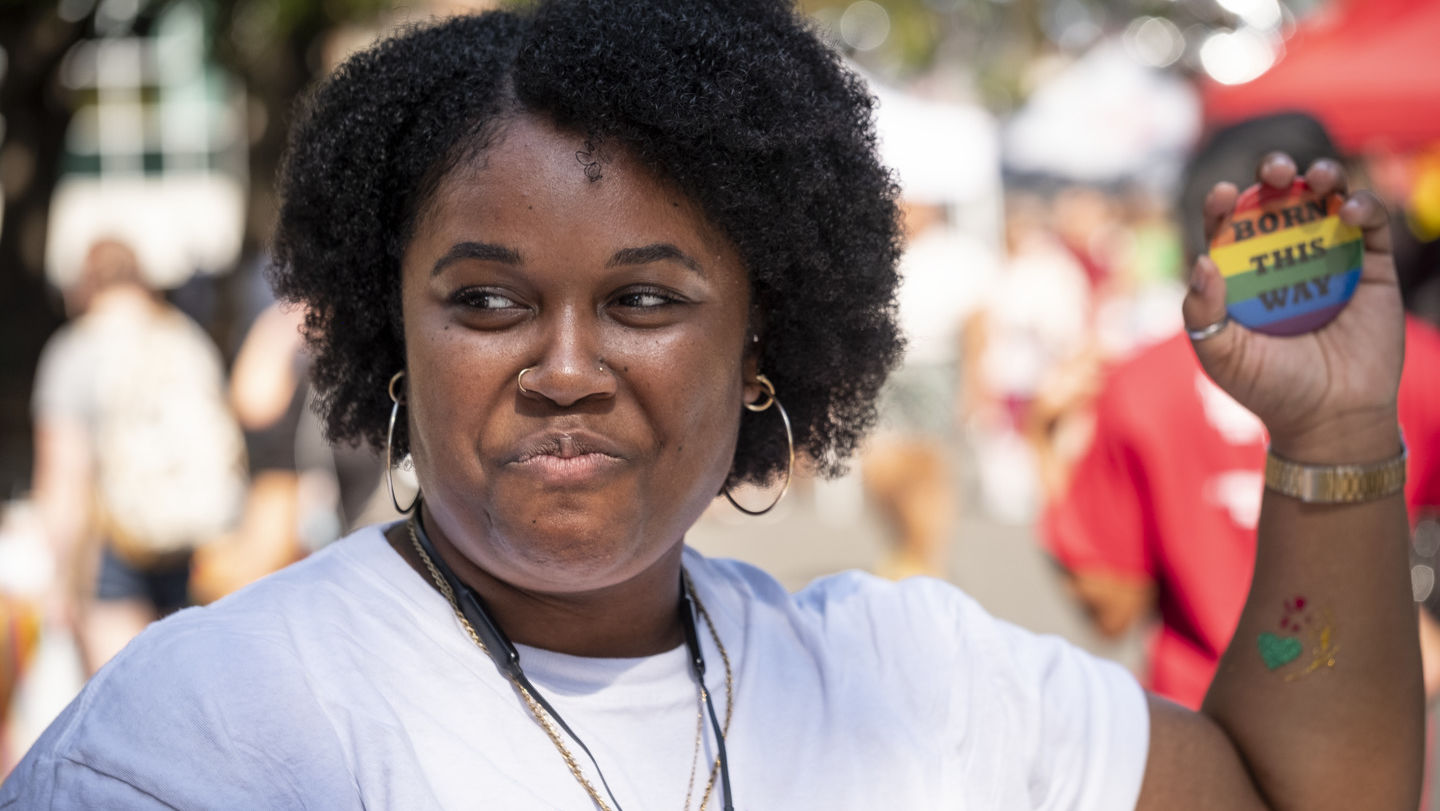 Every October for more than a decade, Temple has celebrated National Coming Out Week (NCOW), which brings together our LGBTQIA+ Owls to build community, create more awareness and advocacy, and provide a space to discuss current issues impacting LGBTQIA+ identifying individuals. 
This year, Love is the Message is the theme for NCOW, which starts on Oct. 5 and offers virtual events each day for the entire Temple community through Oct. 9. 
"The theme is a way to show how the community is connected even through really challenging times," said Alison McKee, director of the Wellness Resource Center and co-chair of the NCOW planning committee.  

The NCOW planning committee, which consists of representatives from across campus, selects the theme each year. 
"This slogan, Love is the Message, honors various levels of compassion while promoting equity through societal practices of gender and sexuality inclusion," said Nu'Rodney Prad, director of student engagement at the Office of Institutional Diversity, Equity, Advocacy and Leadership (IDEAL) and NCOW co-chair. "As we are experiencing a polarized onset of values and viewpoints, assuming good intent and having compassion toward individuals is critical in achieving social justice." 
Because the week's events are all virtual, Mckee suspects that people who wouldn't normally be able to make it to events will be able to attend. 
"Virtual Programming can make it easier for folks to find time to attend and may even help them feel more comfortable checking out what we are offering," said McKee. 

All of the following events will be hosted on Zoom, and, yes, the annual theme T-shirts will still be available. The select number of event attendees (must have an OWLcard) who arrive first will get a tee—pick-up instructions will be shared after the events. 
Looking for the Zoom links? You can find them on the NCOW event page on the university's calendar. 
NCOW Festival 
Monday, Oct. 5
11:30 a.m.–12:45 p.m. 
First 100 attendees to arrive will get a NCOW T-shirt. 
Kick off National Coming Out Week by getting to know the organizations and clubs on campus and in Philadelphia that are here to support and advocate for the LGBTQIA+ community. There will be Zoom breakout rooms for each organization at the festival, so you can hop around to learn about each one. 
International Coffee Hour 
Tuesday, Oct. 6
11 a.m.–12:30 p.m. 
First 40 attendees to arrive will get a NCOW T-shirt. 
What does LGBTQIA+ look like in other parts of the world? During this event, you can learn about preferred pronoun usage, LGBTQIA+ rights in other countries and discuss the intersectionality of being part of the LGBTQIA+ and international community. Also, there'll be opportunities to chat with others about your experiences. Since it's virtual, you will have to bring your own hot beverage of choice. 
What's the T? Discussion on Trans Inclusion 
Tuesday, Oct. 6 
6–7:30 p.m. 
First 40 attendees to arrive will get a NCOW T-shirt. 
Advocacy is a key part of every National Coming Out Week. This year, a virtual panel discussion will center around recent awareness and visibility of trans identities and how people—within the LGBTQIA+ community and outside of it—can support and advocate for gender inclusion. 
Meet the panel
Moderator
Kendall Stephens, Class of 2021, Philadelphia Gay News Person of the Year 2020, co-facilitor of TransWay support group at the William Way LGBT Center 
Panelists 
Nora Hikari, William Way LGBT Center
Dani Murano, Mazzoni Center 
Mikah Thomas, Trans Equity Project 
Jackson Burke, Class of 2023, Temple Students for Trans Awareness and Rights (STAR) 
Malaika Mumeka, Class of 2023, Temple's student organization Queer People of Color (QPOC) 

Come Out, Speak Out 
Wednesday, Oct. 7 
6–7:30 p.m. 
First 40 attendees to arrive will get a NCOW T-shirt. 
Every coming out story is unique and here those stories are showcased, Zoom-style. Log in to see, hear and feel the powerful messages from the LGBTQIA+ community as they share their coming out experiences through poems, presentations, spoken word and other creative mediums. 

Queer Connect 
Thursday, Oct. 8 
3:30–4:30 p.m. 
First 40 attendees to arrive will get a NCOW T-shirt. 
What's it like to navigate the professional world as a member of the LGBTQIA+ community? In partnership with the Career Center, this panel discussion details the importance of inclusive leadership and workspaces. Pro tip: The Career Center offers support for LGBTQIA+ students year round, so after you check out this virtual panel, make an appointment to keep the conversation going with a Temple career and internship expert. 
Meet the panel 
Evan Wise, TYL '18, is a recent graduate from Rutgers University's city and regional planning master's program. He's interested in building equitable communities and strategies that planners can use to create inclusive spaces for the LGBTQIA+ community.
Angela Giampolo, LAW '08, founded and owns www.phillygaylawyer.com, a popular LGBTQIA+ law blog and resource directory. She also formed her own boutique law firm where her expertise includes civil rights and LGBTQIA+ law, and she serves as president of Philadelphia Gay and Lesbian Lawyers of Philadelphia (GALLOP). 
Darius McLean, CLA '18, works for Einstein Health's Pride Program, which supports LGBTQIA+ clients. There, he is a program manager and patient navigator.
Annual Drag Show 
Friday, Oct. 9
6–8 p.m. 
First 200 attendees to arrive will get a NCOW T-shirt. 
It's probably fair to say that the Temple community lives for this event. See how inventive our performers can be this year for our first-ever virtual drag show. Be entertained and get educated along the way about the history of drag.