Art as resilience in a time of isolation
Virtual therapeutic art workshops allow students at Tyler School of Art and Architecture and Drexel University to connect during the pandemic.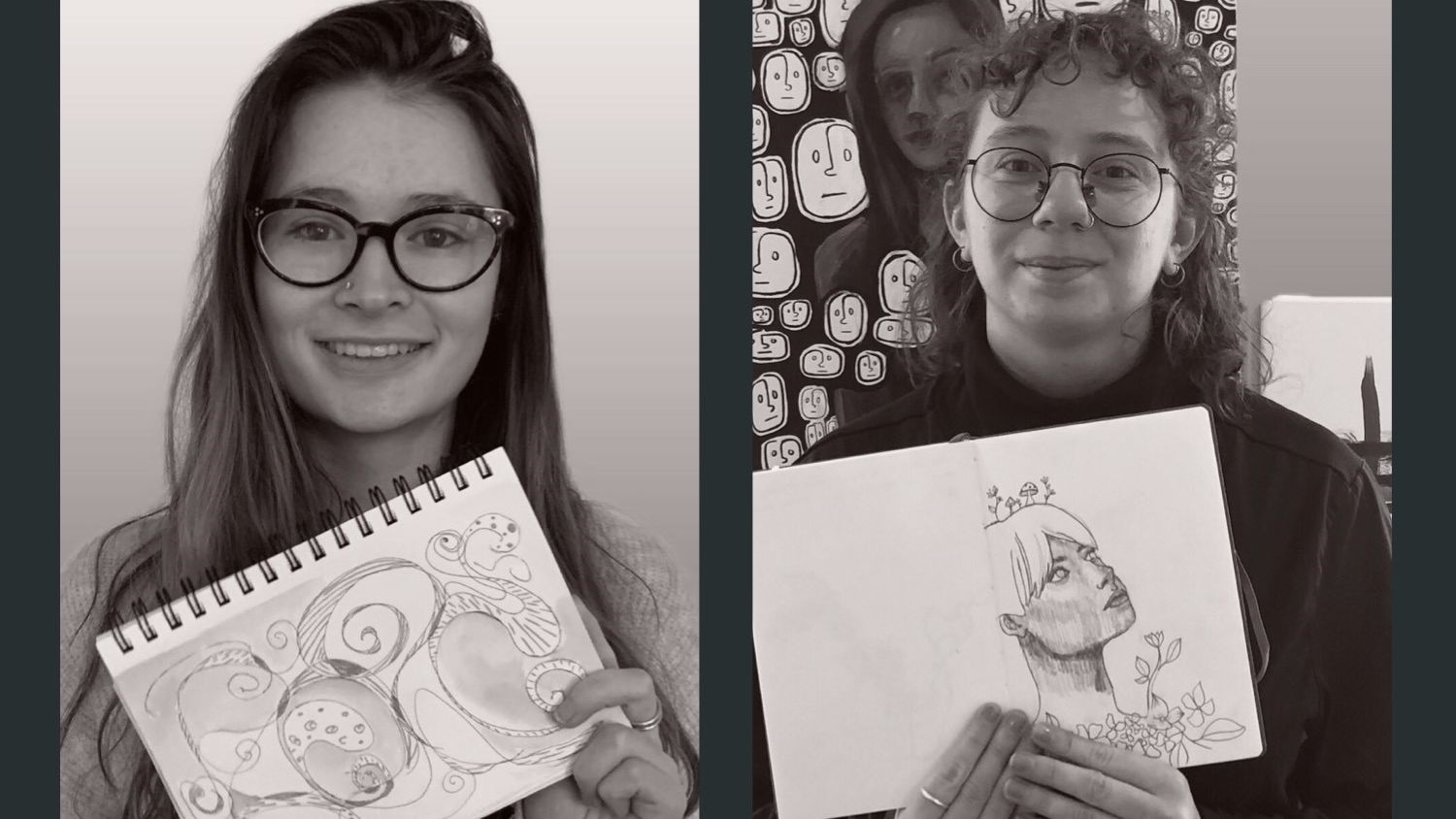 When the world was forced to physically distance in March, Associate Professor Lisa Kay, program head of art therapy at Tyler School of Art and Architecture, worried that students would lose out on a crucial part of the program experience: interning in the field. 
"During nonpandemic times, our senior art therapy majors are out working under art therapists, social workers and school counselors, with people in schools, community centers, hospitals, nursing homes—a lot of different contexts," said Kay, who also serves as the department chair of art education and community practices at Tyler. "So we had to come up with another way for students to have a 'simulated' fieldwork experience."
This meant reenvisioning what art therapy placements might look like in a virtual space. Kay jumped on the opportunity to collaborate with Natalie Carlton, associate professor and director of art therapy and counseling at Drexel University. Carlton, in turn, brought in graduate student Hanna Lee to act as the facilitator of the weekly groups. Tyler Adjunct Instructor Michaela Herr, who works as an art therapy supervisor to Temple students, became a participant-observer in the weekly groups.
The workshops model how to engage people in therapeutic art practices. Though the virtual delivery and Zoom setting is unusual, the workshops have the same goals as in-person wellness support groups, including sharing in self-care and cultivating resilience. These virtual workshops have a set structure: introductions, a question ice breaker, an art warm-up, an art activity, and a period dedicated to optional sharing of participants' art, their processes, or both. 
The students enjoy how different these workshops are from their typical online classes. "They are a space for everyone to create for an hour and just talk, and if you have any questions about art therapy you can always ask," said Gianna Pagano, Class of 2020. "I feel like that hour of time is very interactive."
After the groups take place, the students discuss them in their Fieldwork in Art Therapy course, sharing what techniques of facilitation and media use worked and what didn't, as well as what could be done differently. As placements have adapted to the pandemic, the students have been able to use their skills to connect to the community, piloting Zoom therapeutic art workshops at settings as diverse as Magee Rehab, Children's Hospital of Philadelphia (CHOP), ARTZ Philadelphia and the Temple Wellness Resource Center. Each workshop must be customized for the specific population, and can be "tweaked or changed for the variety of sites that they're placed at," said Herr.
Though it can be challenging to create the same level of intimacy in an online setting as an in-person one, the students think these groups managed to strike the right balance. "I felt like even though it was on Zoom, we were able to create connections very similar to what we would have been able to do in person," said Marissa Ziobro, Class of 2020, another workshop participant.
"I really liked the one activity we did where we made the little self-care books. We got to write different self-affirmations in a group chat, and could choose the ones from other people [to represent how we were feeling]," said classmate Isabel Kohuth, Class of 2020. "It was nice to hear what other people were telling themselves during these times, to reaffirm that we're all going through it, since we're in a pandemic." 
The content of the workshops varies, but often coincides with what is going on in everyone's lives. "There's a lot of weight and a lot of heaviness in the world," Herr said. "I think we're just reading the general vibe of what's going on in our country and society, and so there have been themes of the pandemic and just missing that element of connection." 
Lee agreed: "I know that for myself, it's easier for me to process things through art making before I can put words to difficult thoughts and feelings, so hopefully these groups are allowing students to do the same, or at least gain an understanding of how they could do this on their own."
The students agreed that Lee's mentorship helped them feel comfortable sharing and being honest, which led to the creation of more visceral artwork.
"You have to integrate fun and humor into your self-care because there's been so much intensity," said Herr. "It's not always deep, dark things. It's a lot of playful interactive and helpful prompts that connect us and also enable us to do some self-reflection."
Due to the success of this effort, Kay plans to continue this collaboration in the 2021 spring semester and beyond. Meanwhile, Kohuth, Vassa, Ziobro and Pagano are currently exhibiting their work at Tyler's virtual art gallery, STELLA, in their capstone entitled "Through Our Eyes."

—Sonia Belasco