David Ortiz keeps the Latin jazz flowing on WRTI
The host of "El Viaje" discusses his show and Latino culture in Philadelphia.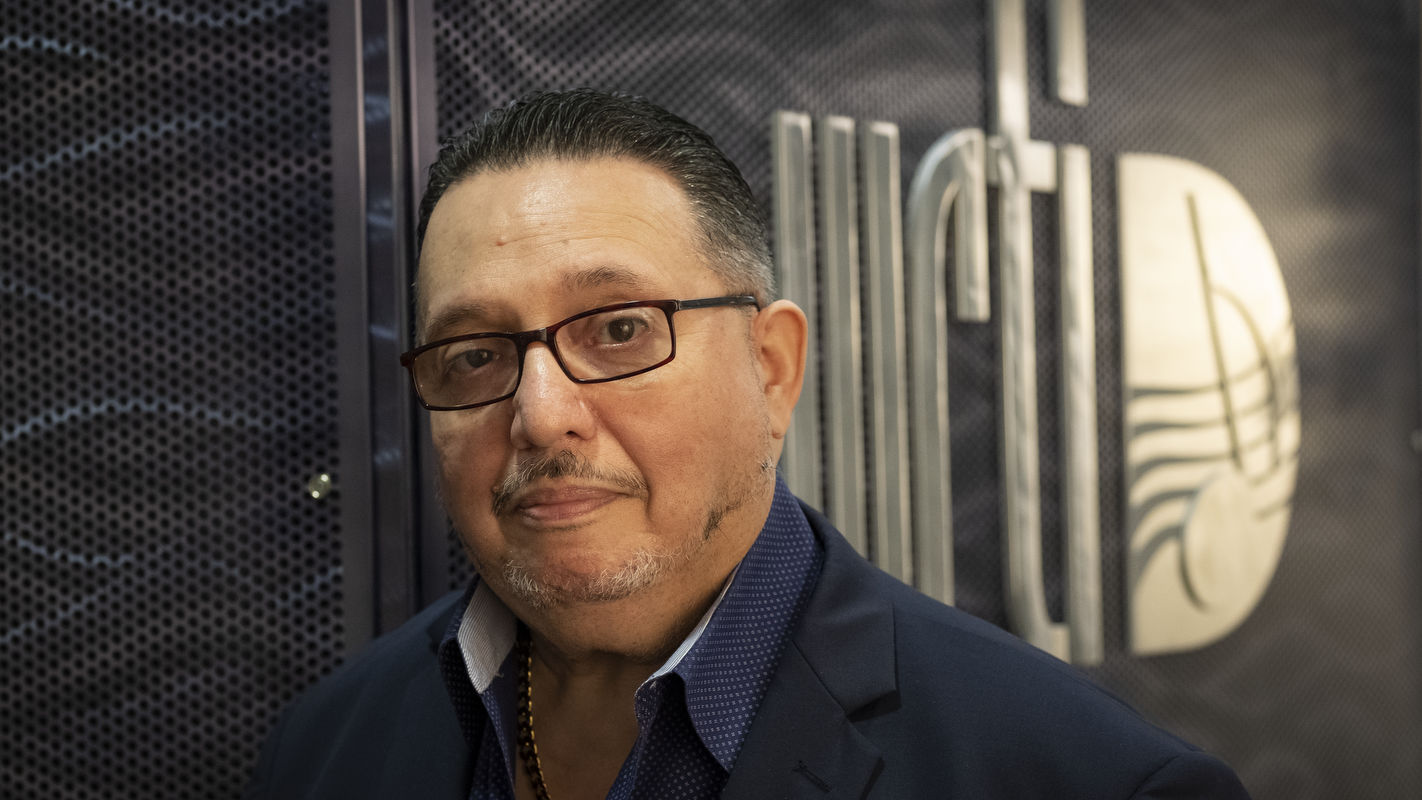 For over 43 years, David Ortiz has been leading listeners on a voyage through the sounds of Latin jazz, salsa, mambo and more with El Viaje, "the journey." On Saturday nights on WRTI, he celebrates Latino culture and heritage, mixing an encyclopedic knowledge of artists and genres with musical selections that keep the listener's feet moving.
We spoke with him about his show, Latino culture in Philadelphia and keeping Latin music alive.
Temple Now: What first drew you to music?
David Ortiz: My mother was a record collector in the '50s. She had a lot of mambo and Latin jazz albums. I really didn't get into Latin music until I was about 17, believe it or not, and it was because my sister played this album for me: It was Cachao and his orchestra, and it was called Cuban Jam Sessions in Miniature. She said, "Hey, listen to this. This is one of mom's albums." And I said, "All right." And I got hooked. Next thing you know, I was going through all her records. It was just such a moving rhythm. I heard the congas, I heard the timbales. I heard the pianos. I heard the horns. I've always been enthralled by Latin music, especially in the salsa bands, by the strength of the horn sections.
TN: How do you choose the music you play on the show every week?
DO: Way back when, in the 20th century, I used to be a club DJ. The idea when you play live music at a club is to keep the people on the floor. My theory is: I can't keep them on the floor, but if I keep the music good and moving fast, one after the other, I keep them there to listen. In my mind I'm saying I don't want them to change that dial. If they have to walk away to another room, they raise the volume so they can still listen. I'm trying to keep people entertained and I'm also trying to immerse them in what I'm playing. And at the same time as I'm doing that, I like to educate them about the music, about the artists. My whole mindset is it's Saturday night. Saturday night is a party night. I'm going to play music that's going to make them jump, whether they're driving in their car, sitting in their backyard, sitting inside their house or on their way to somewhere. I've had people tell me in the past that they pulled over on the highway, opened the door and started dancing. I thought, "Wow! My plan is working."
TN: You mentioned the importance of teaching people about music. What are you trying to share?
DO: The knowledge of the artists, like their background and how they started. It's especially important in Latin music, where singers have a tendency to jump from one band to another. Where one band may have held them back, another band will have made them famous. A perfect example is Celia Cruz, who's known throughout the world, even after her death. She was hired by a group in Cuba called Sonora Matancera, which was sort of her first claim to fame. She was the lead singer in an all male band, which was unheard of at that time. She went through some downturns on a record label called Tico with Tito Puente, when her music really didn't sell. However, when she was picked up by Fania in the '70s and they went global with the salsa explosion, it introduced the world to Celia Cruz. I try to explain to people, "Hey, some people started out small and stayed small. Some people took advantage of the opportunity to grow and become the phenom that they were. Or still are."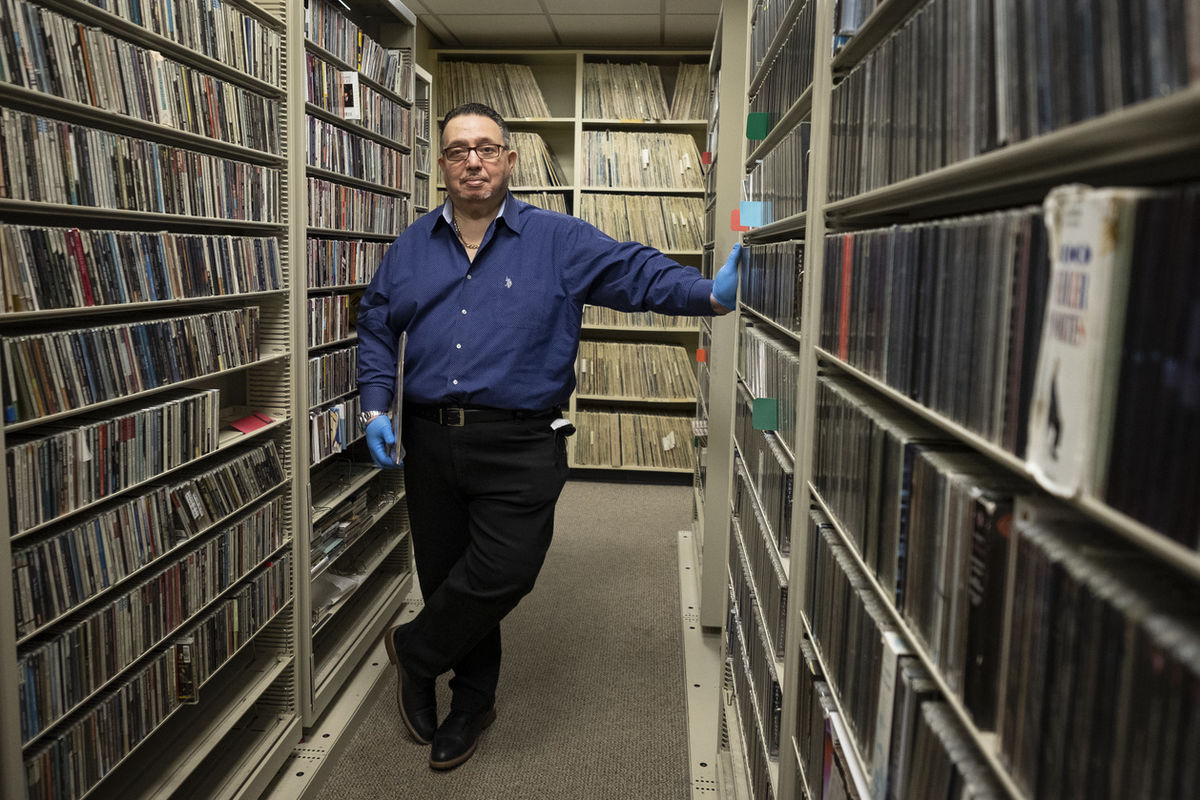 Ortiz feels the music he plays keeps listeners energized, giving them a brief respite from the challenges posed by the coronavirus pandemic. (Photo by Joseph V. Labolito)
TN: What do you feel makes Latino culture in Philadelphia so vibrant?
DO: The people. And now, more so than ever, it's multi-Latino cultures. I was born and raised in Philly and didn't move across the bridge to New Jersey til '83. Where I grew up the majority of Latinos were Puerto Rican. And I grew up in North Philly. We embraced our own culture. I mean, we embraced the American culture because we're Americans. But we embraced our own culture, our food, our traditions. Any occasion was an excuse to celebrate our culture, be it through music, food, arts or dance. My parents moved from New York in the '50s and moved into a neighborhood that at that time was predominantly Jewish. (There were Latinos already living in Philly, though. The first Puerto Rican neighborhood dates back to the 1800s. It was the Puerto Rican-Cuban neighborhood around Fourth and Reed.) Now there are Dominicans in Philly. There are Mexicans, there are Colombians. More so now than when I was growing up. I embrace all the Latino cultures. You can go back and back and back and find out that people jump from island to island. And the Taino culture and African culture infused and created our Latino culture, plus the Indian culture from Mexico and Central and South America as well. To me, when I say Latino I embrace it all and I try to learn about it all. That's why when I play Latin jazz or salsa, it's not Latin jazz or salsa generally from Puerto Rico or Cuba, because there are some artists from Colombia, Venezuela, even from Mexico that play Latin jazz and salsa. I incorporate some of them as well.  
TN: What's the one thing about Latin jazz that you wish more people understood?
DO: Latin jazz is mostly instrumental, but for salsa I wish they understood the lyrics. Because some of those songs are so beautiful and the stories they tell. I have a lot of Anglo friends that understand Spanish or actually said, "You know what? I want to learn what this says and it really is a pain in the butt to go into Google and find out." They've actually learned Spanish so they can understand salsa more. And embrace it more.
TN: On the show you encourage people to stay positive and support the music. Why is that important?
DO: I remember the first show I went on after the pandemic started and I got emails saying, "Oh, David. I'm so glad you're there. I didn't think you were going to be there." I guess they thought since everybody was going into quarantine that people that work on the radio were going to get quarantined. I got all these emails. I thought, "Well, yes, of course, I'm ready to be here [in the studio]. Where else am I going to be? I'm going to be at WRTI." I received an email that really touched me. This young lady said, "I lost my job due to the pandemic. I've been out for a while, but I got a new job. And the first thing I did when I tuned in was go to the website and give a donation to WRTI." To me, that's one of the things that's so cool about the music. During these times, when people are being quarantined, when people have to wear a mask and keep six feet apart, the music energizes them and gives them a way to escape, on El Viaje. 
TN: Do you think people's relationship to music has changed because of the coronavirus pandemic?
DO: I think we've embraced it more. I'm on Facebook and Instagram and I get messages from listeners saying, "We're glad you're on." Or "I had a rough day, give me some music that can make me feel good." I'll get people that say, "Hey, I'm in LA and I'm listening to the show. I'm in Seattle. I'm in Houston, Texas." One guy even sent me an email saying he was listening from Cartagena in Colombia. I was surprised by that but I thought, "You know, that's pretty cool." I think what the music does is it lifts people up. It's not me, it's the music. And I always look for music that's vibrant and will keep them lifted up.
—Edirin Oputu