Owl Ambassador helps and inspires others
College of Public Health junior Jasmine Dantzler supports students who are considering attending Temple by sharing her experience as a first generation student, aspiring physical therapist and Black woman.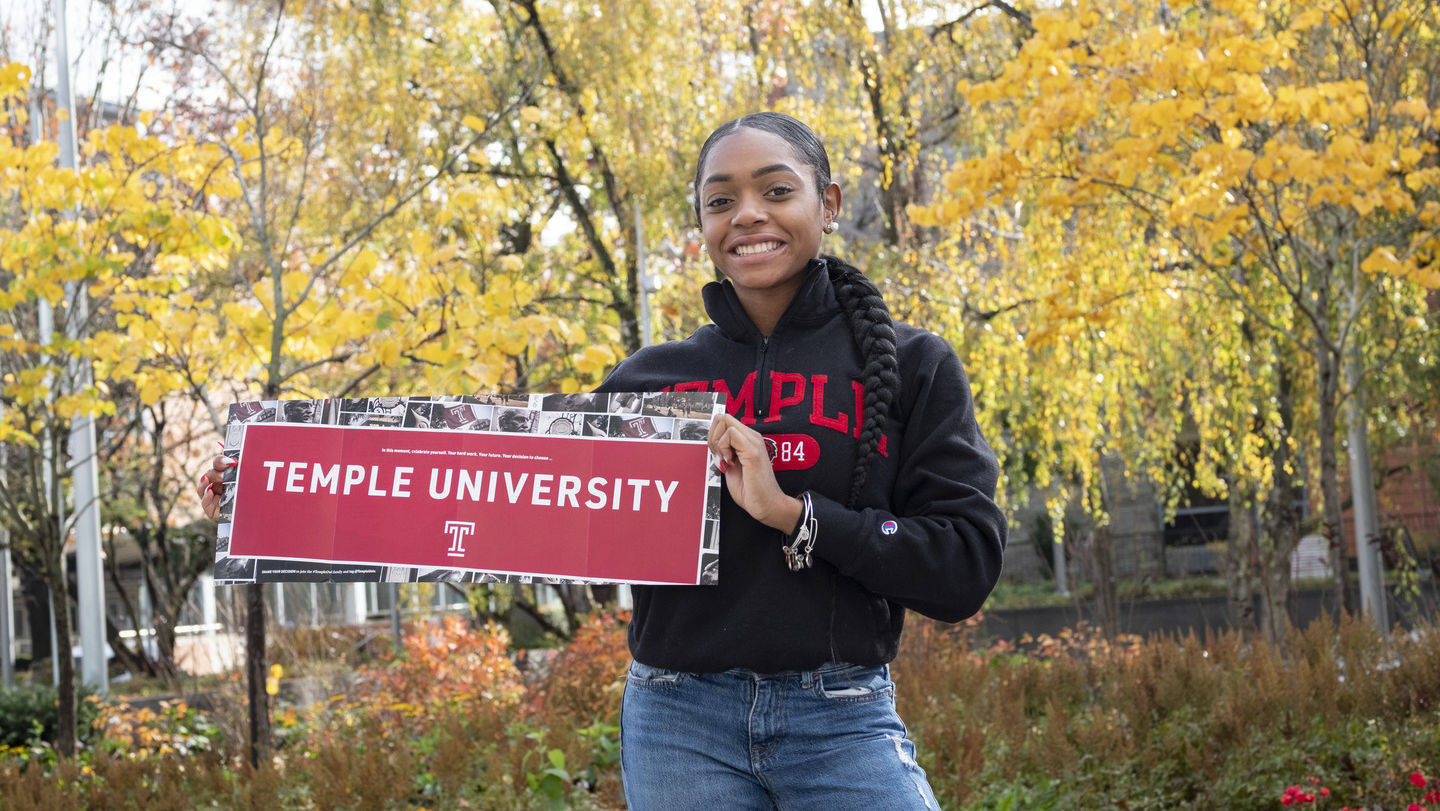 Jasmine Dantzler, Class of 2022, has always been drawn to helping others. 
That passion is what led her to become an Owl Ambassador, a student representative who helps guide prospective undergraduate students and their families in learning about Temple.
The position has provided Dantzler the opportunity to serve as a role model within the Temple community. As a first generation college student and aspiring physical therapist, Dantzler hopes to motivate other students by sharing her own journey, so they too know they can go to college and be successful. 
"When I was in high school there was nobody I could talk to about becoming a physical therapist, and being a Black woman pursuing physical therapy," she said. "It's really important that students know they can do this, and I'm a model for that."
Whether it's leading campus tours, staffing undergraduate admissions events or connecting with students and families one-on-one, Dantzler is keenly aware of the importance of her role. She provides the students she meets with an honest perspective of her experience at Temple, whether it be academically as a health professions major or socially as a Black woman on campus. 
"I've had a lot of experiences on campus where people are looking at me because they want someone who represents them in the Owl Ambassadors," she said. "The place where I'm from and the person I am—being a Black woman—I feel it's really important for people to have that representation in a college setting."
Temple's vibrant and diverse campus community is one of the reasons why Dantzler, who is from Maryland, chose the university. She has met students from all over the country in her three years as an Owl Ambassador, fostering connections that only add to her college experience. 
"Meeting students who want to come to Temple has been unique and has really helped me know I want to be that role model for other people," she said. "I get to learn about their personal stories and where they're coming from—their families, rituals, cultures and things like that, so I can build on inclusivity myself and hopefully bring that into campus."
Being an Owl Ambassador has also given Dantzler the opportunity to forge her own sense of community on campus. The role has introduced her to a group of fellow student leaders who provide not only friendship and support, but also a sense of inspiration. 
"Through this job I've been able to find people I'll be friends with for life," Dantzler said. "The Owl Ambassadors are a well put together group and every student has a different story and background. It's a great representation of not just the school, but the world, and that has inspired me to want to work in more diverse communities in the future."
That future is not far off for Dantzler. A junior in the College of Public Health's 3+3 accelerated program, she plans to start graduate school this summer in Temple's Doctor of Physical Therapy program. Dantzler hopes to become one of the first Black women to work as a physical therapist in the NBA, breaking barriers in the world of professional sports.
"Getting to that level has always been a dream of mine, and representing my group in a position we haven't been represented before," she added.
In the meantime, Dantzler will continue to share her journey as a way to reach future generations of students, both on and off campus. When she's not working as an Owl Ambassador, Dantzler mentors local elementary students through a Work-study program with Steppingstone Scholars, an educational social mobility organization that serves city schoolchildren.
Dantzler is currently leading a medical professions club at Tanner G. Duckrey Public School to teach students about academic paths like hers. She hopes her efforts ignite a spark, as a conversation with her own mom once did for her.
"I was going down another career route and she opened my eyes to different opportunities," Dantzler said. "She's my role model and the reason I strive to be part of so many different things. I want to be that example for other people so they can look at me and say, 'I can do it because look at Jasmine, she's doing it and it's possible for me, too.'"
—Tori Addison