A new way to design plays
A recently acquired projection mapping system helps actors and crews in Temple's Theater Department 'see' their sets before they're built.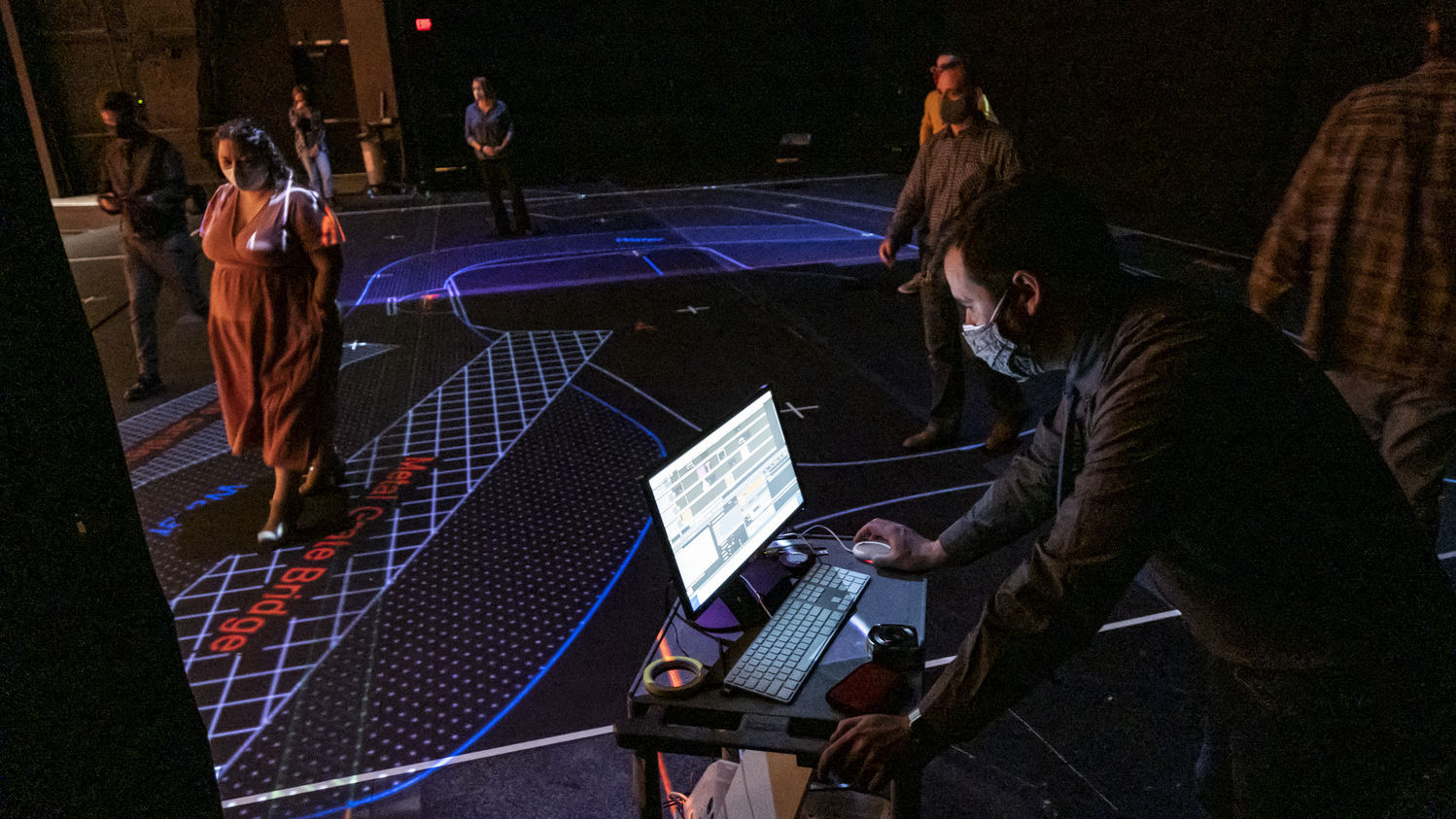 Until recently, preparation for a play in Tomlinson Theater required a great deal of imagination on the part of its cast and crew. Sets typically aren't erected until a couple weeks before opening night, so production teams would have to rely on memory—and a significant amount of colorful spike tape—to keep track of the physical layout of a show.
That's all changing now, thanks to a new projection mapping system envisioned last fall by the School of Theater, Film and Media Arts (TFMA).
Funded by a Vice Provost for the Arts Grant, the new system uses four digital projectors hung on battens in Tomlinson to cast a blueprint for a play's set onto the stage, providing Temple thespians a detailed map of how the production's ground plan and basic layout will look.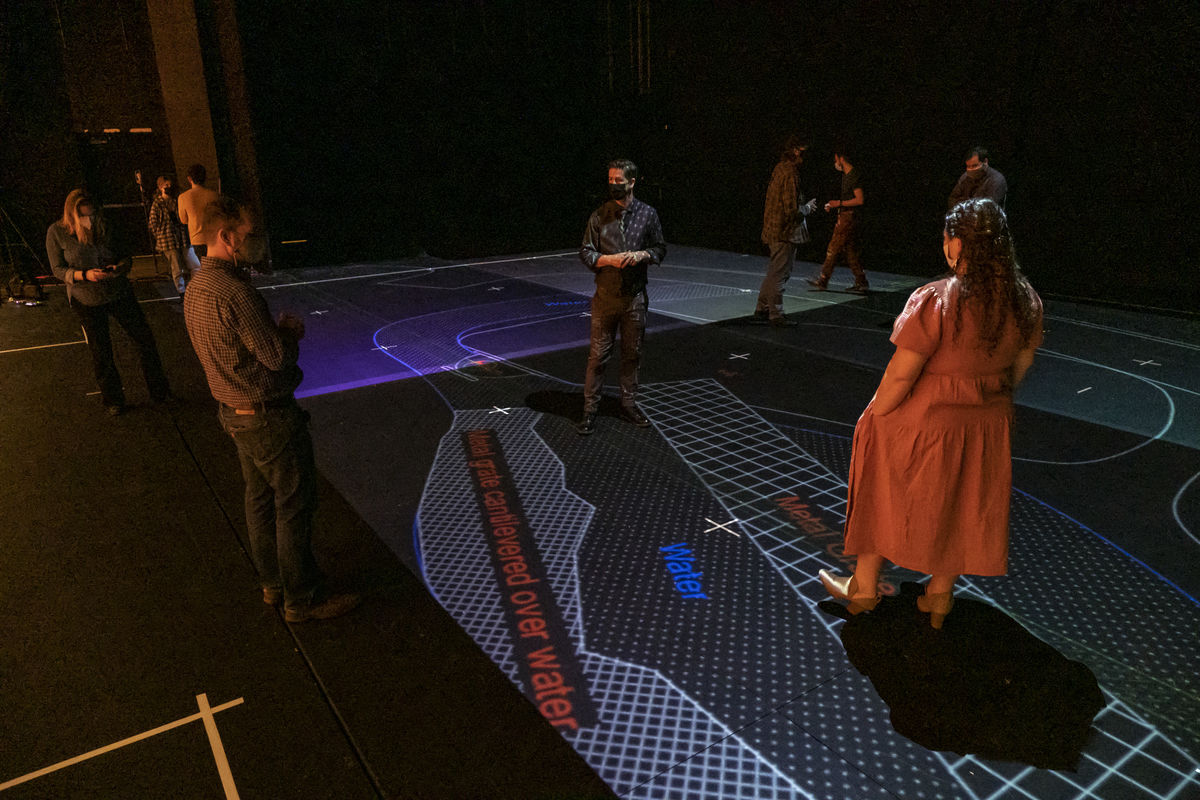 The projection mapping system allows a play's creative team to explore the set in the space they will be using. (Photo by Josesph V. Labolito)
"A lot of directors have a challenge in looking at a ground plan on paper and interpreting that spatial recognition," explained Matthew Miller, an associate professor in TFMA's theater department who leads the stage management program. "But this new system gives creative teams the ability to physically walk the stage and get the feeling of the distance between set pieces.
"So that's the purpose of this, to give the director a chance to see in real scale, in real size, the relationship between platforms, staircases and acting areas in a production," Miller continued. "The actors benefit from it. Stage management benefits from it. There aren't many people that don't benefit from having the ability to walk the set in the actual space."
Before now, most production teams would use tape to indicate what a set would look like onstage, which can be messy if significant changes to set design need to be made during pre-production. This new method of projecting, which incorporates the program Resolume Arena 7, casts a clear and cleanly labeled representation of ground plans that can be quickly updated if design adjustments are needed.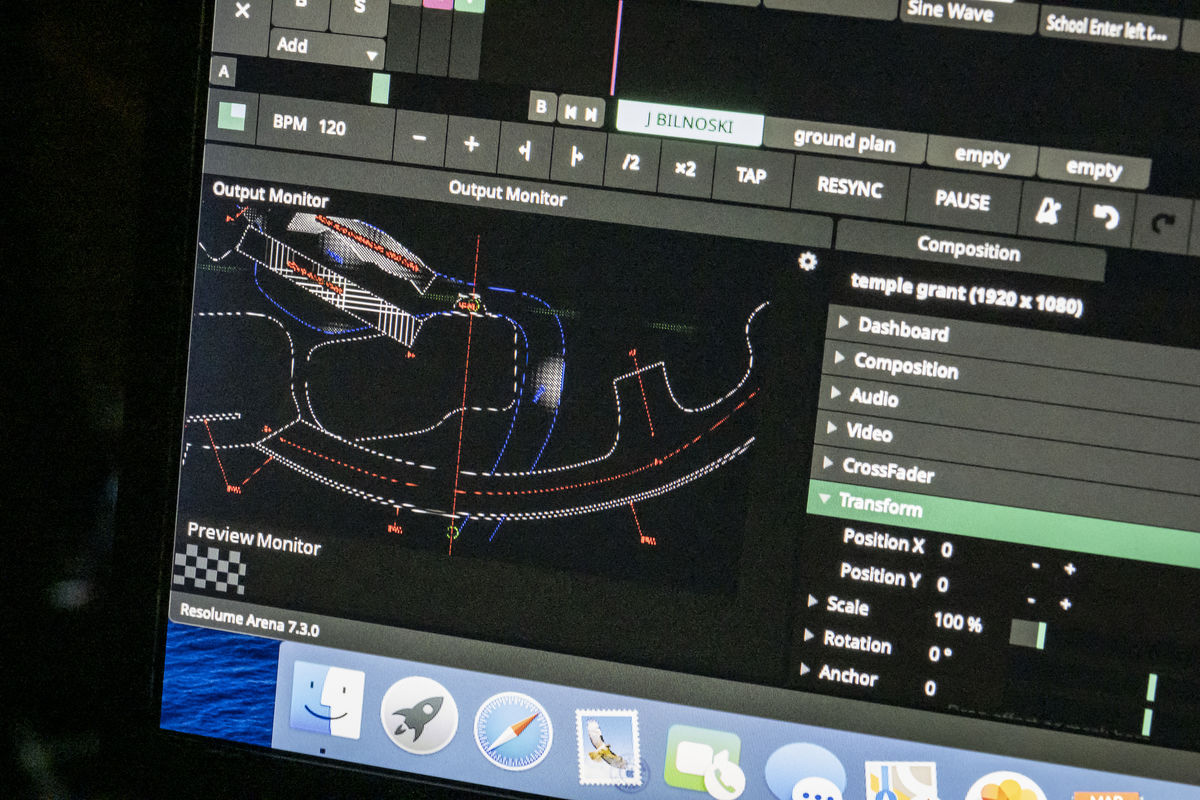 A close look at a digital rendering for a play's set. (Photo by Joseph V. Labolito)
"The concept of projection mapping has been in the entertainment industry for a while and has been ramping up and becoming more of a common thing as the technology becomes more available," said James Bilnoski, a master of fine arts in lighting design student at TFMA who oversees the new Resolume technology and creates the digital renderings that get projected onto the stage.
Having only been acquired this year, Miller said the Resolume software and projection setup hasn't been used to support a proper theatrical production just yet: "So far, COVID has kept us from doing in-person theater productions. If this was a normal year, it would have been wonderful to use it. The generous grant allowed us to explore what is possible for future theater and opera productions."
Until that day comes, Miller and Bilnoski will continue to learn the nuances of this sophisticated program and preach its value to other members of the theater community. "Some venues might already have this equipment," Bilnoski said. "But they just haven't had that spark of, 'What if we started doing it this way? Wouldn't that solve some problems?'"
Learn more about TFMA's upcoming theater season.
-Dutch Godshalk