Commencement speaker says build a team to face life's curveballs
Despite the limitations due to the pandemic, Jennifer Sierra highlights the Class of 2021's ability to work together and persevere.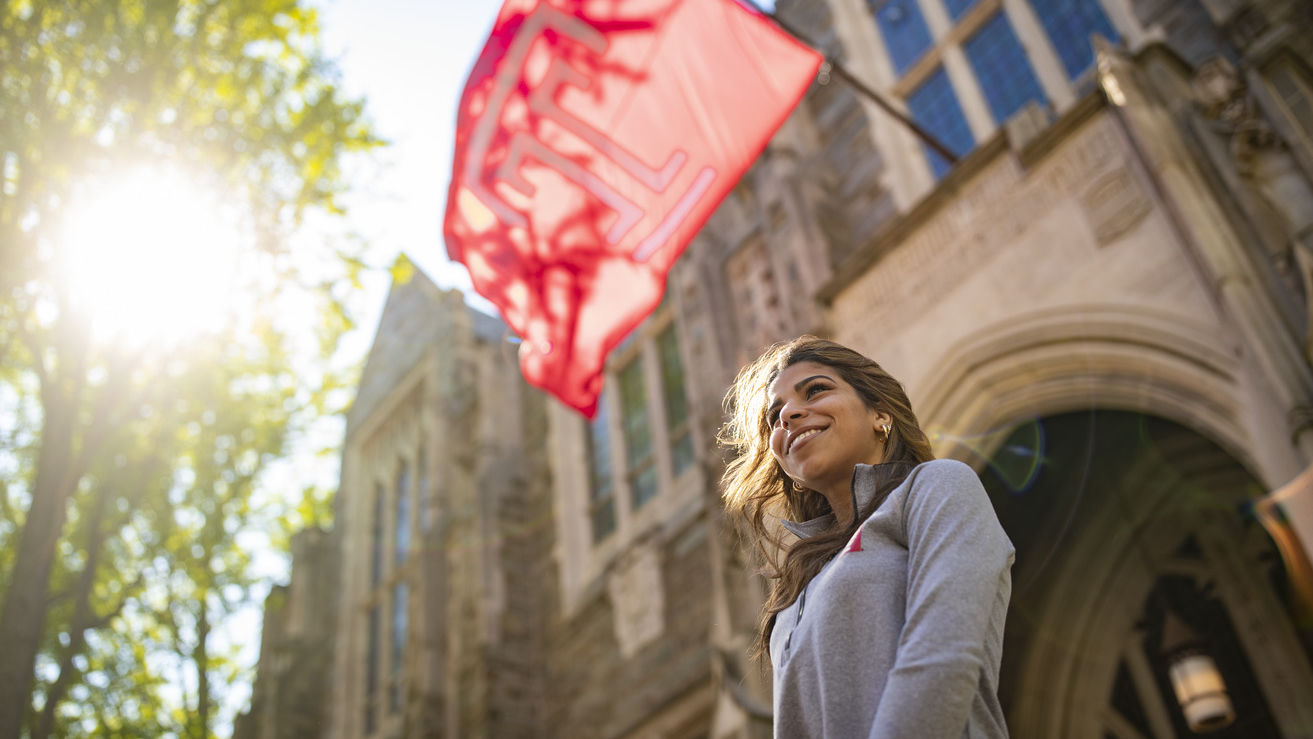 A chorus of cheers erupted from the onlookers, their voices unified as they watched the charity softball game. The savory smells of hamburgers and hotdogs wafted through the stands as a young Jennifer Sierra, Class of 2021, handed out raffle tickets and Gatorade with her aunts and uncles. Music and laughter filled the air as people gathered together, some to raise money, some to bring awareness to causes, and all just to be around each other.
In that moment, Sierra realized that bringing people together is what she wanted to do for the rest of her life. More than a decade since that event, Sierra has been forging connections to create that reality.
"Being around people who all want the same outcome and have the same goal of helping others gave me that little spark," said Sierra, who is graduating with a bachelor's degree in sports and recreation management. "I thought, 'I can do this as a job and I can spend my life helping people and making that connection with sports. This is exactly what I want to do.'"
When Sierra was chosen as Temple's Commencement speaker for the Class of 2021, she decided to focus on the sense of community and feeling of togetherness that kept her going. The need to build connections with peers is just as important, but twice as difficult, in this pandemic, yet these graduating students put in the effort to build and reinforce meaningful relationships.
"Despite the obstacles presented to us, this graduating class has developed into a strong team, and family," said Sierra.
"I wanted to highlight how much we've grown and developed these past four years, and how we've been able to adapt and adjust to the curveballs that have been thrown our way," she said. "We've been slowly working our way to that new normal, and we will keep that momentum going even after we graduate."
Ira Rosen, associate professor of event management and program director of the event leadership executive certificate program of the School of Sport, Tourism, and Hospitality Management (STHM), served on the school's Commencement Speaker Committee that nominated Sierra before she became the university's Commencement speaker. He praised a sample of her speech, speaking highly of how Sierra highlights the ways these students have been impacted by this pandemic and how they have adjusted.
"I think her story is very relatable and though her message is personal, it's also universal," said Rosen. "The uniqueness of the 2021 graduating class is completely different from any other class that has gone before. This class has had three semesters of being in this pandemic. But she turns that experience into a message about perseverance."
He went on: "In the speech, she talks about the fact that this experience will make all of us stronger, not weaker. Here at Temple, we truly are a family, and support and teamwork are going to make us stronger. Jen's words reflect that strength."
"To be a great leader, you have to be a great follower first," said Ira Rosen, Sierra's professor who nominated her to be Commencement speaker. "If you don't understand what it is to follow somebody, you can't really emulate their leadership skills."  (Photo by Ryan S. Brandenberg)
Adjusting to Zoom-style classrooms was far from easy, but making connections with others has been the most rewarding part. Despite the lack of in-person interactions, Sierra said that students worked hard to create a team together, while professors have gone out of their way to be available more than ever before.
"I'm a huge team player, so that's something that I've learned to keep developing at Temple, with every endeavor I encounter," said Sierra. "I always try to do something that will lift us all up, not just lifting myself up."
Her teammates, including family, friends, classmates and professors, give her more than encouragement: They are her source of inspiration. With her group-first mentality, Sierra actively seeks out the input of others and uses their thoughts and experiences as an important part of making her final decision in any process.
"Sierra always takes the time to recognize situations where she got a little extra help or learned something different, whether it's from a teacher or classmate," said Rick Ridall associate professor of the School of Sport, Tourism, and Hospitality Management, and executive director of industry & alumni relations. "She always shows so much gratitude and gives thanks, which leaves a lasting impression. And then she pays it forward." 
For every bit of help Sierra has received in life, she has made it a point to assist others. As a transfer student in her sophomore year, she felt at a disadvantage in her effort to build friendships. But as her classmates put in the effort to connect with her, Sierra found herself motivated to do the same for other new students. 
"By October, I felt like I had been at Temple for years," said Sierra. Sierra's main obstacle became her point of pride when she took on the role of Transfer Ambassador, encouraging others to follow a similar path.
"For me, transferring gave me the extra push I needed to catch up with everyone in regards to credits," she went on. "It helped me with my academics and I was motivated to go from two steps behind to one step ahead of everyone else."
"Two of the biggest transitions in life are coming into college and exiting college, and they happen within a four or five year span," said Ridall. "When she makes the next step out into a professional career, she's very equipped to handle all of that maturely and recover quickly."
Sierra would like to continue helping others by working in community engagement and community service with a professional sports team or at a university. No matter where life takes her next, Ridall and Rosen know she will find success.
—Rayna Lewis