One student empowers others after her disrupted study abroad experience
After her study abroad trip ended early due to COVID, Jennifer Hall has worked hard to give students of color the opportunities that she didn't have.
Jennifer Hall, Class of 2021, is the living embodiment of "Perseverance Conquers," taking the initiative in turning her disrupted study abroad experience into opportunities for others.
In the spring semester of 2020, Hall began studying abroad in Temple Rome and participated in the Culture and Identity Envoy Program, an experience designed for students to meet members of Rome's marginalized communities including refugees, members of migrant groups, and various African Italian individuals. Through the program, Hall was able to reexamine her own life, and her local community back home, and see it through a new lens.
"The experience made me reflect on the privileges I had growing up, where I never had to worry about citizenship or migration from one country to another. When I struggled to find a place for people like myself, it was never due to my citizenship status," said Hall. "In Rome, I saw the lack of spaces for Afro-Italian people to come together, and I thought, 'Wow, there is so much more work to be done here for Italian people of color.'"
She spent her first two months abroad acclimating to the culture of Rome and developing a new routine as she learned to embrace the local culture. Then just as quickly, COVID-19 cut short her trip. "Just as I was starting to become comfortable, I had to go," said Hall.
"Returning home to Delaware in these tumultuous times, Hall sought a sense of community to talk about her experiences as a Black student living in Italy, and then not having that exposure anymore," said Evan Bossio, front desk coordinator of the Education Abroad and Overseas Campuses (EAOC) Department. "She wanted to know if other people went through similar situations."
However, there were not many existing opportunities for connecting with other people of color who were study abroad alumni. In this absence, Hall set out to create these communities and events that she craved, both for a sense of understanding and to help guide future study abroad students.
"Hall has taken the initiative to start up her own projects," said Bossio. "She's been a great influence on this department in terms of practicing anti-racism, and her willingness to put herself out there makes her stand out as a leader."
Shortly after returning to the U.S., Hall began working as a peer advisor for the EAOC, answering the many questions students have about studying abroad. In this role, Hall has highlighted the unique difficulties that underrepresented groups face when they live in other countries.
"It's best to equip students with all the tools they need when they're going to study abroad because there are so many factors to consider when leaving the U.S.," Hall said. "If you don't know it now, and plan to figure it out there, it helps to at least mentally prepare yourself and make a plan first."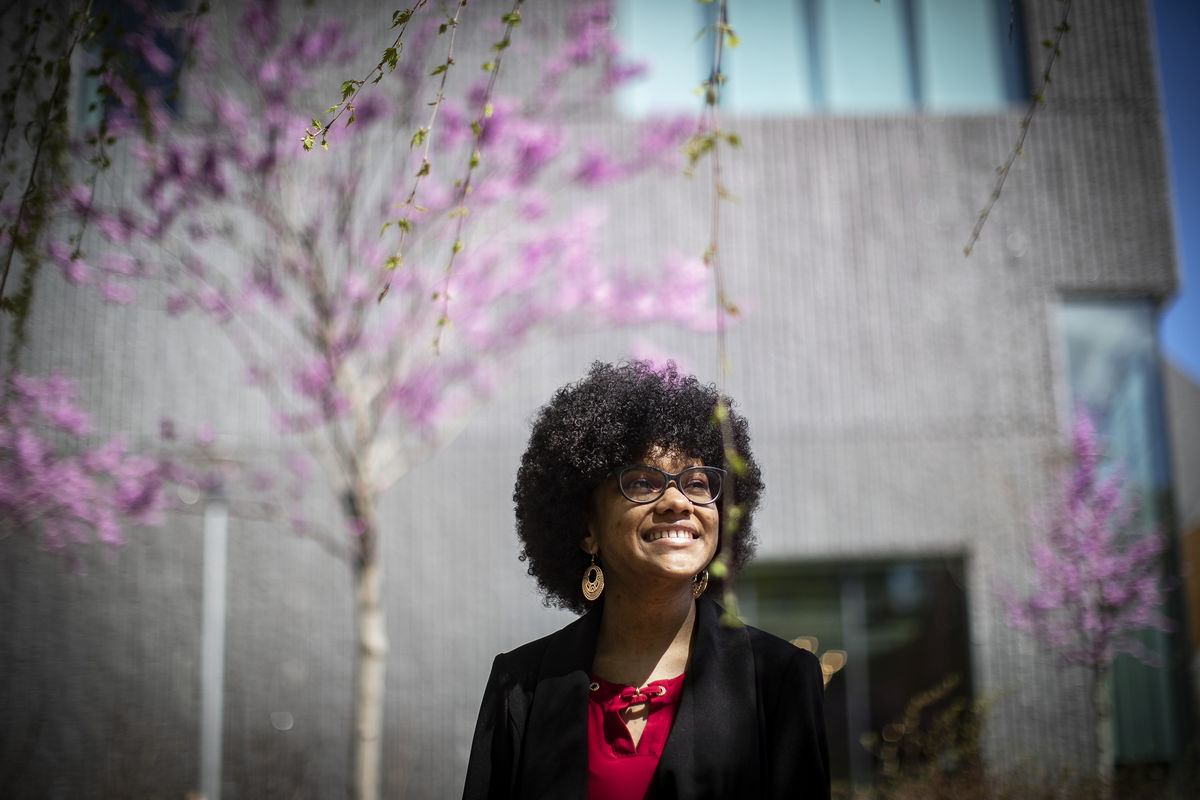 Hall has created opportunities for students of color to come together to share about their study abroad experiences. (Photo by Ryan S. Brandenberg)
Hall is constantly inspiring change within the department. When Hall asked the EAOC what they were doing to celebrate Black History Month, Suzanne Willever, manager of outreach and communication, realized that they were missing out on an opportunity and suggested creating  a panel for Black students to share their experiences. As a result, the panel "Studying Abroad as a Black Student" was born. "Hall was pivotal in forming the questions, the topics, and the overall feeling and goal of the event," said Bossio.
"The panel was a wonderful opportunity to discuss what Black students learned from study abroad, what they wish someone had told them before they went and what they learned about their own identities, particularly within a global context," said Willever.
"I wanted to hear the perspectives of other students who studied abroad. One of the major concerns of people of color is: 'If I study abroad, how will people there perceive me?'" said Hall.
Hall didn't stop there. In an effort to create an ongoing community to support students of color who have studied abroad through a Temple-affiliated program, Hall created a Facebook group where they could safely unpack their experiences.
"It takes a lot of work to step back and think about the things that happened to you while also taking the time to listen to other students and understand their experiences, including the good and the bad," said Hall. 
Learning overseas is more than just a passion for Hall: She considers it an important factor in social justice. She said studying abroad develops one's critical thinking skills, teaches a person the importance of spaces and how to take action and broadens an individual's focus beyond the bounds of the U.S.
"If you're living in the U.S., you'll start to think on a global level, rather than having tunnel vision," she said. "When you have a better cultural understanding, it teaches you about yourself and others, and allows you to use your voice to uplift those who are left unheard."
After accomplishing so much during her time as an undergraduate, Hall is looking to take a gap year to work before pursuing a master's degree in psychology. Her ultimate goal is to become a clinical mental health counselor. No matter where Hall goes, Willever is certain that she will persist as a trailblazer.
"I think she will continue to be an advocate and a leader in whatever direction she decides to pursue and I'm excited to see where she takes it," said Willever. "She's an inspiration and I hope to see other students motivated by her experiences, take leadership initiative, work in our office, and help other students along that path."
—Rayna Lewis