Dental student shares heartfelt white coat ceremony with her parents
With the cancelation of her in-person white coat ceremony, dental student Natasha Rockwell shared the special moment with her biggest inspirations—her parents.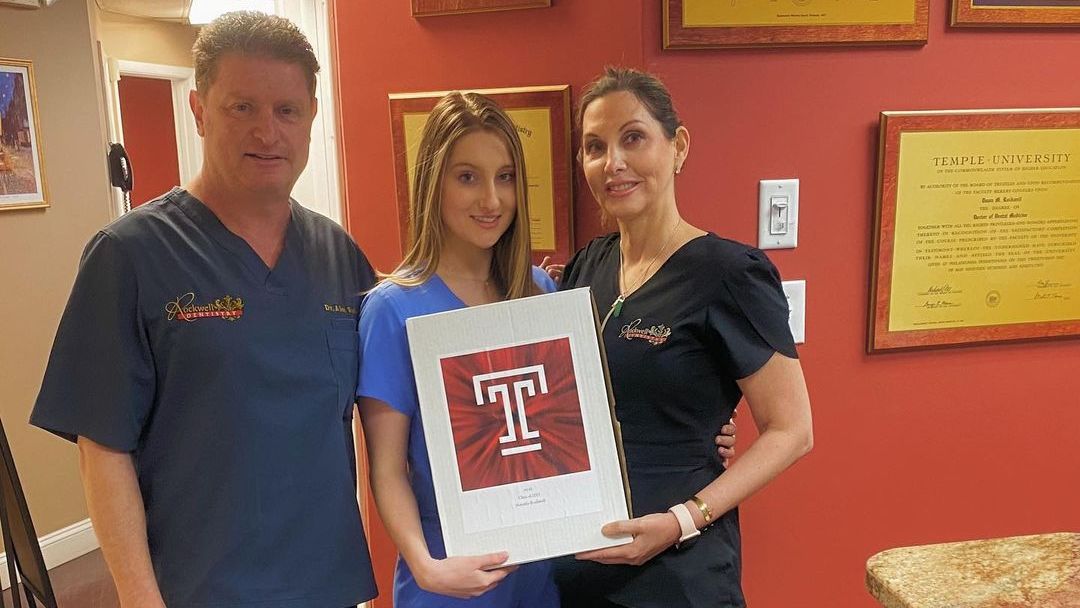 For years, Natasha Rockwell, CST '19, pictured what it would be like the day she donned her first white coat in dental school—a moment that celebrates the academic milestone, change in roles and promise to uphold the profession. Finishing her second year at Kornberg School of Dentistry in April 2021, the day she had looked forward to her whole life was finally here—except it wasn't what she envisioned. Because of the COVID-19 pandemic, her in-person white coat ceremony was canceled. However, what replaced that ceremony was something more special than she ever could have imagined. She was given her white coat by her parents—both of whom are Temple-connected dentists.
Runs in the Family
For Rockwell, being a dentist is in her blood. Her grandmother was a dentist in the Soviet Union and continued to practice once coming to the United States. Inspired by his mother, Rockwell's father went on to study dentistry at Fairleigh Dickinson. His involvement in the dentistry community is how he met, and eventually married, Rockwell's mother—a graduate of Temple's Kornberg School of Dentistry. Since then, her parents started a family and two dental practices in New Jersey. Growing up surrounded by dentists, Rockwell and her twin brother couldn't imagine pursuing any other career.
"We just grew up around dentistry, the staff was always like a second family to us," said Rockwell. "After school, we would always go to the office to hang out and be with our parents. I was a competitive figure skater growing up, and instead of going home afterwards, I would find myself hanging out at the practice. I like to joke and say my parents heavily persuaded me, but at the end of the day, it ended up being the most perfect path for me."
Rockwell and her brother, Eric, Class of 2024, are both students in Temple's doctor of dental medicine (DMD) program. Rockwell realized that Temple was the perfect choice for her from the start. 
"I always knew I wanted to go here for dental school, but it was my mom who encouraged me to apply to Temple for my undergrad," said Rockwell. 
During her time in undergraduate, Rockwell was an active student—she majored in biology, was an Honors student, studied abroad, participated in Greek life and joined the pre-dental society. When she reached her junior year and started applying to dental schools, Temple's Kornberg School of Dentistry was at the top of her list. 
"I chose Temple for all of its amazing qualities beyond the family connection," Rockwell explained. "Not only did my mom graduate from Temple, but my dad recently started working at the dental school as a clinic faculty member. I also have another relative who worked in the radiology department at the Kornberg School of Dentistry years ago. Regardless, the dental school is very clinically strong and I really did take Philadelphia as my home. I couldn't imagine going anywhere else."
Perseverance Conquers
The first two years of the DMD program involved intensive and difficult coursework, and Rockwell loved every minute of it. But, about a year into her time in the program, the pandemic forced Rockwell and her classmates to continue the program remotely. She stated that the pandemic allowed her to put all of her focus on her courses so she could be as prepared as possible for the final two years of the program. However, COVID-19 restrictions meant that an in-person white coat ceremony would not be possible. 
The donning of white coats occurs after the second year in the program, and it was a day Rockwell looked forward to for as long as she could remember. "I felt like there was an opportunity there to create something special," said Rockwell. "Once I was able to pick up my white coat, I asked my mom if she would do the honor of putting it on me. We did it at my parents' practice on a Thursday morning before the patients came in, and my mom donned my white coat and I recited the dental Hippocratic Oath with my dad by my side. It was so intimate and we got to share the moment together, just the three of us. Looking back on it, having my parents by my side was more than enough."
As Rockwell continues on with dental school, she's very thankful for the people who helped her get on her dream career path. From faculty and staff to family and friends, she attributes their support to where she is today. She noted Ruth Ost, senior director of the Honors program, for helping her prepare for her dental school interviews during her junior year at Temple. Most of all, she's incredibly thankful for her parents. 
"I don't know where I would be if my parents didn't show me how amazing this profession is," said Rockwell. "My parents guided me every step of the way. They supported me and introduced me to such a love for not only being a dentist, but for what it actually means to be a dentist—providing care and being there for your patients." 
Rockwell begins clinical practice and working with patients in her next two years at Temple, and hopes to continue documenting her journey and offering advice for those who are considering dentistry through her Instagram. She also hopes to join her parents at the family practice in New Jersey once she graduates. 
—Kierstyn Smith