What they're saying about Temple's new athletic director
After Temple announced Arthur Johnson as the university's new athletic director, responses started pouring in from around the country.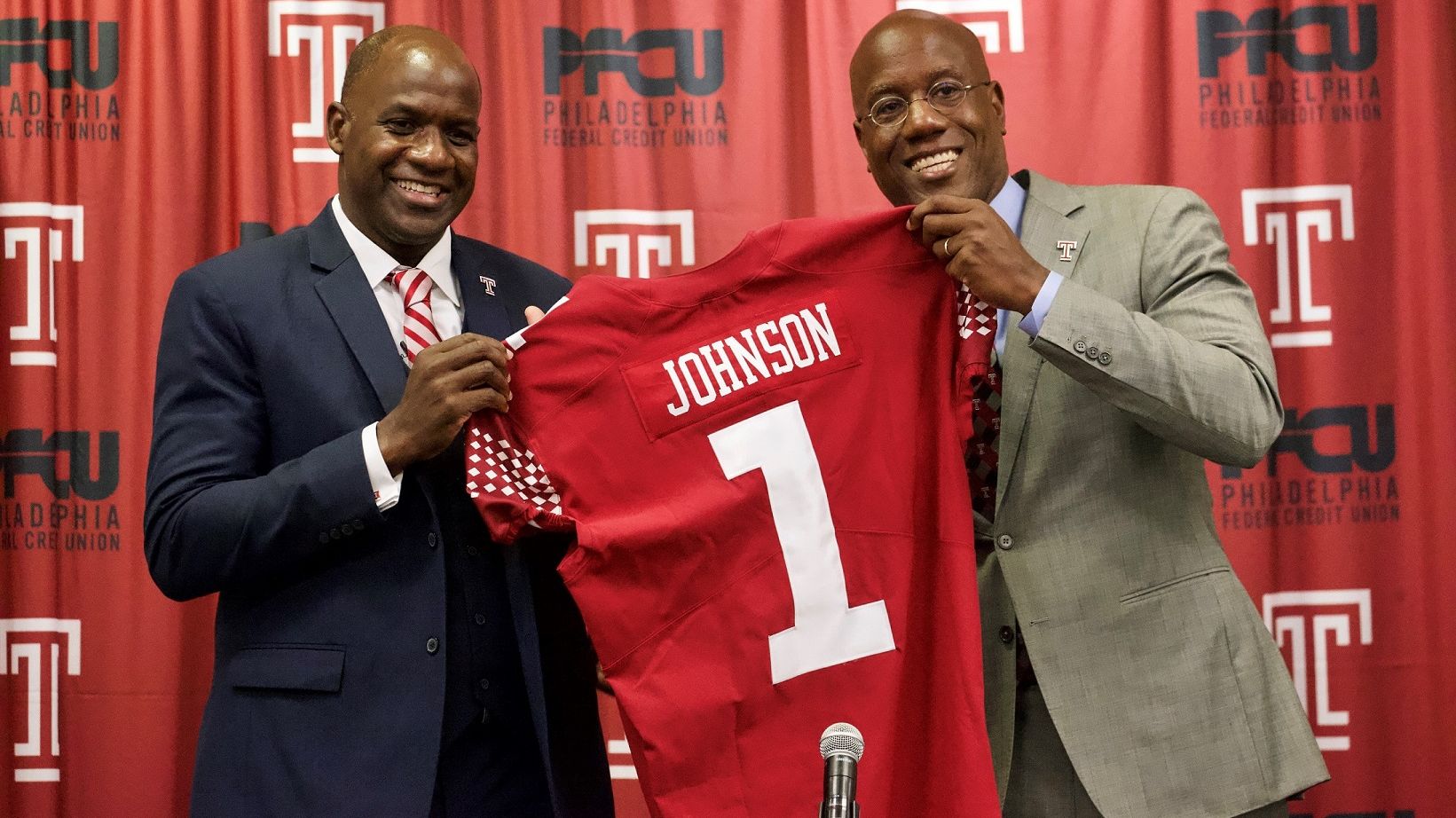 On Oct. 7, President Jason Wingard named Arthur Johnson vice president and director of athletics at Temple University. As the news made the rounds, athletics program leaders from around the country commented on the skills Johnson will bring to his new role.
Here are some highlights.
"There simply is no one who understands the role of collegiate athletics and serving student-athletes and coaches like Arthur Johnson. He has spent his entire life's work in that realm, from his undergraduate days to positions at many universities with broad-based athletics programs—Texas twice, Georgia, Arizona State. He has been in a position where he has had to directly manage large budgets, complex decision-making processes with regards to facilities and staff, and always at the center of them has been a calm, thoughtful, wide-horizon approach about how to achieve the best for student-athletes and the coaches that we all serve. He is a wonderful family man, a great role model for student-athletes, both men and women, and this hire just speaks volumes about how hard work, dedication over time and being good to people pays off in the end with a great leadership opportunity. Temple will flourish with Arthur Johnson in a leadership role as athletics director." —Chris Plonsky, University of Texas executive senior associate athletics director/chief of staff
"Temple University has made a tremendous hire in welcoming Arthur Johnson as its new athletics director. Arthur is one of my best friends and my former roommate at Georgia and I truly can't think of a better person to lead the Owls and their department. He is incredibly well-respected and knowledgeable. Arthur is a true relationship-builder with great connections and is very detail-oriented. He has experience at the highest levels working at multiple Power 5 institutions across the country in Georgia, North Carolina, Arizona State and two tenures at Texas. Temple has made an outstanding selection in Arthur Johnson and I can't wait to see the big things he does with the Owls' program." —Damon Evans, University of Maryland director of athletics 
"Arthur will do a wonderful job as director of athletics at Temple University. The university is so very fortunate to have him leading its athletics program. He is the consummate professional, a servant-leader and a tireless worker along with being a person of tremendous integrity and character. I'm thrilled for him, T'Leatha and Aaron." —Carla Williams, University of Virginia director of athletics
"The first thing I think about when it comes to Arthur Johnson is his great personality. He's so friendly and always has a smile on his face. But he's tough and does a wonderful job as a decision-maker. He'll bring impeccable integrity to the athletics director position at Temple as well as a wealth of experience at so many universities with big-time athletics programs. I'm absolutely thrilled for Arthur and excited about the future of Temple Athletics with him at the helm." —Mack Brown, University of North Carolina head football coach
"I have known Arthur Johnson as a professional administrator and friend for over 20 years, and I believe he possesses many of the same qualities as some of the excellent athletic directors with whom I have worked. These include Ted Leland at Stanford, Kevin White at the University of Notre Dame and Todd Turner at the University of Washington. Arthur's love for his program and the student athletes allows him to view all facets of the athletic equation. His ability to lead, listen, organize and designate the right people in the right places enhances the strength of his team. When paired with his integrity, all these characteristics make him a leader I would love to serve as a member of his team." —Tyrone Willingham, former head football coach (Stanford University, University of Notre Dame, University of Washington)
"I'm just delighted to see Arthur being called to be an AD. In AJ, the Temple Athletics Department and campus have found someone who is incredibly kind and thoughtful. Naturally, Arthur has the experience and qualifications, but it's his character and kindness that will impact so many young lives in a compassionate, generative and transformative way." —Howard Joffe, University of Texas head women's tennis coach
"I love this hire by Temple. Arthur Johnson is a really good man and someone I've admired for many years. This opportunity for him is long overdue, honestly. He has a great feel for what we do and for what it takes to achieve at the highest level. I believe the student-athletes at Temple are going to love him and respond well to his leadership." —Rick Barnes, University of Tennessee head men's basketball coach
"Arthur is an extremely diligent, hard-working and high-character individual who sets a standard of consistency every day. In this day and age of "bottom-line" thinking, Temple is getting an athletic director who truly possesses genuine care and concern for the student-athletes and coaches he serves." —Shaka Smart, Marquette University head men's basketball coach
"Arthur is a home run hire. He has experience in every facet of athletics and is truly a servant-leader who builds strong relationships and cares deeply for everyone he works with, especially the student-athletes. He's such a great person, has done an incredible job for us, and there's no one more prepared for this opportunity. I'm absolutely thrilled for him and T'Leatha and their son Aaron. Arthur has played a critical role in Texas Athletics for a long time. We will miss him and his family very much, but we know he's worked extremely hard to be ready to take on this next challenge. Temple got a great man for the job. He will be a tremendous asset to the Athletics Department and their entire campus community." —Chris Del Conte, University of Texas vice president and athletics director  
"Arthur is a wonderful human being, a great husband and one the best fathers I have ever seen to his son—that is just beautiful. So, Temple is getting someone who has good values, a good family man, a good example-setter and on the athletics administration side he is as good as you get. I have worked with him for a lot of years at Texas, while he was (former football coach) Mack Brown's top administrative person, and then when he was on our staff. He has a great way with people. He can see through a lot of tangles to get through to the core of issues. He can solve problems and Temple is very fortunate to get him and he is very fortunate to be at a great university like Temple." —DeLoss Dodds, former University of Texas director of athletics