Michael L. Klein wins prestigious John Scott Award
The dean of the College of Science and Technology was honored for contributions to computational simulations of biological systems.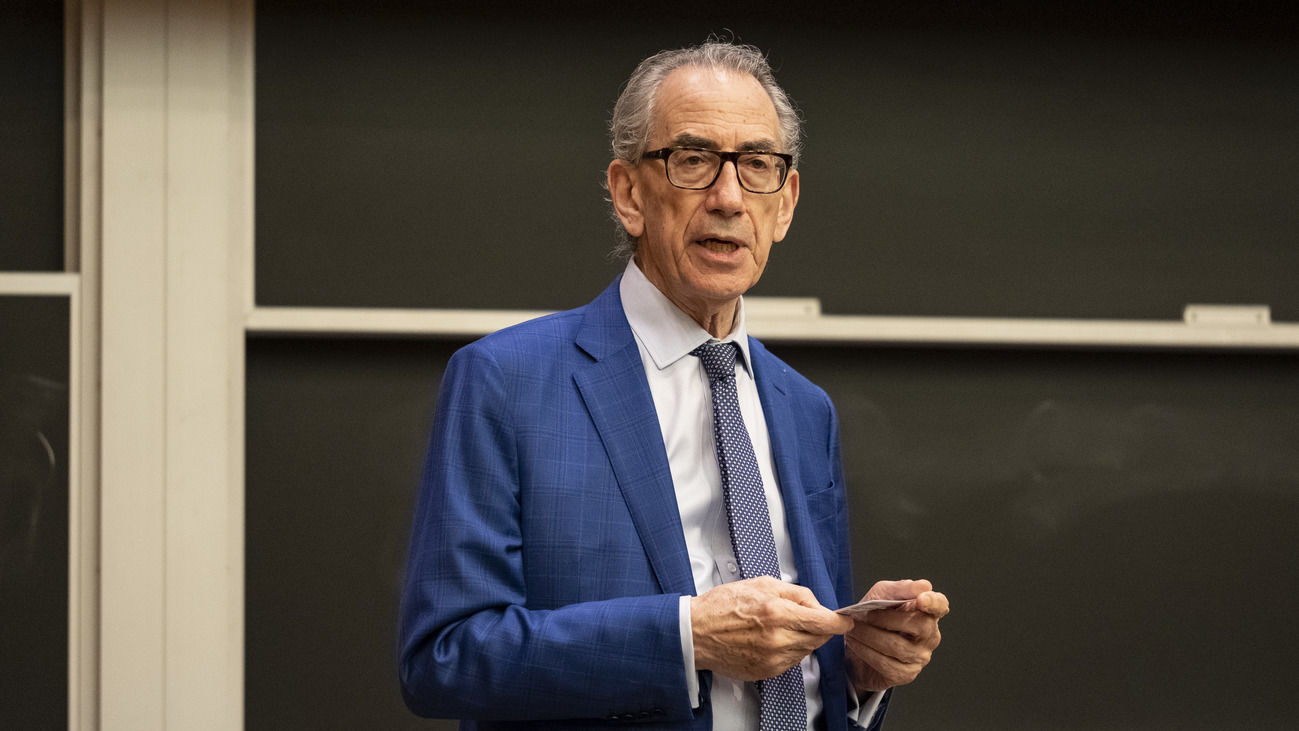 Michael L. Klein, dean of the College of Science and Technology (CST), has earned the prestigious John Scott Award for developing algorithms for the computational simulation of biological systems and the development of antimicrobial peptides. 
Administered by a committee of Philadelphians appointed by the Board of Directors of City Trusts of the city of Philadelphia, the award is presented to those contributing to the "comfort, welfare and happiness" of humankind. Past winners include Marie Curie, Thomas Edison, Jonas Salk and Nikola Tesla, as well as three current CST faculty members, a CST graduate and a member of the college's Board of Visitors. 
Klein's most recent work, conducted in collaboration with William DeGrado, a researcher at the University of California San Francisco and fellow recipient of the John Scott Award, is the discovery and development of Brilacidin, a synthetic molecule with antimicrobial properties. The drug recently completed a phase II clinical trial as a treatment for SARS-CoV-2, the coronavirus responsible for COVID-19.
"Brilacidin is now among our best options to fight antimicrobial resistant strains of bacterial infections, one of the scariest global threats," explained Vincenzo Carnevale, professor of research at CST's Institute for Computational Molecular Science (ICMS). He noted that the last truly novel class of antimicrobial molecules—not an optimization of preexisting molecules—was approved by the U.S. Food and Drug Administration in 1987.
"It is very humbling, even more so when one realizes who has been honored with this award in the past," said Klein, who joined CST as Laura H. Carnell Professor of Science and ICMS director in 2009. "It's especially pleasing to be recognized by the city of Philadelphia, a place where my research group has used the tools of high-performance computing to produce exciting predictions about the behavior of assemblies of all kinds of molecules under different conditions, such as gases, liquids, solids and glasses."
"This recognition owes an enormous debt to the many dedicated members of my research group over the past 50 years or so," said Klein, who, prior to his appointment as CST dean in 2013, spent 22 years on the faculty at the University of Pennsylvania, serving as director of the National Science Foundation-sponsored Laboratory for Research on the Structure of Matter from 1993 to 2009.
"I have been blessed to have had many very talented scientists as collaborators, and as a bonus, count them among my friends."
—Greg Fornia