espnW Campus Conversations celebrates and inspires Temple student-athletes
The Feb. 15 event was a chance for former Temple stars to share wisdom and encouragement with the current generation of women student-athletes.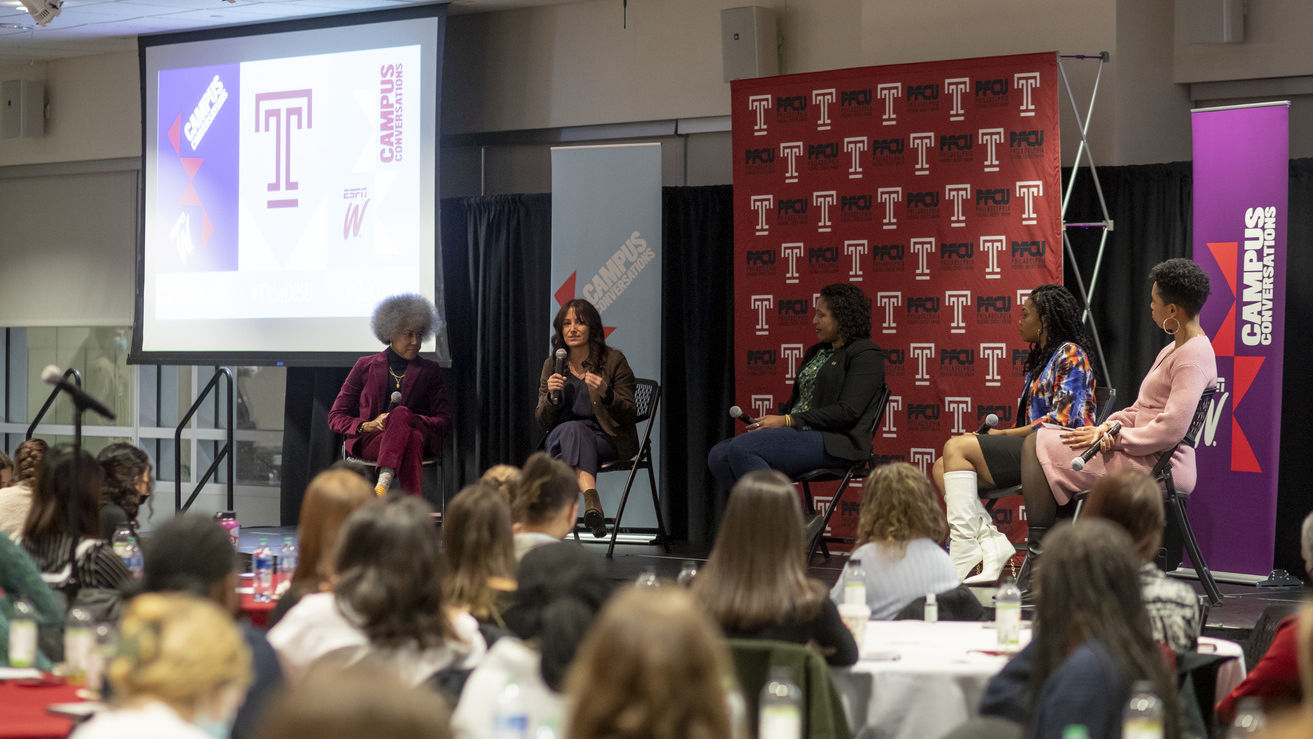 The Temple women's athletics community gathered at the Howard Gittis Student Center Tuesday night to participate in espnW's Campus Conversations—a forum for discussions that supports, educates and inspires women student-athletes.
Athletes from Temple's 12 women's varsity sports programs spoke with a panel of former Owls about achieving success, both during and after their sports careers. 
"This evening is a great opportunity for you to learn from accomplished women, who were in your seats a few years ago, about their experiences as student-athletes and how to successfully transition into the real world," said Arthur Johnson, vice president and director of athletics.
The panel consisted of JP Abercrumbie (track and field), CPH '14, executive associate athletics director for culture and engagement at Notre Dame University; Marsha Cooke, KLN '87, vice president of ESPN Films and executive producer of 30 for 30 at ESPN; Lise D'Andrea (lacrosse), KLN '87, founder and CEO of CXE, Inc.; and Kamali Thompson (fencing), CST '12, resident orthopedic surgeon at Temple University Hospital. ESPN analyst and former Georgetown University basketball player Monica McNutt served as the event's moderator.
The evening's discussion focused on a range of topics, such as navigating the ups and downs of life during and after college.
"I have had six different jobs. Three of them having nothing to do with my current profession, and I graduated in 2011," McNutt said. "So, be prepared for the changes and the ebbs and flows that come."
"You're going to make a lot of jumps, just like you do on the field or on the court," D'Andrea said. "You're going to make a lot of changes and you're going to pivot around, but soak it up, because that makes you a better person for the next job that you're going to take."
Thompson described how her fencing career, which included a spot on the 2020 Tokyo Olympics roster as an alternate, was an unexpected detour along her path to becoming a doctor. She had to finance her fencing career by working multiple side hustles as a full-time medical student.
The panel members also discussed qualities the audience members have developed as student-athletes which can translate into their professions, such as leadership and time management skills.
"As a business owner I look for athletes, because you really have that ability to compete," D'Andrea said. "You also have that ability to think on a dime and manage a lot of different things."
Abercrumbie encouraged the audience to use their experiences as student-athletes in future job interviews, a setting where she believes they can excel with their confidence and body language.
All panel members stressed the importance of developing relationships with peers, and they encouraged the student-athletes to work with one another as they enter their professions after graduating.
"You all are going to represent the next generation of science, media, whatever you go on to tackle," McNutt said. "It is imperative that you network across, because you're all going to go off and be great. You just might need one another, and it opens tremendous amounts of doors."
The discussion also focused on Temple, its place in the city of Philadelphia and how the panel members have continued to benefit in their professional lives from their time on campus.
"There is something foundational about my experience here that gave me the courage and the strength to say, 'I could have chosen anywhere, but I chose Temple,'" Cooke said. "Learning how to adapt in this kind of environment gives you a skill set that you probably aren't thinking about now, but you are going to call upon when you start to think about what's next."
Student-athletes were given the opportunity to pose questions to the entire panel before they were split into smaller breakout groups where they could more directly ask for advice from panel members. Lauren Procopio (lacrosse), STH '12; Alyssa Drachslin (volleyball), CLA '15, KLN '16; and Sahara Gipson (gymnastics), KLN '18, also helped lead breakout session discussions.