Owls are everywhere—even in the Olympics
Learn about Temple Owls who are competing in Tokyo and others who have appeared in past Olympics.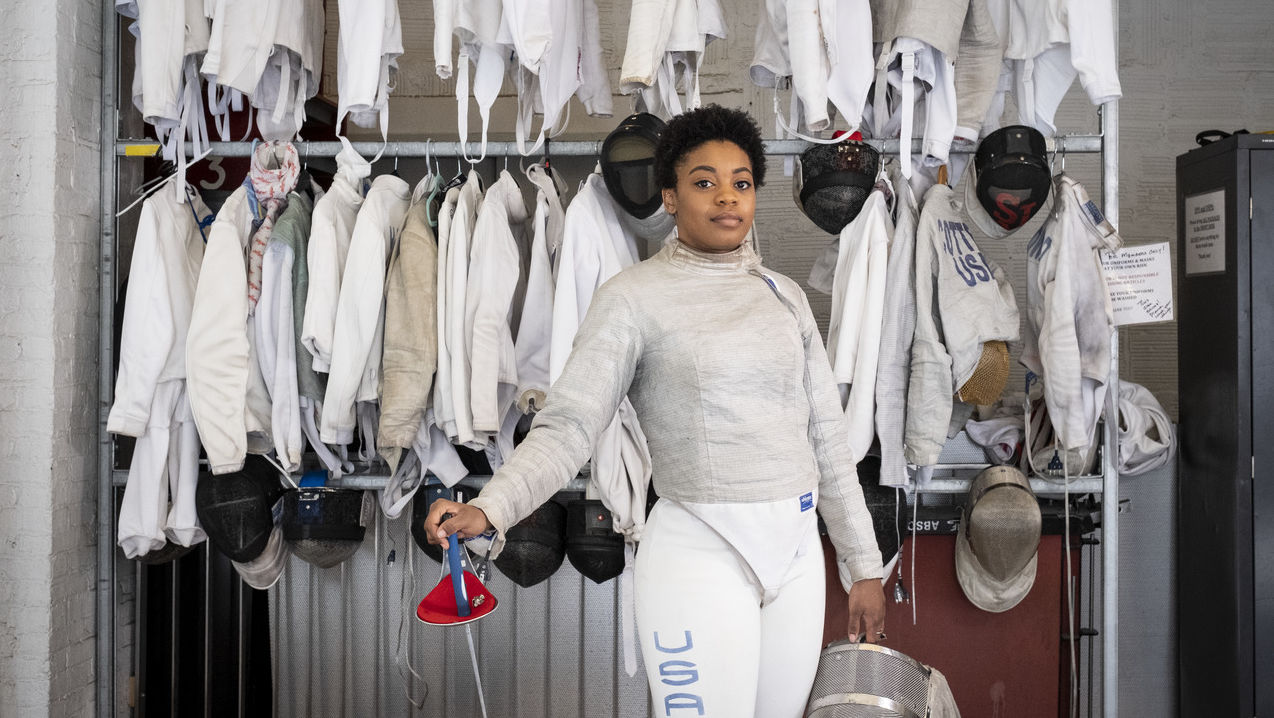 The Olympic Games kick off today, after being postponed for a year due to COVID-19. Millions of people around the globe will be watching and rooting for athletes from their home countries. At Temple, we'll be cheering on the three Owls who are competing in the games. 
Watch for Ajeé Wilson, CPH '16, on the track during the games. Having previously competed in the 2016 Olympics in Rio, Wilson is continuing her quest for an Olympic medal this year in Tokyo. She is a middle-distance runner who specializes in the 800 meter race and currently holds the U.S. record for this event.
Kamali Thompson, CST '12, is a surgical resident in orthopedics at Temple Hospital with a long history as a Temple student-athlete, which helped lead her to where she is today. Thompson was recruited by Temple University's fencing team as an undergraduate and trained with Nikki Franke, the head fencing coach at Temple, who herself is an Olympian (more on that below). Cheer for Thompson as she competes as an Olympic alternate for the fencing team this year.
You'll find Victoria Macaulay, KLN '13, shooting hoops in Tokyo as part of Nigeria's women's basketball team. During her time at Temple, she played all four years on Temple's women's basketball team. After she graduated, she joined the WNBA, playing for the Chicago Sky.
The Owls competing in this year's Olympics join an esteemed group of Owls who appeared at the games before them. 
One is faculty member Howard Palamarchuk, associate professor in the School of Podiatric Medicine. He competed in the 1972 Olympics Trials in race walking, making it to the finals. That's where he was inspired to become a podiatrist—when he saw how essential they are to athletes. He later worked with the Olympic teams in 1992 as a podiatrist himself.
Legendary Temple's women fencing head coach Nikki Franke, CPH '78, '88, is another Owl turned Olympian. She was a member of the 1976 and 1980 U.S. Olympic fencing teams. Although she didn't compete in the 1980 Olympics because of the boycott against Moscow, she continued to build a reputation for herself as an athlete and coach when she launched the women's fencing team at Temple.
Another is Dawn Staley, a North Philadelphia native who worked as Temple University's women basketball coach from 2000 to 2008. While coaching at Temple, Staley competed in the 2004 Olympic Games in Athens, where she won her third gold medal and was the U.S. flag bearer for the opening ceremonies. 
Michelle Vittese, Temple's assistant field hockey coach, played field hockey for the U.S. at the 2012 and 2016 games.
Another notable Temple athlete, Juan "Pepe" Sanchez, CLA '00, came to Temple from Argentina to play on the men's basketball team as a starter under coach John Chaney. After graduation, he joined the NBA and went on to play a major role on Argentina's gold medal-winning team in the 2004 Olympic games.
Also winning gold at the 2004 games was Jason Reed, FOX '03, who was a member of the U.S. men's eight rowing team that set a world record in Athens.
The list of Owls who have participated in the Olympic games doesn't stop there—they have been named to the Olympic gymnastics and rowing teams, serving as athletes and coaches, since the 1930s. In 1948, Temple gymnasts Marian Barone and Clara Schroth-Lomady helped the U.S. win its first medal for women in team competition with the bronze at the London games. Former assistant men's crew coach Mike Teti competed at three Olympic games between 1984 and 1992 and won a bronze medal at the 1988 games. He's currently the head coach of U.S. men's rowing. Mike Moore, FOX '93, competed as the coxswain for the U.S. rowing team's men's eight at the 1992 Barcelona games. That's the same year that Temple men's gymnastics coach Fred Turoff served as an assistant coach for the U.S. Olympic Team. Owl Scott Brodie rowed for Canada at the 1996 Atlanta games.
Women's Rowing Assistant Coach Michiel Bartman won gold, silver and bronze medals for the Netherlands at the 1996, 2000 and 2004 games. At the 2000 Sydney games, Igor Francetic, FOX '01, competed as a member of Croatia's bronze medal-winning men's eight team, with longtime Temple men's rowing coach, Gavin White, EDU '73, CPH '86, serving as assistant coach for the U.S. team. At the 2008 Beijing games, Marcus McElhenney, CLA '03, won a bronze medal in men's crew and Sean Casey, EDU '01, represented Ireland in the same event. 
In all, Owls participated on the Olympic gymnastics teams in 1932, 1948, 1952, and 1992, and on the Olympic rowing teams in 1984, 1988, 1992, 1996, 2000, 2004, and 2008.
—Hannah Church