Temple's inaugural bachelor of general studies degree class prepares to graduate
Members from this spring's graduating class discuss what earning their bachelor of general studies degree will mean to them.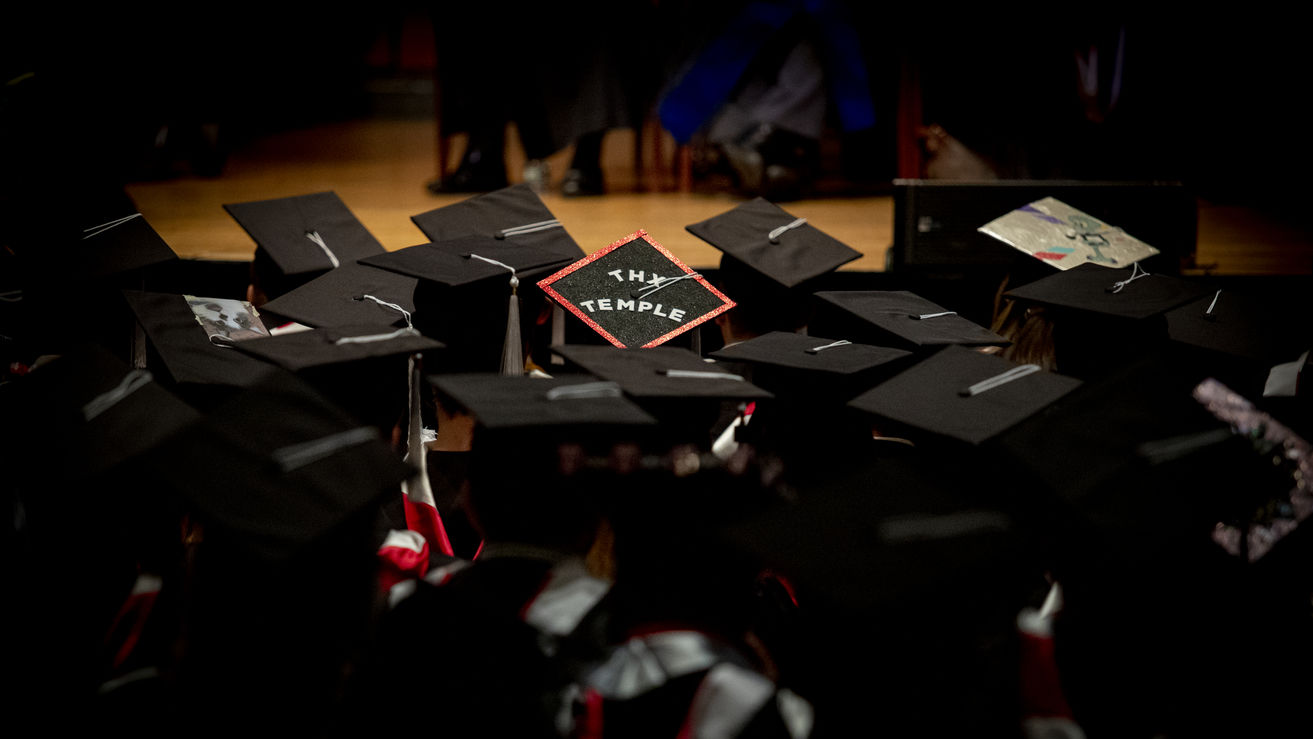 Last summer Temple University unveiled its bachelor of general studies degree program, a one-of-a-kind path to a degree for adult learners wishing to finish their college journey.
Nearly one year later, the program, which is housed in University College, is getting ready to welcome its first cohort of graduates. 
The inaugural class includes former athletes, parents and professionals in their careers. Many of them never anticipated returning to school to graduate with a degree, a process they started years ago. All of them will benefit from their new degree in their lives and careers.
For Nick Gosik, a firefighter and EMT for the city of Memphis, a mandatory pay raise awaits him upon graduating with his degree. Perhaps more importantly, Gosik will be the first member of his immediate family to graduate from a four-year college.
His mom, Karen Gosik, plans to finish her bachelor of general studies degree right on the heels of her son and will be taking the capstone course for the program in the fall.
The Gosiks have been completing their bachelor of general studies degrees while also working full time. 
"It's a huge convenience for us not having to worry about logging on at a specific time," explained Nick Gosik, who said the program's coursework accommodates his busy and fluctuating schedule. "I work 24-hour shifts. Sometimes I'm on the ambulance at night, and even if I'm not, I don't know when I'm going to get a call."
Antywane Robinson left Temple in 2006 to pursue a professional basketball career that spanned 13 years, but he always considered returning and getting his degree.
"When I was at the tail end of my career I started to reach out to different people around Temple, the coaching staff, and that's when I got connected with Justin Miller," Robinson said. Miller, Temple's senior associate athletic director, told Robinson about the bachelor of general studies program and encouraged him to enroll and earn his degree.
"I had more than enough credits to enter the program," Robinson said. "All I had to do was take two classes, and voila, here I am."
Robinson was also compelled by his family to return to Temple. He said his mom tried to convince him to earn his degree throughout his basketball career, and the achievement is an opportunity to set an example for his own kids.
"Getting this degree gives me a foundation to be able to tell my kids, no matter what, finish what you start, because you never know where it can lead," he said.
Robinson is currently in an internship program at the medical technology company Stryker Corporation. Upon graduating he will become a full-time surgical trauma consultant.
Leona Edmund's college degree was put on hold when she began to focus on a career in social and mental health services. More than two decades after first enrolling at Temple, Edmund also returned for her degree thanks in part to her family.
"I have children, and it's very hard for me to exemplify one thing and then teach them another," she said. "I can't tell you to follow through if I haven't."
The degree she is earning this spring is just the beginning of Edmund's new academic path. She has already been accepted into Temple's master of public health program and will begin working on that degree in the fall.
Edmund knows that she wouldn't be in the position she is in today if not for her fellow peers who have also returned to Temple to earn their bachelor of general studies degrees. She feels honored to represent those peers as a speaker in this spring's graduation ceremony.
"I'm very nervous about that, but I had no choice but to say yes, because I would like to show my gratitude," Edmund said. "I can't wait to virtually meet all of my other classmates, because had it not been for us as a collective, there would have been no need for this program. So I'm very thankful to each and every one of them. Even if we've never met, we share a common thread in our story."
This year's bachelor of general studies class graduates on May 5 in Rock Hall. Learn more about the bachelor of general studies and how to enroll in the program.