Temple Fox School of Business alumnus and co-owner of Second Sin Brewing Co. Mike Beresky steered his brewery through the COVID-19 pandemic and is now reaping the benefits.
It was the night of Dec. 31, 2020, and Mike Beresky, FOX '10, could finally breathe easy. As the ball prepared to drop and a nation got ready to welcome in a new year, the Temple alumnus and co-owner of Second Sin Brewing Co. cracked open a beer that was released earlier that day at his brewery. 
Named "I Survived 2020," the beer was a callback to the challenging first year of the COVID-19 pandemic, and it even featured some pretty apropos artwork of a burning dumpster. For Beresky and his business partners, Phil Harris and Jake Howell, the beer and its name signified more than that.
"This was when it seemed like people really started to recognize us as a brewery. This was a double IPA and it had some really cool can art and we also marketed it pretty well for our standards. It sold out really quickly for us, and at the time, Pennsylvania had gone back to only allowing outdoor dining, so we created a 'Second Sin Outdoor Dining Club' sweatshirt, which we released with the beer. We were absolutely packed that day. Even in comparison to today's standards, there were just a ton of people coming in because they wanted that beer for their New Year's Eve parties, and they would be sure to drink one outside while they were there," Beresky said. "This was the aha moment of, OK, I think we made it."
"This was the aha moment of, OK, I think we made it."
-- Mike Beresky
That moment was well-deserved. After the trio of grade school friends opened Second Sin Brewing Co., at 1500 Grundy Lane in Bristol, Pa., on Thanksgiving Eve of 2019, they dealt with almost nothing but uncertainty. First, there were the challenges of establishing a new business. Then came the pandemic, which forced the brewery to shift entirely to a takeout model for several months.
"Even right in the beginning, it was really weird because we opened right before winter, and it is hard to really gauge your business off of that," Beresky said. "Then, in January, business for bars and breweries almost always goes down because so many people do dry January, and then, after that, the pandemic came. I honestly feel as if this will be the first real year where we will have usable, accurate data as to how our business is doing."
So far, that data is painting a positive picture. In fact, it's fair to say the brewery is now more than surviving. It's thriving.
The spring, Second Sin Brewing Co. was one of 64 breweries to take part in the popular statewide news organization Breweries in Pa.'s annual 2022 PA Beer March Madness tournament, which allows fans to vote for the best brewery in the state. Second Sin proved to be the little brewery that could.
It took down popular statewide brewery giants like Troegs Independent Brewing and New Trail Brewing Co. before falling in the Final Four to eventual champion Pour Man's Brewing Co. 
"The entire thing was just so wild, and it really helped put us on the map, especially with some of the larger breweries out there," Beresky said. "We're going to be doing a collaboration beer with Troegs now, and it's because of that tournament."
Second Sin has also gained notoriety through the Untappd—Drink Socially app, as it's currently the No. 9 rated brewery in the state of Pa. Its hazy IPAs and sours are craved by craft beer drinkers, and a group of loyal fans of the brewery have even branded themselves as "Disciples" and have created a subsequent fan group via Facebook where they celebrate the brewery and all of its lagers and ales.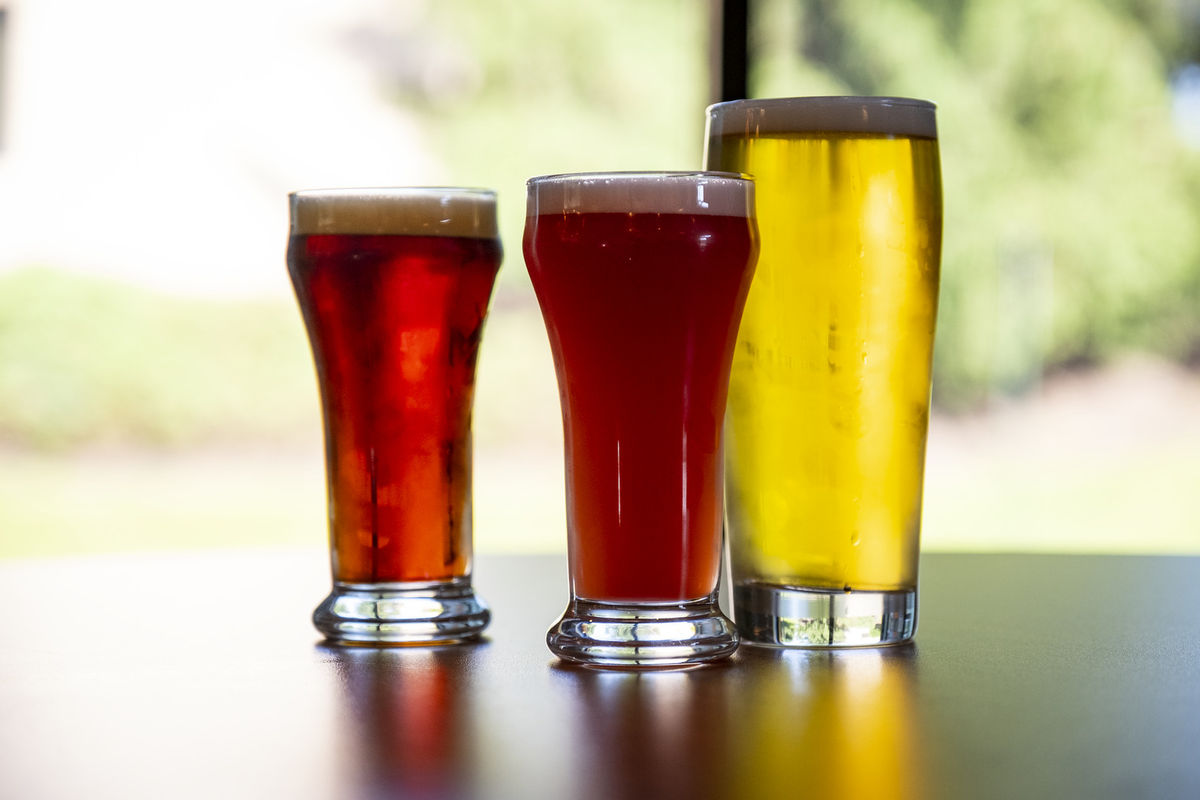 Since opening, Second Sin Brewing Co. has gained notoriety for a number of its beers, specifically its cobbler-style sours and hazy IPAs. (Photography by Joseph V. Labolito)
For Beresky, who a short 12 years ago was still an accounting student at the Fox School of Business, it all seems a tad surreal. While in college at Temple, he, Harris and Howell began to map out the plan for a future brewery, and it has not been easy.
It started with years of homebrewing together before Howell took on that role as a full-time profession and honed his craft, first at Climax Brewing in New Jersey before taking on an assistant brewer position at Neshaminy Creek Co. in Croydon, Pa., where he spent five years. All the while, Beresky continued to work on a long-term business plan while also continuing to work his day job as a senior accountant. It's a position he still holds today.
Juggling his brewery responsibilities with his accounting career can prove challenging, and the balancing act became even more complex this past March when he and his wife, Jessica, welcomed their first child, Sarah. While his life is immensely busy, that is by no means a bad thing.
"(Having a child) changes your perspective in the sense that you know you want to set an example for your children," Beresky said. "We plan on owning this business for quite some time, so she's going to be here and see her father working here and regularly going to the brewery. I want to be able to use this business as an example of something you can do right if you go to school. You can do something cool like open up a business and figure out how to run it even without necessarily ever having the experience of running one."
Beresky learned this while studying at Temple. It's an experience that helps guide him almost every day.
"Temple benefited me in so many different ways. From a knowledge perspective, as an accounting major, I was able to learn a bunch of different aspects of how to run a business," Beresky said. "The other thing that is so great about Temple is its location. It's just fantastic. There are so many opportunities available to you there, and it's an incredibly diverse area in an incredibly diverse city. There's a level of life lessons that you will learn and get at Temple that you don't necessarily see in the brochure when you sign up to go there."
With the pandemic perhaps now finally moving into the rearview, Beresky and his colleagues are now charting the future path for Second Sin Brewing Co. In the very near future, they hope to open a second location, ideally in Montgomery or Bucks counties, and they are already exploring their options. They also eventually hope to open a large-scale production facility, which will allow them to get their beer into far more peoples' hands.
"Every month that we have been open and in business has been better than the previous month, but that also continues to drive us," Beresky said. "In the brewery, on the doors to the brewhouse, we have a saying that reads, 'Don't get satisfied.' That came from an eighth grade football coach who coached Phil, Jake and I and that has kind of become our mantra. Even if you're tired, keep pushing. Even if you think you're onto something and having success, don't stop. This really comes down to pushing yourself and trying to be the best version of yourself and also the best version of your business, while also recognizing that there really is no best. You just have to keep pushing, no matter what."